Texas Tech may have found its QB of the future in near-upset of Baylor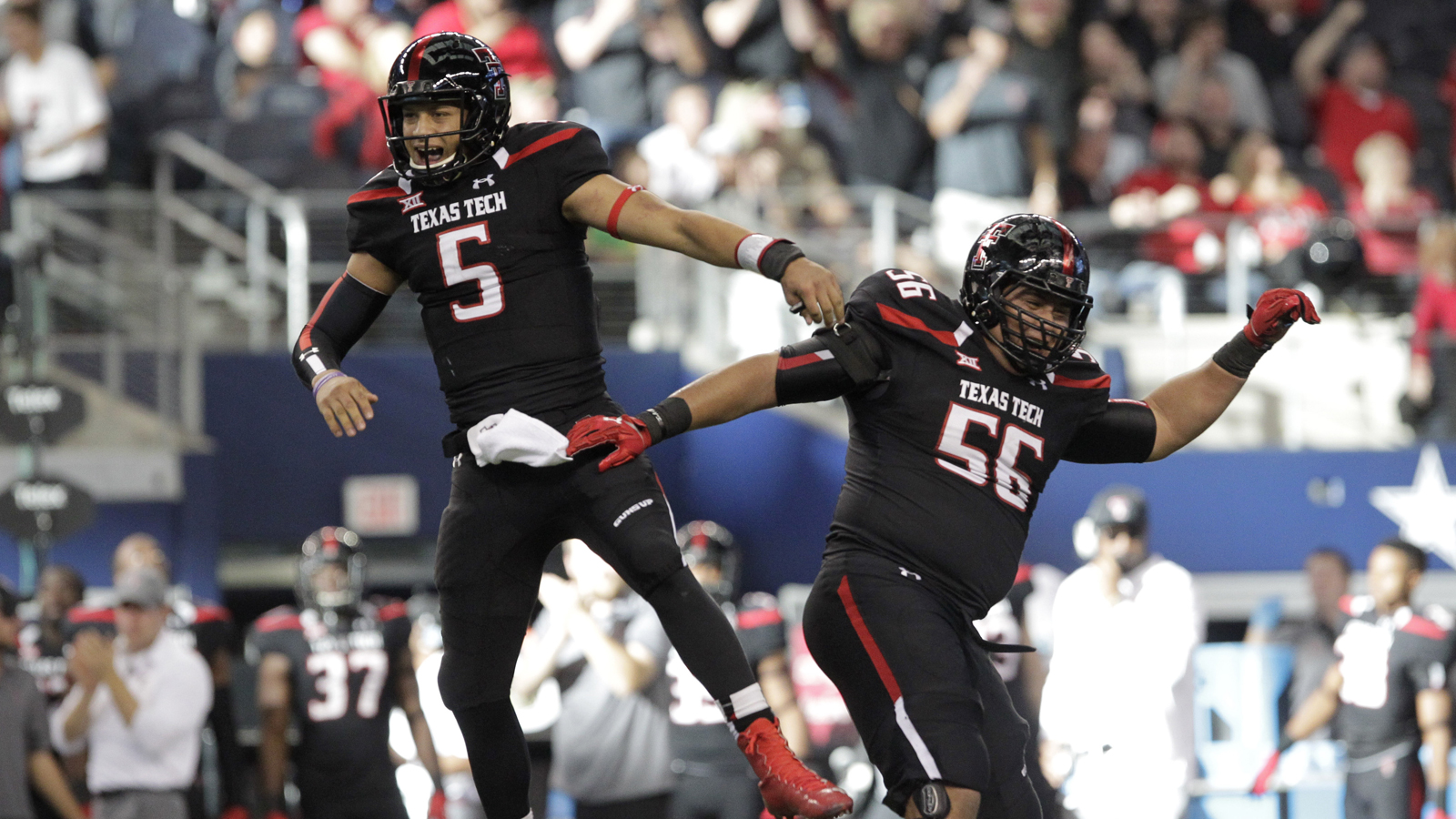 ARLINGTON, Texas — Nobody likes moral victories, but Texas Tech got an impressive one in a 48-46 loss to No. 7 Baylor on Saturday.
Instead of getting style points like many expected, the Bears survived a fourth quarter scare from the Red Raiders without quarterback Bryce Petty, who suffered a "minor concussion" in the third quarter.
Texas Tech quarterback Patrick Mahomes threw for a Big 12 freshman record 598 yards and six touchdowns and was a two-point conversion away from taking the defending conference champion into overtime. Those passing numbers rank fourth in a long list of Red Raider gunslingers in the Air Raid era.
"He kept stepping up and took some shots and kept getting up," Texas Tech coach Kliff Kingsbury said. "For a young kid to come in and keep battling, he's gotten better and better. Excited to watch him develop in the future."
Mahomes' performance might have settled a quarterback situation that has been a roller-coster since Kliff Kingsbury took over as head coach.
Last year's Big 12 Offensive Freshman of the Year Baker Mayfield transferred to Oklahoma, Michael Brewer left for Virginia Tech, and Davis Webb had a sophomore slump for the Red Raiders before suffering an ankle injury against TCU last month.
"It's been amazing to watch [Mahomes] grow from the time he has gotten in here, to the way he is able to extend plays, and his composure, no matter what the circumstances are throughout the game," Wide receiver Bradley Marquez said. "He's going to be a great player. And his athleticism definitely showed."
Texas Tech showed fight for the first time this season, but penalties and turnovers once again continued to haunt them in the loss. Three first quarter fumbles in Baylor territory cost the Red Raiders a potential big first half lead.
"They have to develop the mental process," Kingsbury said. "When they come down and play man, we got to have guys that can win. And I thought they stepped up. They got better as the year went on. It was rough early and then Pat put it in good places."
It looked like the Bears were going to work on just padding their stats to impress the College Football Playoff committee after taking a 42-17 lead midway through the third quarter. But Mahomes led a furious comeback with long touchdown passes of 48, 40, 49 and 40 yards in the final 17 minutes of regulation.
"They just kept putting their corners on an island, which is what they do," Kingsbury said. "We kept making plays. That's really it. I thought in the first half we had some opportunities moving the ball and turned it over three times in a row on their side, and guys just made plays in the second half."
Texas Tech ended last season in a simliar way when Webb came up big in an upset of Arizona State in the Holiday Bowl.
Mahomes, who's also on the baseball team, made a statement, but there will still be a quarterback competition with Webb not out of the mix for the starting job and five-star commit Jarrett Stidham expected to arrive in Lubbock in the spring.
"Get Jarrett in there and have three really, really good players going at it," Kingsbury said.
But a disappointing 4-8 season ends on a positive note with Mahomes and the Red Raiders' effort against Baylor.
"When the lights come on, that's when he is at his best," Kingsbury said. "And as soon he was the named starter for the last half of the season, he took it over, leadership roles, the way he practiced, the way studied film, he would come in the office early. So if he keeps that type of work ethic, he's got a phenomenal skill set."