Texas' Strong ready to make Big 12 Media Days debut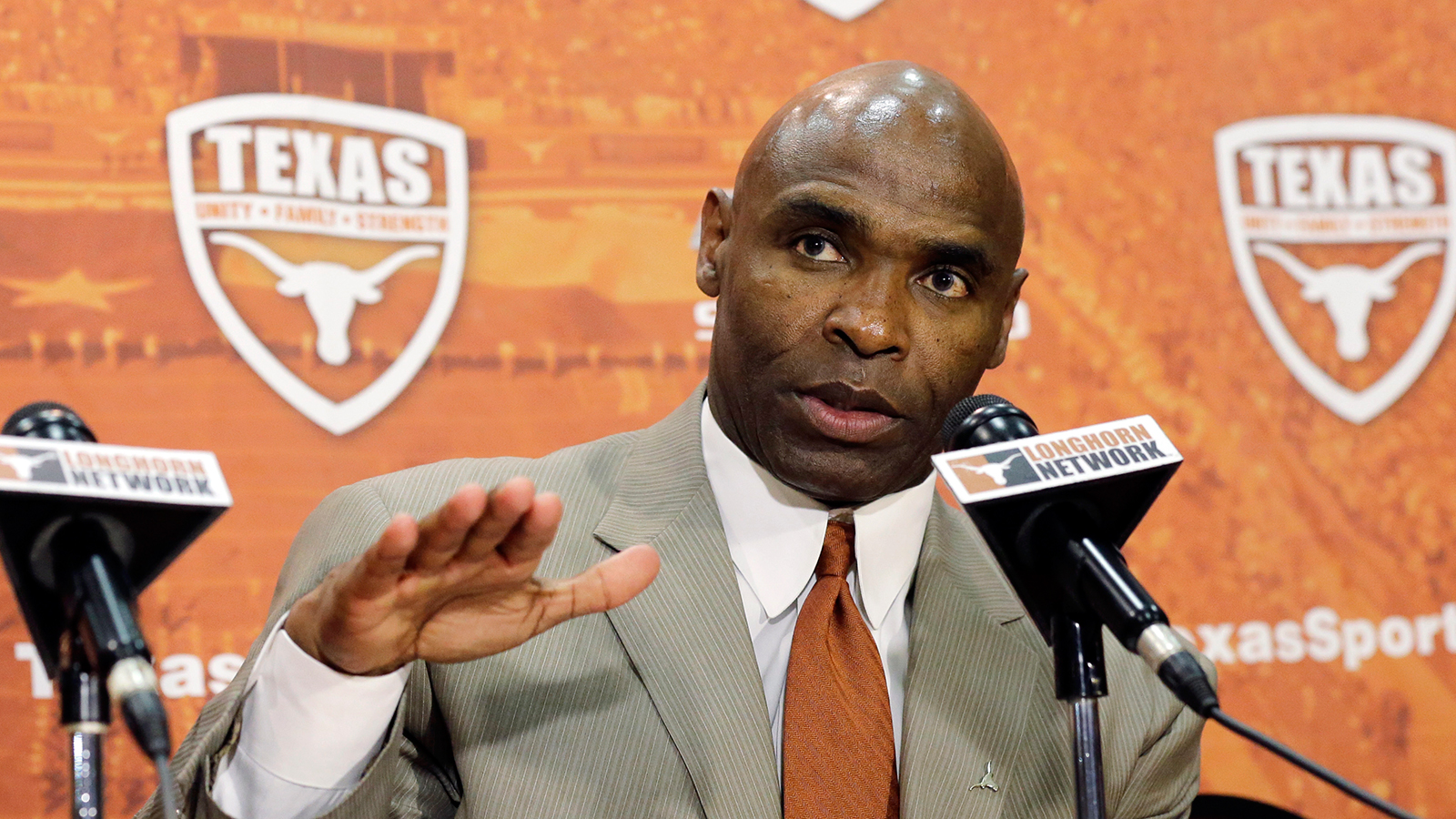 This is when it will finally hit everyone. Mack Brown will not be at Big 12 Media Days for the first time since 1998.
It's still hard to believe the folksy Brown has taken his talents to national television. All eyes will be on his replacement at the University of Texas, Charlie Strong, when he takes the stage Tuesday in Dallas. As we were reminded in a book excerpt that was released earlier this week, Strong was probably not Texas' first choice. A lot of the boosters had their eyes on Alabama's Nick Saban, a man with a wonderful dye job and a wandering eye (in the coaching profession). If this upcoming book by ESPN's Paul Finebaum is true, the Longhorns were poised to offer Saban a $100 million contract. I think that number speaks to how much unrest there was surrounding Brown's program.
Strong has tried to set reasonable expectations for his program. He needed a mulligan, though, on a speech he gave in Fort Worth in which he pretty much guaranteed the Longhorns wouldn't be playing in the national title game this season. There's nothing wrong with honesty… unless you're talking to a fan base that is desperate to become a national power again.
I'm sure Strong was relieved to see the Horns picked fourth in the Big 12 in the preseason media poll. Even when the program started its slow fade in 2010, the media kept thinking the Horns would at least be a top-three team in the conference. Strong hasn't had enough time to completely change the culture surrounding his program. He'll need some of Mack's players to graduate before he can truly take hold of things. Strong inherits a program that continued to have a sense of entitlement despite its losing ways. The truth is that Strong will have a tough time matching Brown's win total from last season. Folks forget the Horns were playing for a share of the Big 12 title in Waco last December.
I think Strong can jump-start a pretty talented defense right away. But the man's not a miracle worker at quarterback. Tyrone Swoopes got a long look in the spring, but he's not ready for this job. David Ash will once again begin the season as the starter. He's had some nice moments as the starter the past two seasons, but he hasn't shown enough consistency. The Horns will likely try to control games with what should be an excellent stable of running backs.
Texas has a pretty tough non-conference schedule. If the Longhorns could knock off UCLA on Sept. 13, it could have a springboard effect on the rest of the season. That game will be held at AT&T Stadium, so it will certainly feel like a home-field advantage. The biggest problem with the schedule is playing Baylor and Oklahoma in consecutive weeks in early October. We'll know after that game against OU whether the Horns have a shot at making any noise in the conference.
On Tuesday, Strong can't win anything at the podium. What he can do is tell everyone that his program is on the rise. This season is about laying the foundation for a possible run at the conference title in the 2015 season. This year's team simply doesn't have enough talent to challenge Baylor and Oklahoma for conference supremacy.
That doesn't mean the Horns can't upset one of those teams. It just means that Strong doesn't have the firepower to beat those type of teams on a consistent basis. The most important thing he has is a different style and voice.
He's begun a new narrative in Austin that eliminates excuses and overall nonsense. Brown was a fantastic coach at UT, but it was time for him to go. Strong might not wow anyone with country witticisms Tuesday like Mack.
And that's fine. This is no time to focus on talking a good game. The only thing Strong needs to avoid is guaranteeing some losses.
Those will come in his first year… but there's no use pointing it out now.