Rangers tab RHP Tate with first pick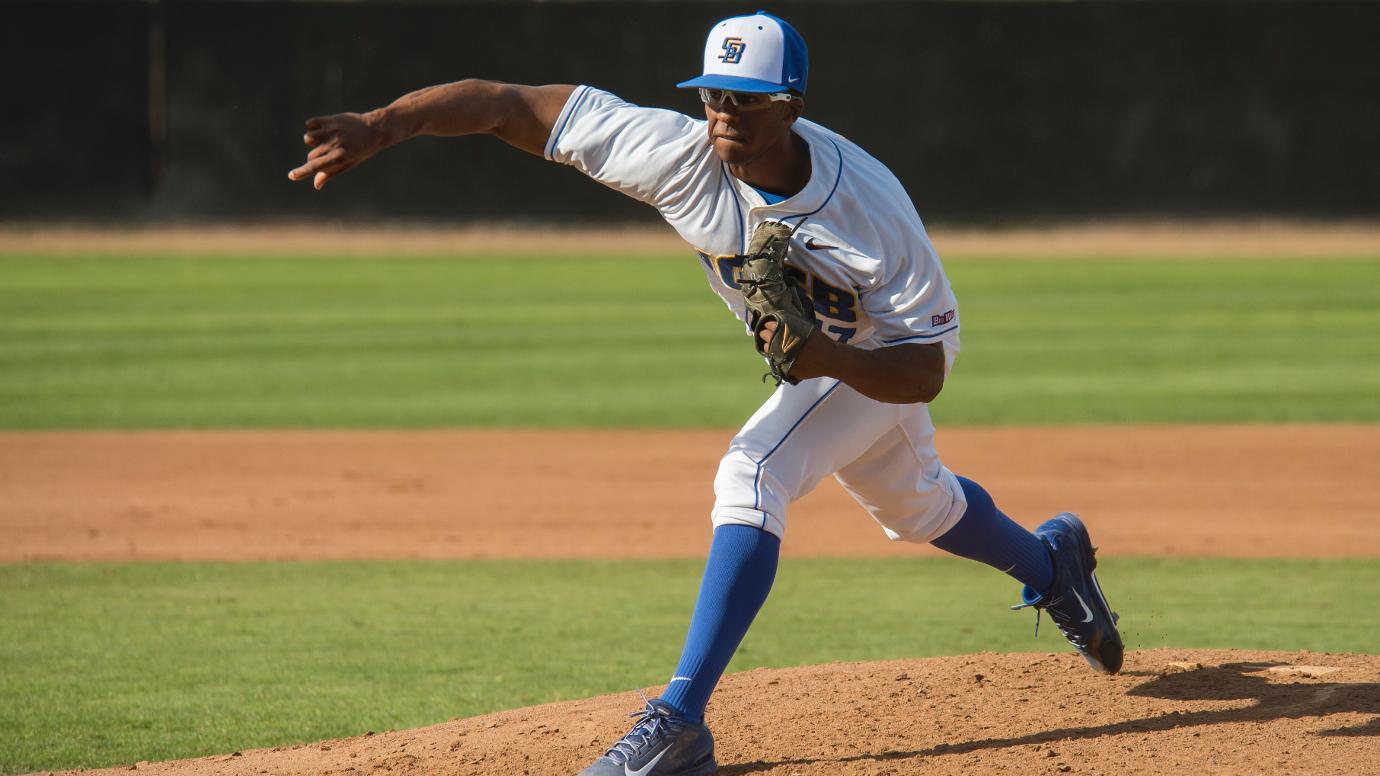 The Texas Rangers went for a right-handed pitcher with their top pick in the draft for a third-consecutive year, picking UC-Santa Barbara right-hander Dillon Tate with the fourth overall pick.
Tate made the switch from closer to starter his junior season and he went 8-5 with a 2.26 ERA and 111 strikeouts in 103 1/3 innings pitched.
"We feel real good about the kid, the makeup, we think we've got a power pitcher who's a starter," Rangers senior director of amateur scouting Kip Fagg said. "We're very excited about the pick. He was the top guy we identified right there with that pick."
Tate joins Chi Chi Gonzalez (2013) and Luis Ortiz (2014) as right-handed pitchers the Rangers have tabbed with their top choice. The Rangers completed Monday night by selecting Eric Jenkins, a high school outfielder from North Carolina, with their second-round pick.
Fagg said the Rangers have no plan to move Tate back into a relief role. He had 12 saves as a sophomore before becoming the Friday starter for the Gauchos.
The 6-2, 220-pound Tate was a Louisville Slugger All-America this year and was a Golden Spikes Award semifinalist.
While the awards are nice the Rangers are just happy to have a chance to develop another one of their own pitching prospects.
"It's huge value on developing your own pitching for a franchise that hasn't done it traditionally," Texas general manager Jon Daniels said. "I think whether it's Martin Perez or Derek Holland, I look at Matt Harrison as a guy we developed, and Chi Chi and Nick (Martinez) and other guys coming, I think our development staff has done a tremendous job with it. And to put an arm like that into the mix, to keep the pipeline going, is huge to us."
Tate, who gained around 35 pounds and 10 miles on his fastball in his three years at UCSB, is excited about the next step.
"This is a huge honor," he said. "I'm really fortunate to be in this spot. A lot of kids don't get this opportunity and I'm very blessed to be in this situation now."
Tate increased his value by making the move from the bullpen, which was a transition he enjoyed.
"I didn't know if it was going to go as smooth as I hoped but I had a whole lot of help from teammates and coaches that helped create that smooth transition so credit to them for helping me move in the right direction," said Tate, who was undrafted out of high school in Claremont, Calif. "I actually really liked it. I have four pitches and it was a great opportunity for me to develop them and bring them to the next level. I'm proud of some of the steps I made but I do have a long way to go."