Rough debut for Ranaudo in Rangers' big loss to Angels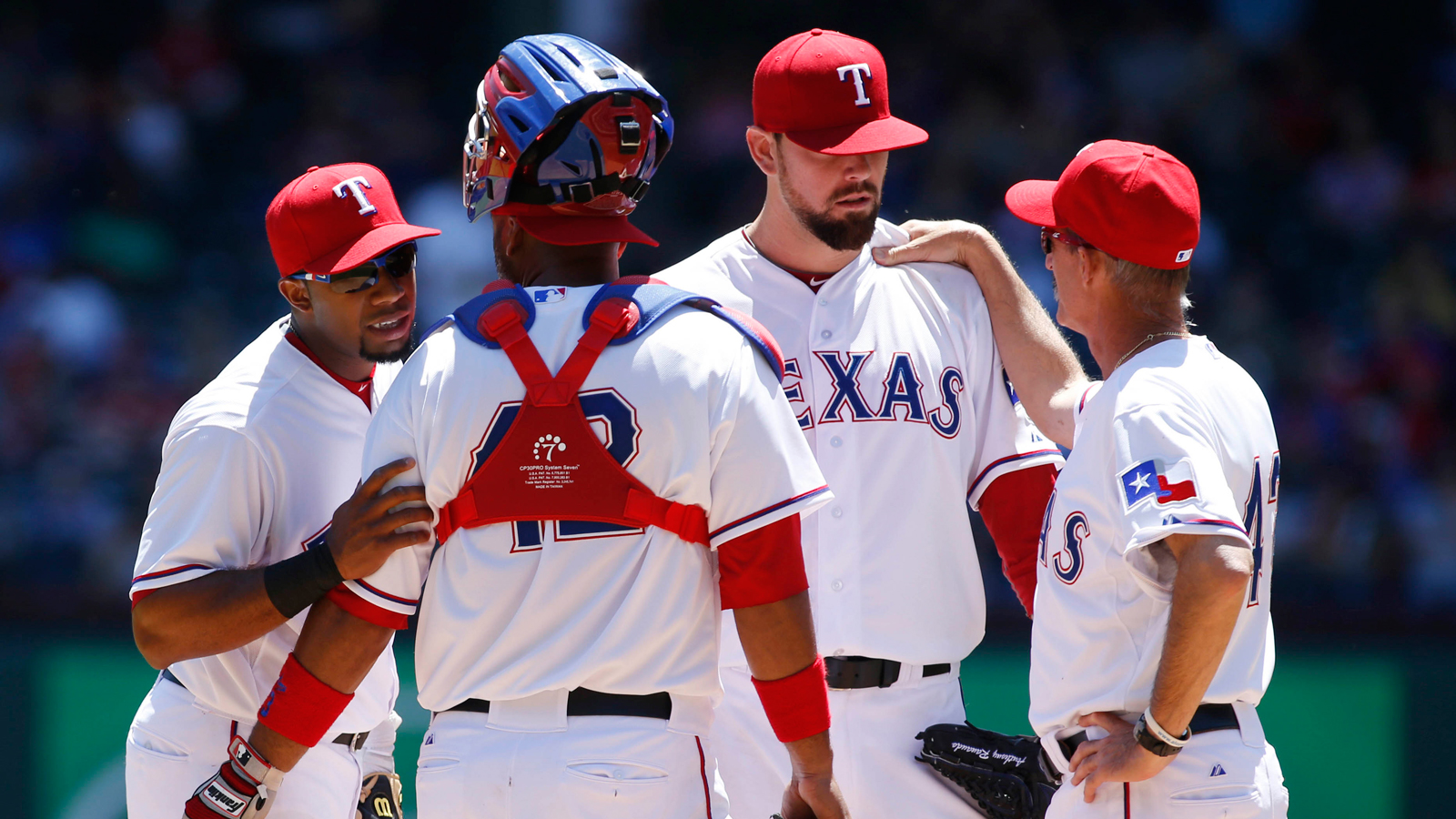 ARLINGTON, Texas — The open audition for the No. 5 rotation spot created by the injury to Derek Holland had its first casting call Wednesday afternoon at Globe Life Park.
The reviews for right-hander Anthony Ranaudo's performance were less than stellar.
Ranaudo didn't make it out of the second inning and the Rangers dropped their second-consecutive series with a lopsided 10-2 loss to the Los Angeles Angels. He was sent to Triple A Round Rock following the start.
The Rangers went 2-4 on their first homestand and head to an off day 4-6 on the season.
Ranaudo (0-1) couldn't command his fastball and that led to trouble against one of the best-hitting teams in baseball.
"Even the ones I did deliver for a strike were kind of up in the zone, thigh high and I didn't have command of my secondary pitches too good today and they were sitting on those fastballs," Ranaudo said. "When you're missing thigh high against a team like that they're going to make you pay. My job's to go out there and put our team in a position to win and go as deep as I can. I didn't do that today."
When or if Ranaudo gets another chance remains to be seen. In addition to the off day the Rangers have Thursday, they have two more next week and won't need a fifth starter until they return home for a homestand that begins April 27.
If Ranaudo is still the guy then he'll have to perform better than he did Wednesday, as he retired just five batters and allowed six earned runs.
"He fell behind," Texas manager Jeff Banister said. "He didn't work the strike zone the way I'm sure he wanted to. When you get behind big league hitters and you've got to pitch to the fat part of the plate they're not going to be quality at-bats for you as a pitcher."
Ranaudo worked out of trouble in the first inning but ran smack into it in the second as the Angels sent 10 batters to the plate. He didn't get any help from his defense either though as Elvis Andrus couldn't come up with a grounder, a double got past Leonys Martin in center and the Rangers missed out on erasing a runner on the basepaths.
But Ranaudo didn't help his cause by allowing two-run doubles to Johnny Giavotella and Matt Joyce.
Still, as has been the case for most of the start to the season, the offense did little to help the starter. Texas has now scored three runs or less in six of 10 games and Wednesday they didn't scratch for their first run against Hector Santiago until Carlos Corporan hit a solo homer in the fifth inning. By that time the Angels were comfortably in front 7-1 and on their way to adding three more runs in the sixth inning.
Texas had just six hits but the Rangers know it's way too early to get concerned about the offense.
"The season just started," said second baseman Rougned Odor, who went 1 for 3 and is now hitting .188. "We've got a lot of games left. We're going to keep working hard every day and when we get back to playing we're going to try and win some games. We've got a good team. We've got a good offense. We've got good pitchers. We've got to keep working hard every day and do the best for our team."
MORE FROM FOX SPORTS SOUTHWEST:
– Ranking NFL quarterback salaries
– Oldest player on every NBA team
– College football's highest paid coaches in 2014