Rangers' lefty relievers see opportunity in numbers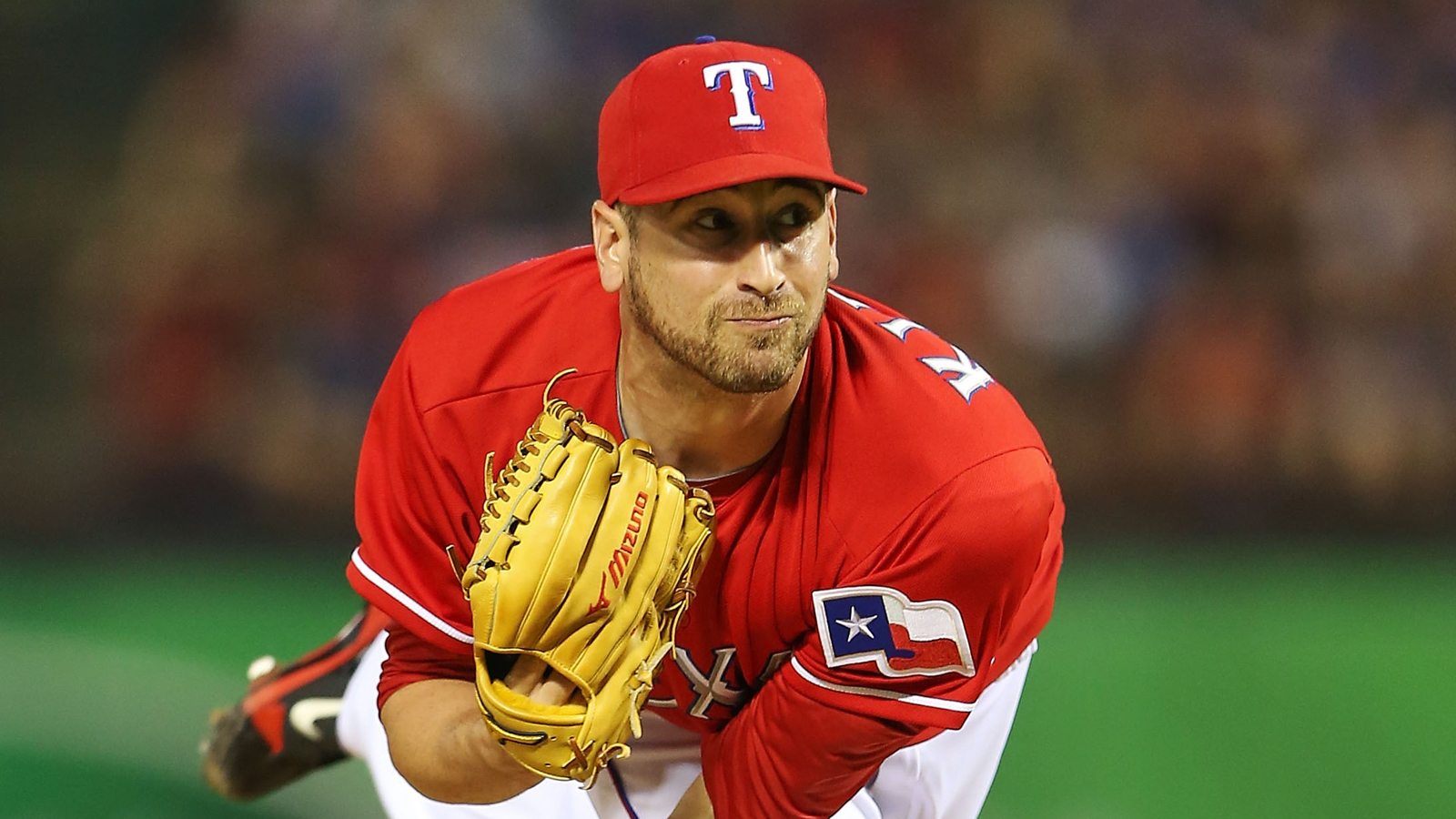 SURPRISE, Ariz. — Texas general manager Jon Daniels joked that the bullpen competition for the Rangers is a lot stronger from the right side than it is from the left side.
That's what happens when you only have four left-handers in camp, three of which are 100 percent healthy.
But while Daniels said the club will continue to look outside the organization for left-handed relief help the four lefties in camp are looking at the paucity in numbers as an opportunity not a problem for Texas.
The number jumped from three to four Tuesday when Texas claimed Edgar Olmos on waivers from Seattle.
"I don't know how you couldn't see this as a great chance to make a roster," said Michael Kirkman, who was slowed by a sore shoulder but is expected to play catch Wednesday. "All you're looking for is an opportunity and there's one here for sure. That's one of the reasons I decided to re-sign here. You look at the roster and you can see the opportunity is there."
The opportunity is there for Kirkman, rookies Alex Claudio, Martire Garcia and Olmos. Of the four only Claudio and Olmos are on the 40-man roster and the foursome has combined for 32 games in the majors last year. Garcia, 25, is a former independent league player who pitched for Myrtle Beach, Frisco and Round Rock last season.
While Claudio and Olmos are on the 40-man roster it's Kirkman who has the edge in experience. He's been with the organization since 2005 and has pitched in 94 games for the Rangers since 2010. He's been a starter, a long reliever and last year took on the role as a lefty specialist.
In the 12 appearance he made for Texas last season he totaled just 5 2/3 innings. He faced 19 batters with the Rangers and only five of them were right-handers.
Kirkman, 28, has adjusted to the idea of being a guy brought in just to get left-handed hitters out.
"I've got to start back what I finished off last year," Kirkman said. "If I can do that I have an opportunity on being on this club Opening Day. I got confident in this role last year and that's where my growth came from. That's where I'm at for this season."
Claudio, 22, started his 2014 season in Myrtle Beach and ended it with Texas. The common thread in the four stops he made in 2014 was that he retired batters at every level. He gets outs with a deceptive delivery and a changeup. In 15 appearances with Texas last season Claudio had a 2.92 ERA and 14 strikeouts in 12 1/3 innings.
Claudio believes the confidence he gained last season can help him win a role with Texas.
"It's a great opportunity for me to win a spot on the roster but I can't get comfortable and take anything for granted because there's some good competition here," Claudio said. "I know I had a really good year but I've got to continue to work harder to make the team. What happened last year is already in the books and I'm looking forward to help the team as much as I can."
Garcia got his spring training invite after the Rangers traded Robbie Ross Jr. to Boston. Even though he doesn't have any big-league experience he pitched well in short stints for Frisco and Myrtle Beach last season before struggling in four outings for Round Rock.
Olmos, 25, was designated for assignment by the Mariners Feb. 18. He pitched in five games in the majors for Miami in 2013 and spent last season between Double A and Triple A, going a combined 3-3 with a 4.06 ERA.
The Rangers could have another option in Ross Detwiler, who is in camp as a starter for now. If he doesn't win a rotation spot he could solve some of the issues by sliding back into a relief role, something he's done before in his big-league career.
Manager Jeff Banister isn't fretting about the lefty options the club has right now for a couple of reasons. First, he has faith that Daniels will make sure every option is explored. Second, there's nothing he can do about the roster the club has right now.
"Where's my comfort level?" Banister said. "I'm comfortable being uncomfortable. The easy answer is we'd really like to have solid options from the left side. When you look at the reality and what we have right now, the reality is I can't worry about what we don't have. I've got to think about and evaluate what we do have. You start looking at the options we do have."
As of now, that won't take very long.
MORE FROM FOX SPORTS SOUTHWEST:
– Ranking NFL quarterback salaries
– College football's highest paid coaches in 2014
– Highest paid player of each NBA team