DeShields' production earns promotion in Rangers' batting order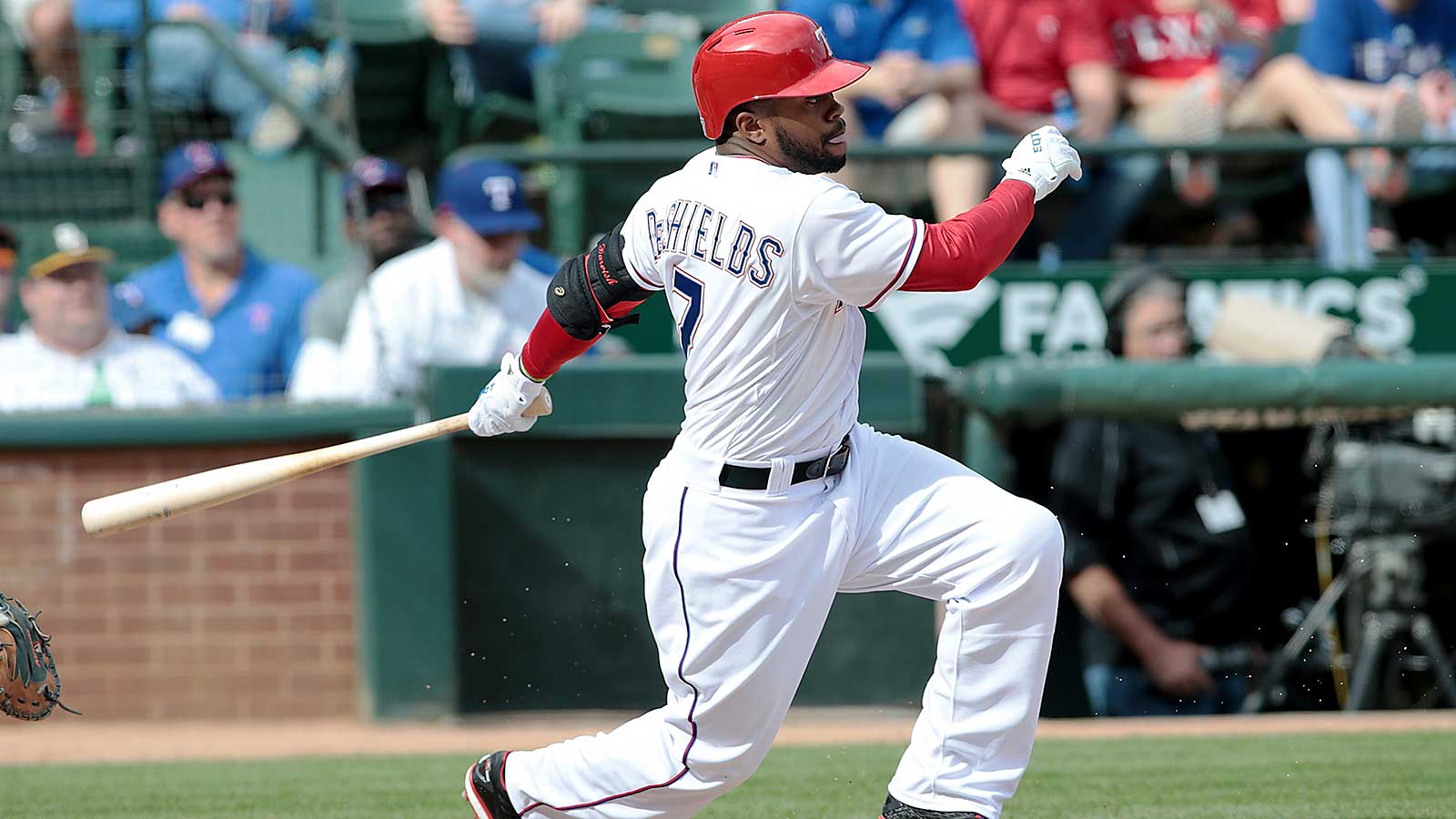 ARLINGTON, Texas –€" Delino DeShields' rising status with the Rangers was reflected in his rise in the lineup Saturday.
DeShields batted second for the first time Saturday. Ten of his previous 12 starts have been as the No. 9 hitter.
Since regular centerfielder Leonys Martin has been limited with a wrist injury, DeShields has impressed with his speed and, more importantly, his ability to get on base.
Coming into Saturday, DeShields had hit safely in six straight games. Since May 4, when Martin originally suffered the wrist injury, he's tied for third in the majors with a .526 on-base percentage and has eight walks.
"Based on the on-base with Delino, let's see if he can carry what he's doing in the nine hole up to the two slot against righthanders. That's been a bit of a challenge for us," manager Jeff Banister said before Saturday's game against Cleveland.
"It's about getting on in front of the middle of that lineup. I know he's been doing it through the nine hole, but this gives him an opportunity to do it one more time."
Martin, reinjured the wrist earlier in the week but was available for Friday's game. Martin sat while DeShields started again in center.
Banister said the decision to rest Martin one more day was because, with Cleveland starting lefthander Bruce Chen, it gave him an opportunity to start righty-hitting Kyle Blanks in the outfield. DeShields also hits right-handed while Martin hits left-handed.
For Saturday's game, DeShields was in left while Martin started in center.
Martin says he can now swing a bat without pain, but the injury still requires daily treatment.
"Delino has done a really good job in center field," Martin said. "The most important thing is we win ballgames."
Rangers lead majors in getting hit by pitches
Three more Rangers were plunked on Friday night, giving the club the major league lead with 28 batters hit by pitches. It's a stat Banister doesn't have to be reminded about.
"I know exactly the number. I pay attention to it every day," Banister said. "Maybe they don't like us as much."
Prince Fielder has been hit three times in the last two games. Each time Fielder has been hit on the right forearm.
"It's a big arm, though," Banister joked. "It could have been a foot apart and still hit the arm."
According to baseball-reference.com, the Rangers are the first since at least 1914 to have as many as 28 batters hit through the first 36 games of the season. Rougned Odor was hit six times before being sent down to Triple-A on Monday.
So at least Fielder, who's been hit five times, has company.
"That just means he's hot," Banister said. "That's all. He's hot."
Follow Keith Whitmire on Twitter: @Keith_Whitmire
MORE FROM FOX SPORTS SOUTHWEST:
– PHOTOS: Cowboys Cheerleaders Auditions
– Ranking NFL quarterback salaries
– Oldest player on every NBA team