Texas indoor pro football team first to hire woman to coaching staff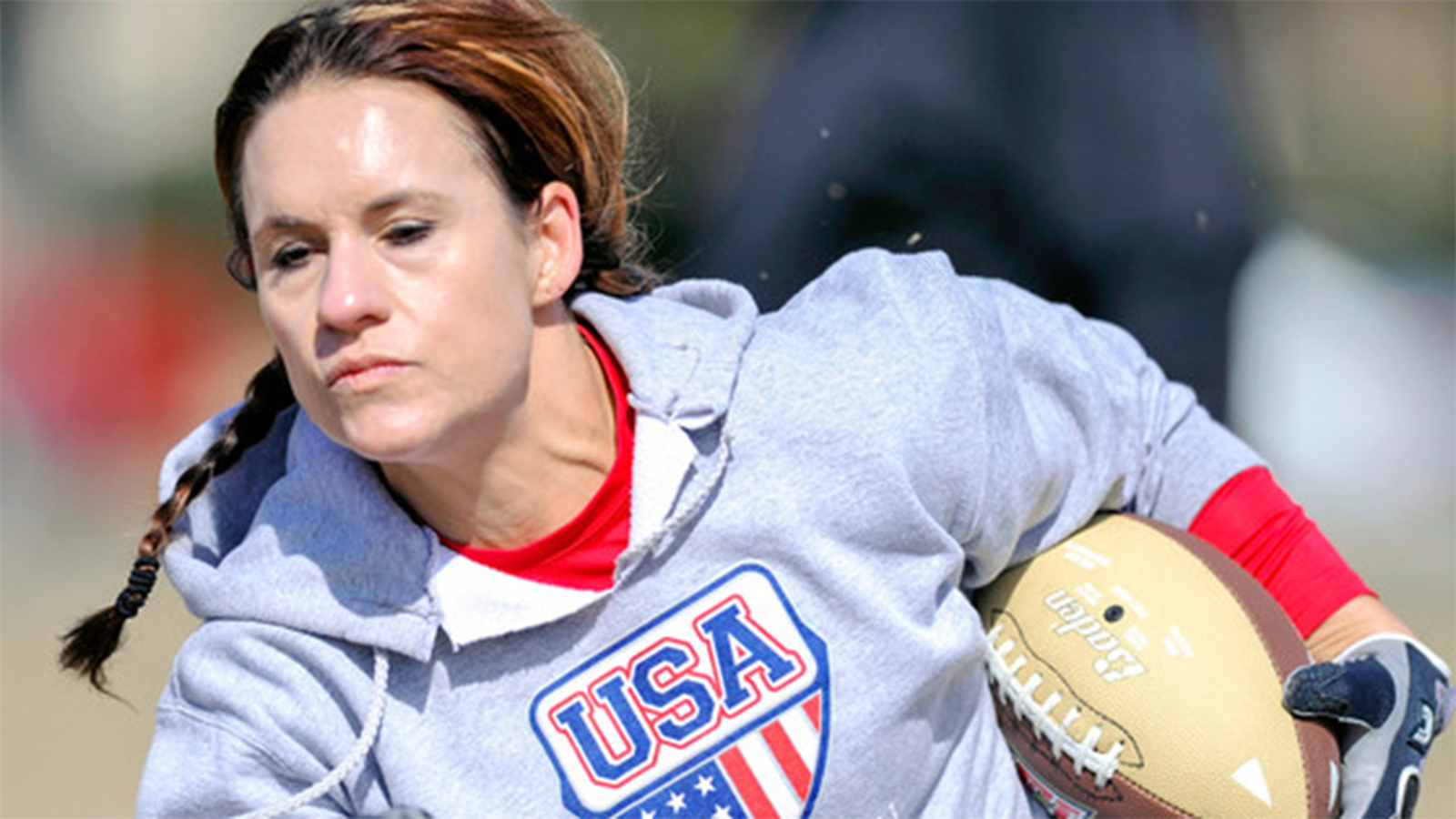 FRISCO, Texas — A year ago, Jennifer Welter became the first woman to play a non-kicking position in a men's professional football league.
Now, she's the first to coach in one.
The Texas Revolution of the Champions Indoor Football league announced on Thursday that Welter will coach linebackers and special teams, making her the first female hired to coach in men's pro football.
The 5-foot-2, 130-pound, 37-year-old played running back for the team briefly during the 2014 season.
You might remember seeing some of the hits she took.
"Jen is incredible and she proved that last year," Revs general manager and 2015 Pro Football Hall of Fame inductee Tim Brown told FOX Sports Southwest. "It's going to be a challenge for her, but I think she's going to be great."
While many criticized her ability to play against former Division I college football athletes, nobody inside the Revs' organization has questioned her knowledge and passion for the game. And that's exactly why first-year head coach and former Dallas Cowboys cornerback Wendell Davis wanted her on his staff.
"Jen is not your ordinary lady," he said. "When I first met her, I couldn't believe the knowledge she had about football. We talked about X's and O's and it surprised me. I called her the next day and offered her a job.
"If some of the guys on last year's team had the heart of her, they wouldn't have gone 3-11. It's an honor for us to have her on the coaching staff."
Hall of Famer Tim Brown introduces new @TexasRevs coaches ex #cowboys Wendell Davis and @jwelter47. pic.twitter.com/VZTaoWYyVA

— Louis Ojeda Jr. (@LouisOjedaJr) February 12, 2015
Welter has had a decorated athletic career in rugby and women's professional football. With a Master's Degree in Sport Psychology and PhD in Psychology, she believes she's more than qualified to coach football at any level.
"I have 14 years of experience playing professional football," Welter said. "If I wasn't a woman, that question would never arise. If Tim Brown, coach Davis and my team feels good about me, then it shouldn't matter if I'm a man or a woman.
"Coaching is coaching. Last year when they saw that I was a football player, it didn't matter if I were a guy or a girl. The love and passion for football is second to none."
Playing alongside a woman wasn't an issue for anyone on the team last season, but Welter is prepared if any players undermine her as a coach.
"I'm sure it will happen," she said. "It's an easy shot. I could do the exact same thing as a male coach and it would be an easy shot to say, 'Oh, it's because you're a girl.' I feel very well-prepared to step into a coaching role with guys after playing last year. My job as a coach is to be above that kind of stuff and do what's best for the team."
Not only has she earned the respect of the Revs' players and coaches, but she has an overwhelming amount of support from several former NFL players who have followed her career.
"Hall of Famer Michael Irvin has been a big supporter and believes in me as an athlete," she said. "[Former Green Bay Packers receiver] Sterling Sharpe has been very outspoken with his support for me."
Just days before Snoop Dogg's son, four-star receiver Cordell Broadus, announced his decision play at UCLA, the superstar rapper was Welter's teammate in the Super Bowl Wounded Warriors game.
"He was blown away by how I played," she said. "Snoop and some of the other players told me 'I knew you were a good girl football player, but you're just a great football player.'"
Women coaching high school football and men's basketball is nothing new, but now they're getting opportunities at the professional level. The defending NBA champion San Antonio Spurs hired former WNBA player Becky Hammon as an assistant coach last summer.
"[Spurs coach] Gregg Popovich is a genius," Welter said. "He wouldn't have hired [Hammon] if she wasn't great and she had already proven herself being around the team. He knew she could be a great coach and the demeanor she had around the players. He saw her as someone who could add something to his basketball team."
Will the NFL see a female on a coaching staff in the near future as well?
"I hope so," she said. "There are high school, female, head-football coaches and I know one whose knowledge of the game would kick most men's butts."
Coaching professional indoor football may not be on the same level as the NFL, but maybe Welter will get there some day. She has continued to climb the ladder in the game and prove doubters wrong throughout her career.
"I like to say that the one thing I couldn't do was listen and that's why I made history," Welter said. "The questions will surface and the critics will always be there, but I earned the respect of my teammates last year. I think the players will see that as well when I coach."
Follow me on Twitter @LouisOjedaJr
MORE FROM FOX SPORTS SOUTHWEST:
– Five-star recruits who were never stars in college
– Biggest football recruiting steals of the past decade