Texas A&M suffers embarrassing shutout loss to Alabama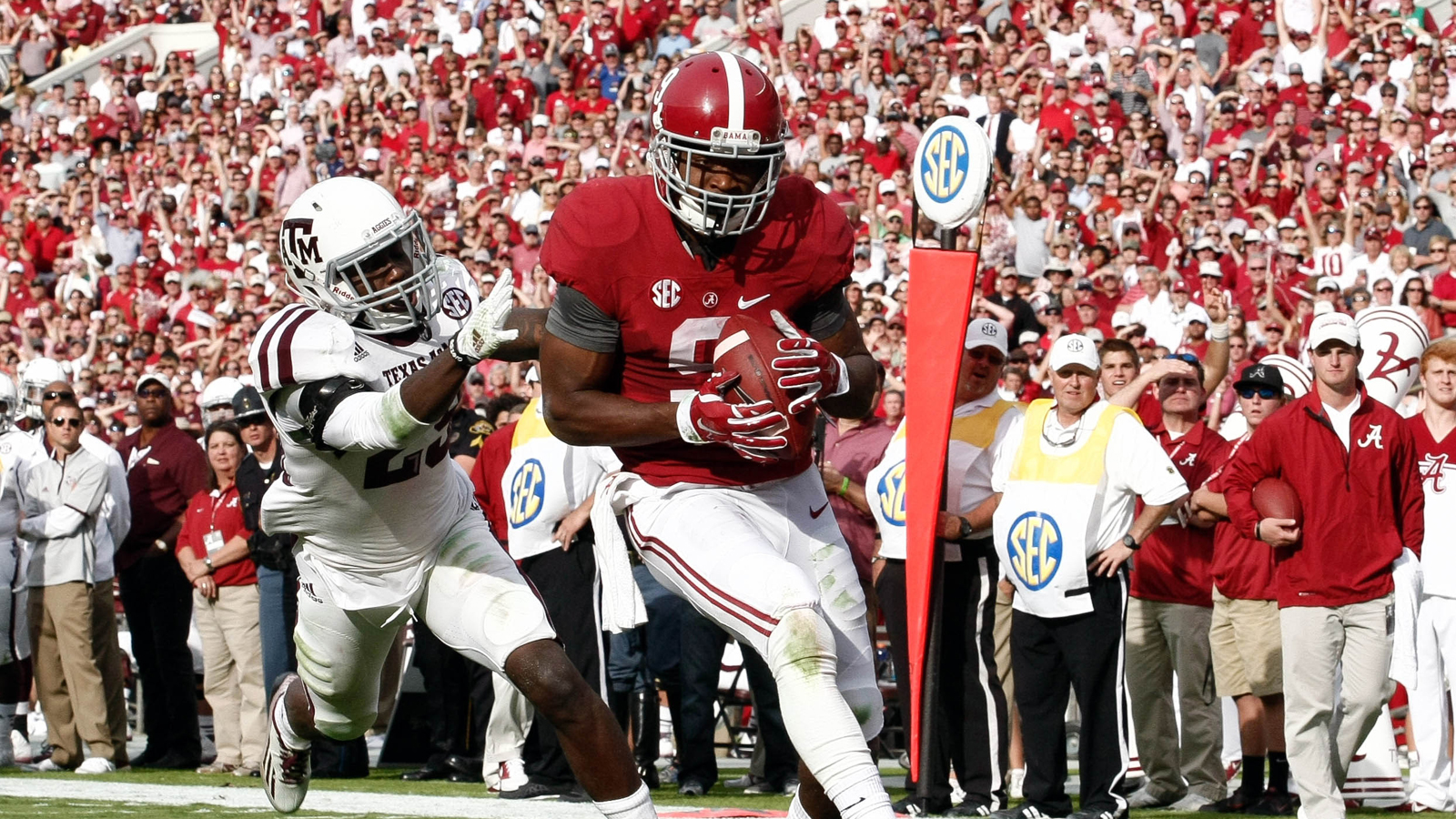 TUSCALOOSA, Ala. (AP) — Blake Sims passed for 268 yards and three touchdowns and scored on a 43-yard run while leading No. 7 Alabama to 35 second-quarter points and a 59-0 pummeling of No. 21 Texas A&M on Saturday.
The Crimson Tide (6-1, 3-1 Southeastern Conference) shut down the nation's No. 4 offense and dominated a game that had produced two straight thrillers.
Led by Sims, T.J. Yeldon and Amari Cooper, Alabama outgained the Aggies 602-172.
Texas A&M (5-3, 2-3) has lost its past three games, all to teams now ranked in the top 10.
Alabama set a school record for most points in a quarter and matched the second-most scored in a half while racing to a 45-0 halftime lead.
It was Alabama's largest margin of victory since a 62-0 defeat of Tulane in 1991, and the biggest under coach Nick Saban. It was also the Tide's most lopsided SEC win since beating Vanderbilt 66-3 in 1979.
Alabama fell only four points shy of the largest margin of victory over a Top 25 team, trailing No. 8 Florida State's 63-0 win over No. 25 Maryland in 2013 and UCLA's 66-3 win over No. 11 Texas in 1997.
Yeldon had 114 yards and two touchdowns on 13 carries, all in the first half. Cooper gained 140 yards on eight catches with a pair of touchdowns.
Sims completed 16 of 27 passes before exiting midway through the third quarter.
By halftime, it seemed Alabama could name its score.
The Tide had 30 first downs to Texas A&M's eight after facing doubters following a 14-13 win over Arkansas and a loss to No. 3 Mississippi. Saban even grew frustrated that some Tide fans were disappointed by such a close win.
That's hardly an issue this time.
Johnny Manziel and Texas A&M had set a record for an Alabama opponent with 628 total yards last season in a 49-42 loss. The Aggies came in averaging 565 yards a game.
Kenny Hill could never get them going. He was 17 of 26 passing for just 138 yards — 220 below his average — and was intercepted for the sixth time in three games long after the outcome was determined.
Freshman Kyle Allen replaced him in the fourth quarter and had to chase down a high snap in the end zone on his first play.
The Aggies couldn't even get a spark from the return of star receiver Malcome Kennedy from a separated shoulder that sidelined him for two games. Kennedy gained 4 yards on four catches.
The Tide scored on its first eight possessions, all touchdowns after the opening drive.
Alabama hit the locker room with a 449-51 advantage in yards and no doubt about the outcome.
The Tide did have some standout plays in a game full of `Bama highlights.
Sims flashed his running ability with a nifty touchdown run when he faked to Yeldon, made two defenders miss and won a footrace to the end zone.
Yeldon set up his second touchdown run with a 31-yarder after appearing bottled up at the line of scrimmage. He scored on fourth and goal from the 1.
Texas A&M missed an early opportunity. Deshazor Everett dropped a near-certain pick-6 on the Tide's opening drive. Alabama settled for a field goal.