TCU has another chance to make national impression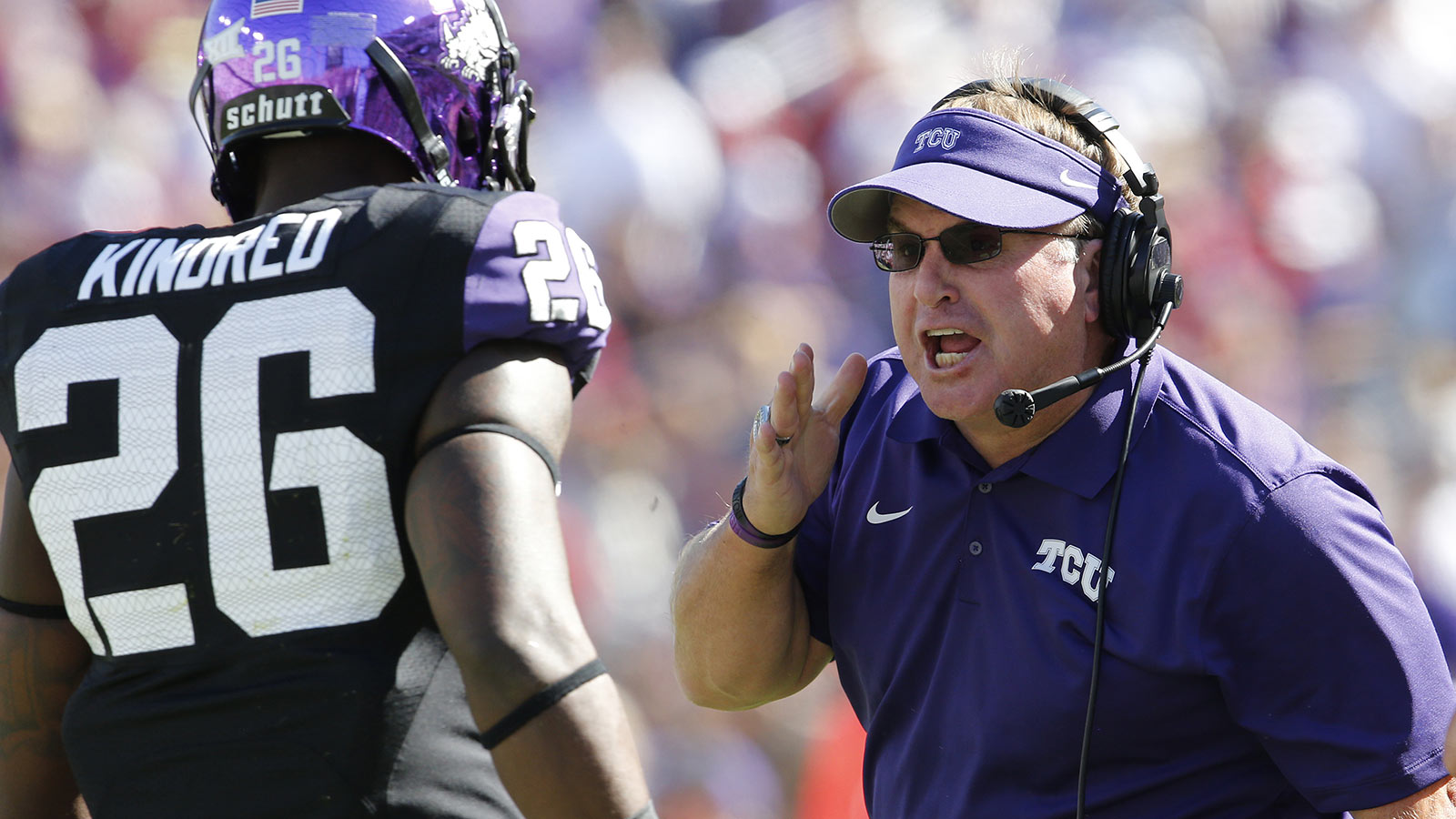 FORT WORTH, Texas — In typical Gary Patterson fashion, the TCU head coach started off his time at the podium for Tuesday's media day by saying that the Frogs were back home for Week 9 of the college football season.
While Patterson would never admit it, this is so much more than just Week 9 for the Frogs. Saturday's prime-time game against Kansas State at Amon G. Carter Stadium may be the last big impression the Frogs can make on the College Football Playoff selection committee.
The matchup features two top-10 teams and will be the last marquee national matchup for the sixth-ranked Frogs (7-1, 5-1 in the Big 12), who figure to be heavy favorites in their final three games of the regular season.
The impact of Saturday's game isn't lost on TCU either.
"We still have to go out there and prove ourselves every week," wide receiver Kolby Listenbee said. "Even if nobody else loses in the top four (of the College Football Playoff rankings) we've still got to find a way to prove to everybody that we should be in the top four to make the playoffs. Every week's an interview so we just have to go out there and put our best foot forward."
The Frogs have been putting their best foot forward since the start of October. The game against the Wildcats will end a streak of five games against ranked teams in a six-game stretch. The Frogs began that stretch against Oklahoma with a victory as the 25th-ranked team in the country.
If we they can beat the Wildcats Saturday, they could improve on their No. 6 College Football Playoff ranking before closing the season with games against Kansas, Texas and Iowa State. Those three teams are a combined 8-17 and wins over them wouldn't carry the same weight as a win over the seventh-ranked Wildcats.
TCU believes that the fact they're playing well in the Big 12 should carry weight with voters regardless of whether or not the opponents are ranked.
"This might be our last game against a ranked team but it's always a statement game when you go and play because it's still the Big 12," said defensive back Kevin White, the reigning conference defensive player of the week following his performance against West Virginia. "We've got to travel to Texas, travel to Kansas and finish here with Iowa State. We're still going to try and make a statement regardless of where teams are ranked or what their record is. We know how big it is (Saturday's game) and what it could do for us. But we've got to get everybody mentally ready."
Patterson said Kansas St. will provide the toughest test the Frogs have faced so far. The Wildcats (7-1, 5-1) don't make mistakes so it's unlikely the Frogs will be able to count on the five turnovers they got in their comeback 31-30 win over the Mountaineers last week.
The Wildcats, who have beat TCU in each of their two Big 12 matchups, also have playoff hopes similar to TCU. Kansas St. has won five-consecutive games with their lone loss coming to Auburn, which is ranked third in the playoff poll.
"We'll have to play our best football game up to this point to beat this Kansas St. team because they don't beat themselves," Patterson said. "That doesn't mean we have to do anything extraordinary. We've got to play up to our level in all three phases."
• TCU quarterback Trevone Boykin has been named a semifinalist for the Davey O'Brien National Quarterback Award.
• TCU head coach Gary Patterson, who is a Kansas State graduate, doesn't feel the love from the Wildcats faithful anymore. "I think the glamour of being a Kansas St. alumni has worn off a little bit after a couple of names I was called last year standing on the sideline," Patterson said. "Some of them forgot I was an alumnus of the place."
• Patterson said there's no change in the status of running back B.J. Catalon, who he said is questionable to play Saturday. Catalon leads the Frogs with 493 rushing yards and 10 touchdowns.
MORE FROM FOX SPORTS SOUTHWEST:
– Ranking NFL quarterback salaries
– Best college football traditions