TCU not stressed over being on playoff bubble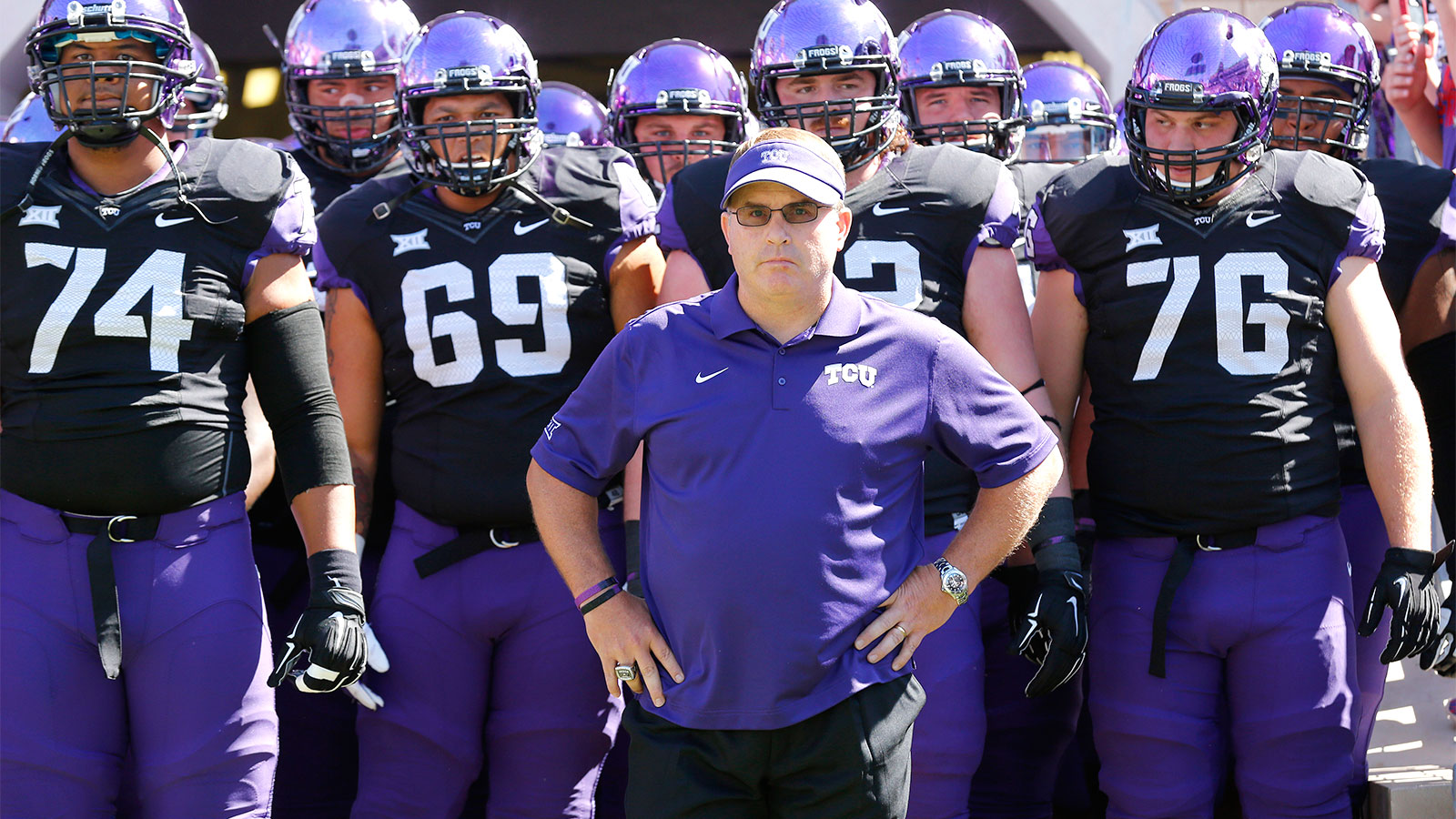 FORT WORTH — Teetering on the precipice of the College Football Playoff bracket with seemingly immovable objects ahead and predators behind waiting for the slightest sign of weakness can wreak irreparable cuticle damage.
The TCU Horned Frogs will make the trek to Austin to play the improving Longhorns on Thanksgiving night still holding down the precarious No. 5 ranking after the CFP committee released its latest poll Tuesday evening. Big 12 rival Baylor, TCU's lone ouster, still sits at No. 7 and Ohio State stayed at No. 6, unable, for now, to "gopher" its way past the Frogs.
And so the firestorms raged on: Which team should be in and which should be out; which needs to "style" a half-a-hundred, which needs to schedule Minnesota; and when will head-to-head actually matter?
Week after week, it's enough to catapult your 42-inch widescreen out the dorm-room window.
"No, never would break my TV over commentators. That's their job," TCU senior safety Sam Carter calmly shared with reporters Tuesday afternoon. "You don't get mad at people for stating their opinions. Nothing wrong with that. I just watch it and laugh and go to another channel. There's nothing I can do about it."
Through it all the Frogs have ripped a page from "relaxed" Packers quarterback Aaron Rodgers, surviving the craziness by managing to just "chill."
"We're a pretty chill team when it comes to, like, not getting stressed out," 295-pound junior center Joey Hunt said. "I mean, we're an intense team, but we don't get stressed out from other stuff like that."
Some might point to the Frogs' near-fatal last game as evidence to the contrary, that perhaps the pressure got them in a 34-30 escape job at Kansas on a bitter-cold day when all the bounces seemed to be going the Jayhawks' way.
Behind the nation's No. 4-ranked offense, the Frogs rallied and prevailed. The committee's reward? A bump from the coveted No. 4 spot it earned the week earlier with a emphatic trouncing of Big 12 co-leader Kansas State, to the insecurity of No. 5.
"It doesn't frustrate me at all," coach Gary Patterson said. "I don't even pay attention. You can't pay attention to it. You turn the channels, it's kind of Democrat and Republican, it just depends on the news channel you listen to, which is the bias. So for me, I watched it, flip."
And so it's on to unranked Texas, a rebuilding team on a hot streak that has quickly become a popular pick to end the Frogs' playoff hopes, mostly because of a physical defense turned around by first-year coach Charlie Strong. Like Patterson, the man Strong is already going knuckle-to-knuckle with on the recruiting fields for the state's top talent, Strong built his resume on developing killer defenses.
Strong will lean on that unit Thursday because of the the two teams only TCU is driving a blow-your-doors-off offense, led by Davey O'Brien finalist Trevone Boykin. The Frogs, dangerously athletic at receiver and in the backfield — even if injured leading rusher B.J. Catalon remains unavailable —€" average 541.6 yards a game and rank No. 2 in the nation in lighting up the scoreboard at 45.9 points a contest.
"Our defense has had swagger since forever because of Coach P.; the past couple of years our offense got a little down," Hunt said. "But the OCs [first-year co-offensive coordinators Doug Meacham and Sonny Cumbie] came in and they brought that swagger."
Patterson says he's not so much a believer in any "chill" factor, or maybe he's just a little leery of the terminology, because he would never describe himself or any of his teams as being chill.
Patterson's interpretation of chill is mental toughness, his team's ability to fight back and win at hostile West Virginia and then again at Kansas, regardless if it left the committee gasping for more so-called "game-control." More terminology Patterson would probably prefer to chew on and spit out.
Save for the three touchdown-lead that melted away six weeks ago at Baylor, TCU has kept calm through a grueling slate of eight consecutive games, seven in conference, and the constant praise and scrutiny of its week-to-week credentials.
"The first time we were ranked in the top four, I just got out of the cold tub and some of the trainers were excited," Hunt said. "I was like, 'Man we've got like five weeks of football left, this is pretty irrelevant right now.' Even now, there's a good amount of football left."
So outside the lines, yeah, they chill.
"We've had enough runs of close to undefeated seasons to understand that if we don't keep an even-keel through all of it that you get yourself in a lot of trouble," Patterson said. "Think back to 2005, beating Oklahoma; getting beat by SMU. Been through enough seasons to see all of that, and that really kind of goes with the college playoffs.
"People want to know why I've taken a hands-off approach in a lot of ways to it. If you look at the history of TCU, of us being outside looking in when we were in the Mountain West Conference and every other conference that we've been in, that's what we had to do. We just had to take care of our own business.
"We didn't have any control over it, going to the Fiesta Bowl, we didn't have any control over going to the Rose Bowl. Everything had to line up just exactly right for us to get in where we needed to get into. So having gone through those experiences and watching all the media every week do this, that and the other, a lot of people complaining, trying to put themselves in position, all of it, the committee's going to do it, and none of us is going to have a bunch to say about it.
"All we can do is win, and then you kind of got to go about your business."
Business resumes Thanksgiving night in Austin.
MORE FROM FOX SPORTS SOUTHWEST:
– Ranking NFL quarterback salaries
– Wake up! Athletes caught sleeping
– Best college football traditions