Takeaways From Sean Payton's OTAs Press Conference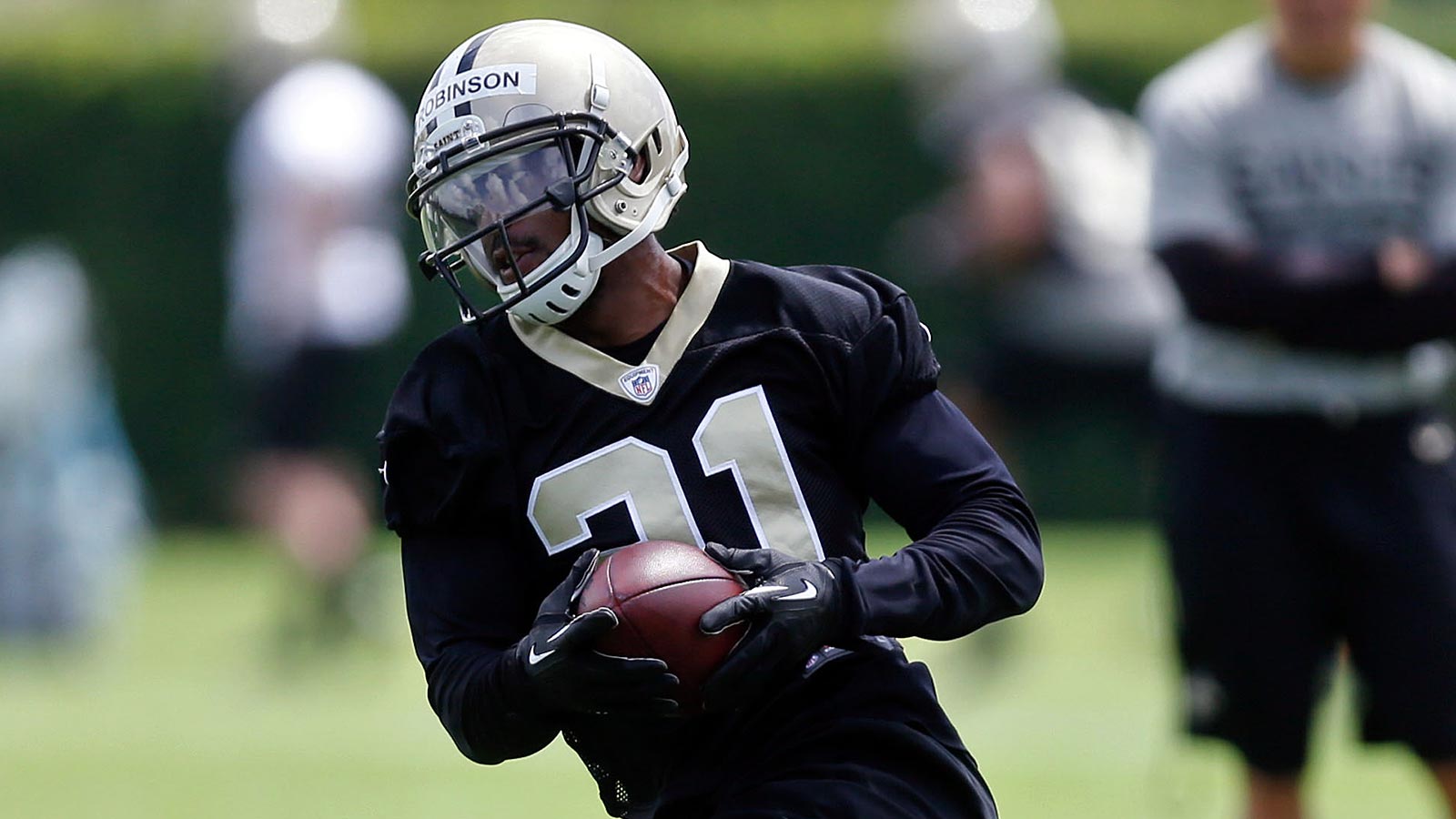 The New Orleans Saints wrapped up their first three day OTA session today, and it also marked the first day they allowed media access at practice. After practice, head coach Sean Payton met with the media to discuss the first OTA session and provide updates on different players' health and progress. We'll take a look at what stood out to Payton during the first of three offseason OTA workouts.
Jairus Byrd
Byrd did not participate in this week's OTAs, and Payton mentioned that the team does not expect him back until the start of training camp. Byrd will be having a surgical procedure for a disc in his back, but Payton does not seem worried that the injury will have lingering effects. He mentioned that it is not necessary and only a precautionary measure that Byrd would not undergo if it were during the regular season. Payton described the injury as asymptomatic, but although Byrd felt no pain, the specialists and doctors felt like this scenario would help Byrd long-term. When asked how it might have happened, Payton pointed to offseason weight training.
Patrick Robinson
Payton was very excited when talking about the young cornerback. Many, including myself, believe that this is a make-or-break season for the former first-round pick. Remember, this Robinson is entering the final year of his rookie contract and he missed almost the entire 2013 season when he was placed on injured reserve with a torn patellar tendon on September 18, 2013.
Injuries have been the cause of some of his struggles in the past, but Payton mentioned that he is moving around very well and that he looks fluid out there. He praised Robinson's rehab and offseason work ethic. Defensive coordinator Rob Ryan also heaped praise on Robinson, referring to him as a "special athlete" that he feels is going to be great for them. In perhaps the most noteworthy news, Robinson practiced with the first team defense ahead of Champ Bailey and Corey White. Payton also mentioned that they like Robinson's instincts and believe that he is right there competing for a spot at the starting cornerback position across from Keenan Allen.
Champ Bailey
The narrative on Bailey is that he is washed up and not the player he used to be. This narrative was born after one unfortunate play from the 2012 NFL Playoffs, and Bailey's injury-marred 2013 season didn't do much to change it. If you look back to 2012 and throw out that one playoff game, Bailey was healthy and performing at a high level of play that most of us were used to. According to Pro Football Focus, Bailey finished in the top 10 of their overall cornerback rankings, earning very strong grades in both pass coverage and in stopping the run. Last year, his play dipped as he dealt with a nagging foot injury, which his health in OTAs is so important.
Payton spoke on Bailey this afternoon, and he told the media that Bailey looked real sharp. According to Payton, Bailey was moving well, in great shape, and even made a really nice play breaking on a pass during practice. Payton mentioned the foot injury and relayed that he was 100 percent healthy now. Ryan also echoed Payton's opinion on Bailey and mentioned a few more fantastic plays that he made in today's practice.

Jimmy Graham

Graham, as expected, was absent from OTAs on Thursday. On Graham's Twitter, he tweeted out a picture of him hanging out on a boat simultaneously as his teammates worked through another practice. As I mentioned yesterday, Graham's absence presents a major opportunity for tight end Josh Hill.
Kenny Vaccaro
Payton talked about the year two improvements he expects and has already seen from Vaccaro. He noticed that Vaccaro is someone who is more comfortable with the system and has a better familiarity with the terminology. He mentioned that he's getting aligned and set up faster and making the calls more smoothly. He didn't seem surprised by any of this, as he noted that Vaccaro was just someone who loves the game of football.
Also, he pointed out that prior to the knee injury, Vaccaro seemed to be keep getting better and better with each passing week. This idea matches up with what the game charters over at Pro Football Focus saw as well. According to their grades, Vaccaro earned a negative grade (-4.6) in the first half of the season, followed by a positive grade (+6.5) in the second half. Payton singled out Vaccaro's consistency as a tackler when mentioning that he rarely gave up any leaky yardage. According to Pro Football Focus again, Vaccaro was a strong tackler throughout the entire season, and he only missed three tackles the entire year. Only four other safeties missed less tackles, and none of them played as many snaps as Vaccaro had.
Khiry Robinson
Payton noticed a more confident player in Robinson during this week's OTAs. He feels that Robinson has a better overall understanding of the running back position. Last season it was easy for him to come in and get the running part down, but he struggled a bit more with the protections and blitz pickups. Payton pointed out that Robinson has a much better understanding of the protections and his assignments this year.
Although Robinson only ran the ball 54 times for 224 yards and one touchdown in 2013, he was very difficult to tackle. According to Pro Football Focus, Robinson forced 10 missed tackles, averaging almost one forced tackle for every 5 rushing attempts. Of course, he will need to use the entire offseason to prove that he has improved his blitz protection. Last season, he was only used as a pass blocker on three total plays.
Tim Lelito
As I mentioned last night, Lelito will need a strong offseason to hold down the starting center spot. However, he may not be able to prove himself until training camp gets underway. Payton singled out center in specific as a position that was hard for a player to win until training camp gets underway. He added that Lelito had handled the transition well so far, but again confirmed that they will need to wait for training camp and live game action. When prodded for answers about potentially signing veteran center Jonathan Goodwin, Payton mentioned that the team would keep their options open all offseason long. As of now, they will have other younger players rotating in with Lelito during practices.
The Rookies
Payton mentioned that he feels like the rookies and undrafted free agents are ahead of the curve compared to previous years based on the schedule this year. He got the rookies in right after the draft on Monday as opposed to previous seasons where they would first come in during the rookie minicamp.
For more on the Saints, you can follow Dan Schneier on Twitter @DanSchneier_NFL. He will be tweeting out nuggets from OTAs and training camp all offseason long. You can also "Like" him on Facebook, or add him to your network through Google.
Also feel free to contact him directly through email with any questions or concerns at Dan.Schneier27@gmail.com.