Sumlin responds to Stoops' comments of Texas A&M's 'toughies'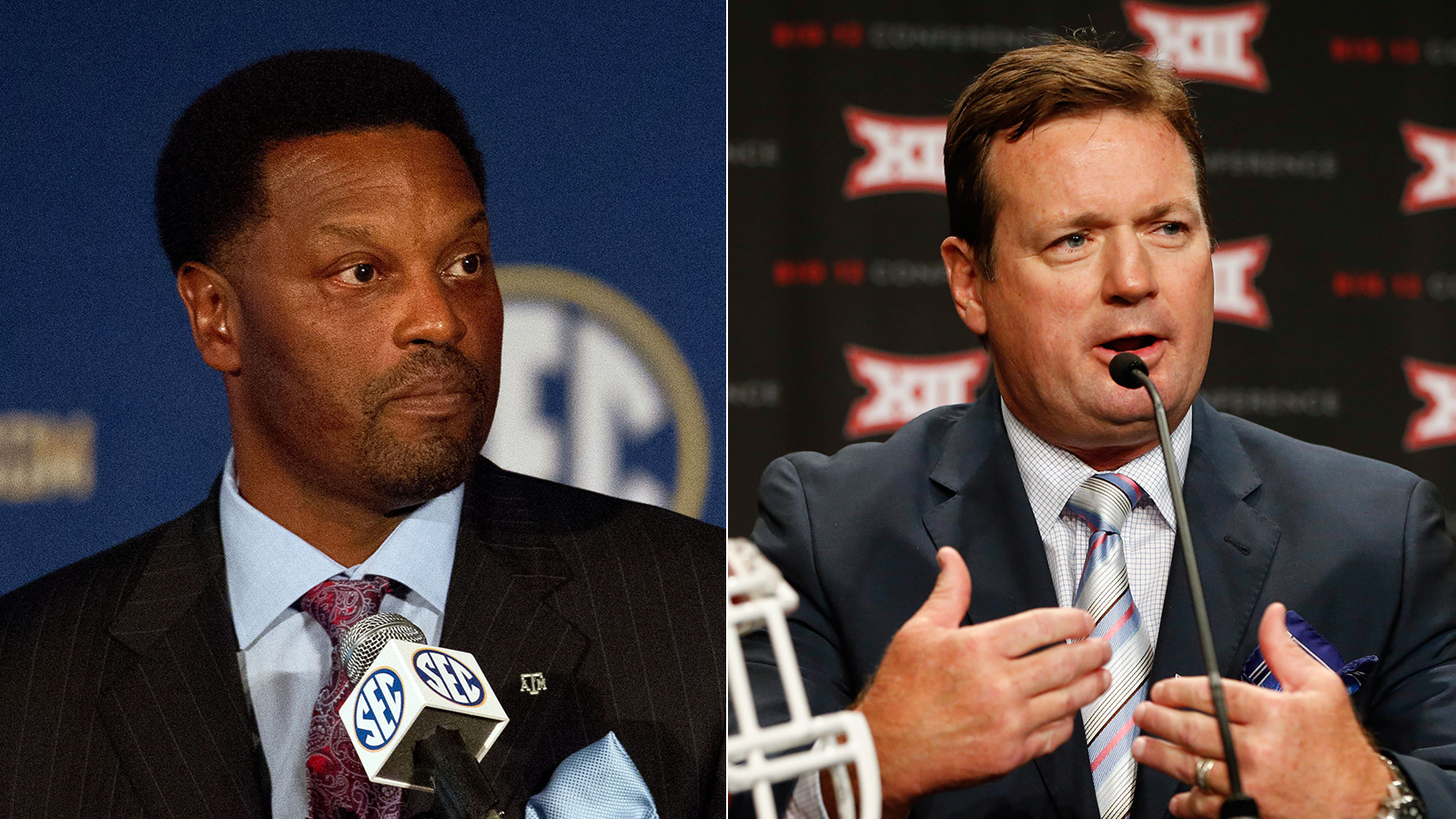 Oklahoma coach Bob Stoops hasn't been afraid to voice his opinions about the SEC.
Texas A&M and Oklahoma might not be conference rivals anymore, but Stoops took a shot at the Aggies earlier this week when discussing strength of schedule and the new college football playoff.
"They have Lamar, Rice, SMU and Louisiana-Monroe," Stoops said on ESPN. "Boy, those are all a bunch of toughies, right?
"We have nine conference games. So if (Texas A&M) was fortunate enough to be in the SEC championship game, they would play nine conference games at the end of the day and they have all those four 'toughies' to go with it."
Texas A&M coach Kevin Sumlin would gladly like to beef up the Aggies' schedule if Stoops wants to start visiting College Station again.
"Coach Stoops has the right to say whatever he wants, but if he wants to play us again we'll take him up on that," he said at an event in Houston on Friday, according to AggieSports.com.
The Sooners dominated the Aggies during their days in the Big 12, including drilling Texas A&M 77-0 in 2003 for its worst loss in school history. But the last time they met in the 2013 Cotton Bowl, Johnny Manziel and the Aggies rolled OU, 41-13.
The Sooners don't have a tough nonconference slate of games either with Louisiana Tech and Tulsa. But they will get a chance to make a statement at home against the SEC, even if it is against a Tennessee team that has struggle the past few seasons.
Would Oklahoma take Sumlin up on his offer? The Sooners haven't been afraid to schedule big-time programs early in the season.
"We just came off the last four years series with Notre Dame and Florida State," Stoops said at Big 12 Media Days on Tuesday. "We've got Tennessee and Ohio State coming with Nebraska and Michigan, on and on down the road. And it's been intentional, that in the BCS formula, and even now with a playoff formula.
"When all things are equal with records and whatnot, if someone has played a tougher nonconference schedule, to some degree it would usually benefit you. Otherwise, why play? Otherwise, you might as well just schedule three yawners that no one will pay attention to and not put yourself at risk of losing that game."
Like or hate what you see? Let me know on Twitter @LouisOjedaJr