Charlie Strong battling entitlement at Texas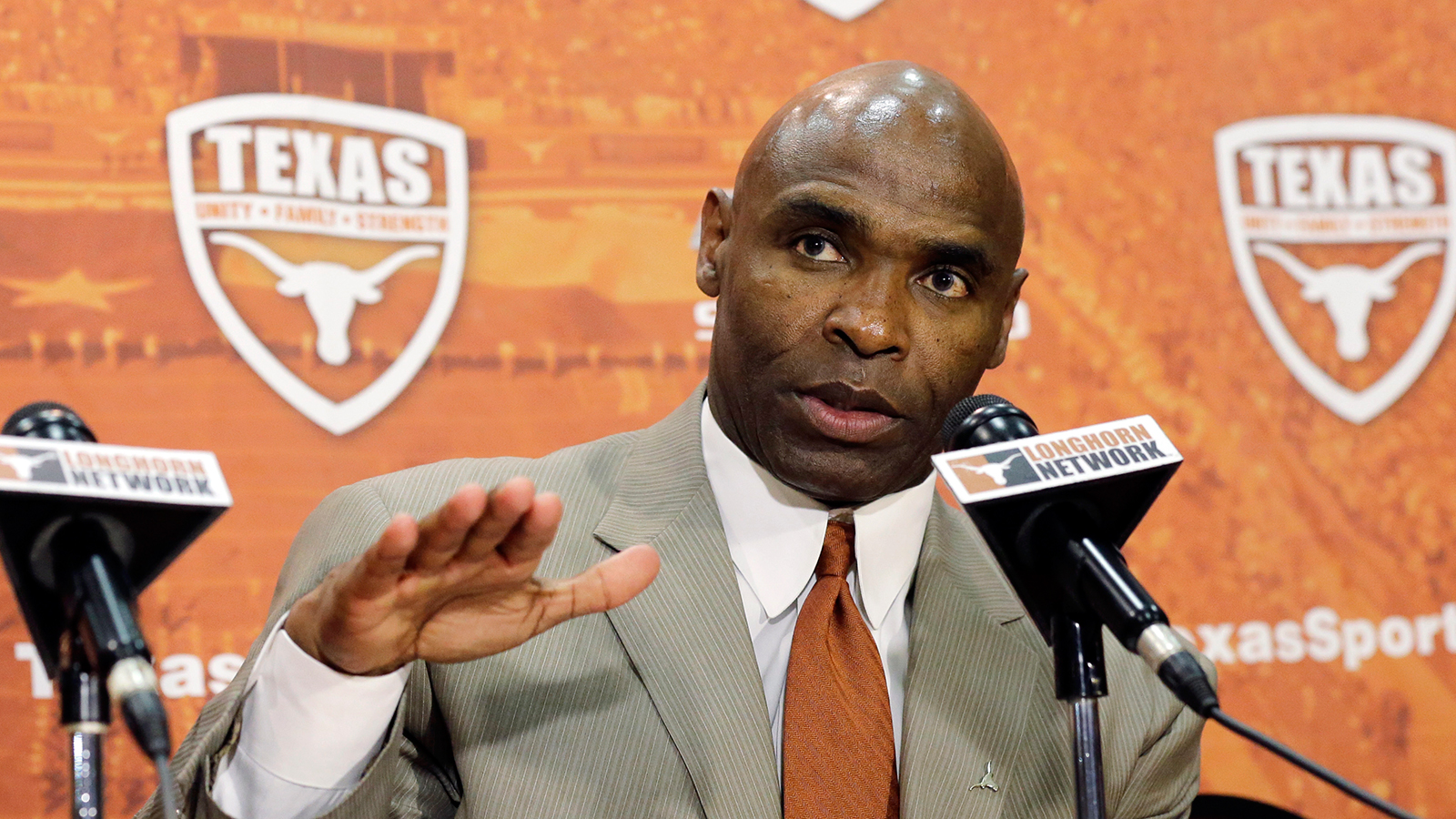 AUSTIN, Texas — Small changes can send big messages.
A walk of less than half a mile did more for Charlie Strong than any billboard or stern lecture ever could.
Before his arrival, players made the short, uphill trek from Texas' football offices to its practice field on air-conditioned busses that conveniently dropped them off along Red River Street, a few steps from the entrance to the field
When Day 1 of spring practice arrived last month, there weren't any busses waiting outside the Moncrief-Neuhaus Athletics Center.
"First they looked at us like, 'Come on, walk to practice? What are you talking about?'" defensive coordinator Vance Beford told FOX Sports Southwest this week.
Please direct all complaints to the paper shredder down the hall.
"I tell my guys all the time, 'I'm 55 years old, bad knees, bad back. If I can walk, you can walk,'" Bedford said. "It goes back to an attitude. We have to get back to working for everything that you want."
This time last year, if you'd called Texas soft or entitled, the Longhorns wouldn't have much evidence to counter the argument since reaching the national title game in 2009 and falling to 5-7 in 2010.
Kansas State linebacker Tre Walker fired a shot Texas' way at Big 12 Media Days in July.
"They kind of laid down a little bit," he said of the burnt orange boys. "That's nothing to say about their character. That's just what they do."
He later apologized, but after Texas' 11-15 record in Big 12 play the previous three seasons, Walker didn't exactly find himself confronting a chorus of disagreement.
Strong has been intent on changing that since being hired on January 5. Hiring a staff stocked with attitudes like Bedford's began the process.
"The military does it the right way," Bedford said. "We're going to break you down and build you back up."
Bedford, a former Texas defensive back, coached DBs under Strong when Strong coordinated a national champion defense at Florida during the 2008 season and moved up to coordinator when Strong took his first head coaching job at Louisville in 2010. Returning to his alma mater with Strong was a no-brainer.
What Strong calls "Phase 1" began right away with Pat Moorer's strength and conditioning program.
"My man never smiles," Bedford said of Moorer. "He walks around like he's mad all the time."
Phase 2 was what happened after his players made the hike to the practice fields beside Interstate 35. Spring practice concludes with Saturday's spring game.
"I followed an icon in Coach Brown, and there's been no resentment. Everything we've asked the players to do, they've done. You don't want guys to get complacent and you want them to earn everything they get," Strong said. "They've come to work and you know, there's been some days when I've had to start it over and they've understood, 'Hey, that's not good enough.' We'll continue to work until they understand what's good enough."
Change arrived off the field, too.
Players are responsible for keeping their lockers clean. Coaches come by classes, no matter how far from the facilities they're held, and make sure players are attending and seated near the front.
They're even accountable for keeping dorm rooms tidy. Bedford wasn't kidding when he said the military does it the right way.
"Mom and Dad aren't here, but you better clean up your place," he said. "There's a price to pay for everything. You can't do things the right way, you get timeout. Whatever that may be."
Strong laid out his expectations early on. He's liked the response. Most understand the purpose of a stern set of rules. His emphasis on "putting the T back in Texas"–it stands for toughness, teamwork and trust–is more than just a snappy slogan.
"They're searching for that. They want discipline," Strong said. "They've heard so much about what they haven't done. Now, they want to prove to everyone that they can do it."
Added running back Malcolm Brown: ""He felt like there a lot of guys came to Texas, and that was it. Guys were thinking I'm here at Texas, I'm a football player, I should get this, I should get that. … Just small things like sitting in the front row of classes, making good grades and not just getting by, taking away the busses to practice, making us earn putting up the horns, he just wants us to get it, and I feel like they did get that message."
The changes' effect on Austin might not be truly known until later in Strong's tenure. The lack of star power at quarterback was his predecessor's downfall and will make Strong's effort to jumpstart the program more difficult. Still, his drill sergeant efforts are belied by his softer side. Think gruff head coach Ted Orion that originally butts heads with captain Charlie Conway in Mighty Ducks: D3.
"He cares about us as people and really wants what's best for us," defensive back Quandre Diggs said.
Strong's the same guy who can climb all over a player for not giving satisfactory effort in practice and take time at 7 a.m. every day to call both of his daughters, who still live in Louisville and plan to move to Austin in June.
"I want them to understand how important they are in my life," Strong said. "Sometimes we get caught up in raising someone else's child and forget about our own children."
Diggs got a preview of what was to come when he sat down with the staff to decide whether he planned on staying at Texas or entering the NFL Draft early.
He chose to stay.
"It's going to be different with the changes we've had around here, but they're good changes. I'm loving it," Diggs said. "We're just trying to get this thing turned around and get back to the top where Texas is supposed to be."
The Longhorns have lost just four players since Strong's arrival. That's safely on the low side of the natural attrition that's part of any coaching change. Two (DB Leroy Scott, FB Chet Moss) were dismissed in mid-March. Two small contributors (WR Bryant Jackson, Aaron Benson) gave up football.
Running back Joe Bergeron, who rushed for 16 touchdowns in 2012 but fell to third on the depth chart last season, is away from the team while focusing on academics and could return in the fall.
"He's very transparent, he's very real," co-offensive coordinator Shawn Watson said of Strong. "The genuineness, and then the regimen and standard of expectation. Kids got a real clear message that he's different. It's going to be different. As he says, 'This is the way we ride.'"
Texas' uncertain situation at quarterback–David Ash has been sidelined by a Jones fracture in his left foot and has very little experience behind him in Tyrone Swoopes and newcomer Jerrod Heard–means the Longhorns will lean on running backs Malcolm Brown and Johnathan Gray. Defensively, Bedford and Strong point to the defensive line and offensive line as the team's strengths.
"We have a chance to be something special up front, and if you're special up front on either side of the ball, you have a chance to win championships," Bedford said. "We physically just want to destroy people and we have the ability to do that."
It's not hard to see how entitlement seeped into Texas' program after nine consecutive 10-win seasons under Mack Brown. Brown revitalized the program and its effort on the recruiting trail, earning the famed "Mr. February" title early on before backing it up with two national title appearances (one win) and two BCS bowl wins from 2004-09. Simply earning a scholarship offer at Texas became an accomplishment.
To borrow a phrase from the Batman villain Bane: Victory defeated them.
Since then, rising Big 12 powers like Baylor and Oklahoma State joined Oklahoma in surpassing the Longhorns on the field. Rival Texas A&M's Heisman Trophy and recruiting under Kevin Sumlin further bumped the Longhorns down the region's food chain.
Strong and his staff have spent the last three months explaining why the trophies for national titles, Heismans, Lombardis, Thorpe Awards and other accomplishments are behind glass and not in their hands.
"This is the University of Texas. You didn't do anything here. That's been built by guys in the past. The 2005 national championship team? You guys weren't there. You weren't a part of that. You didn't do anything to help those guys win that," Bedford said. "You've got to build your own legacy. And it starts with hard work. That's what they're doing right now."