Stars' Roussel flattered by fans wearing his No. 21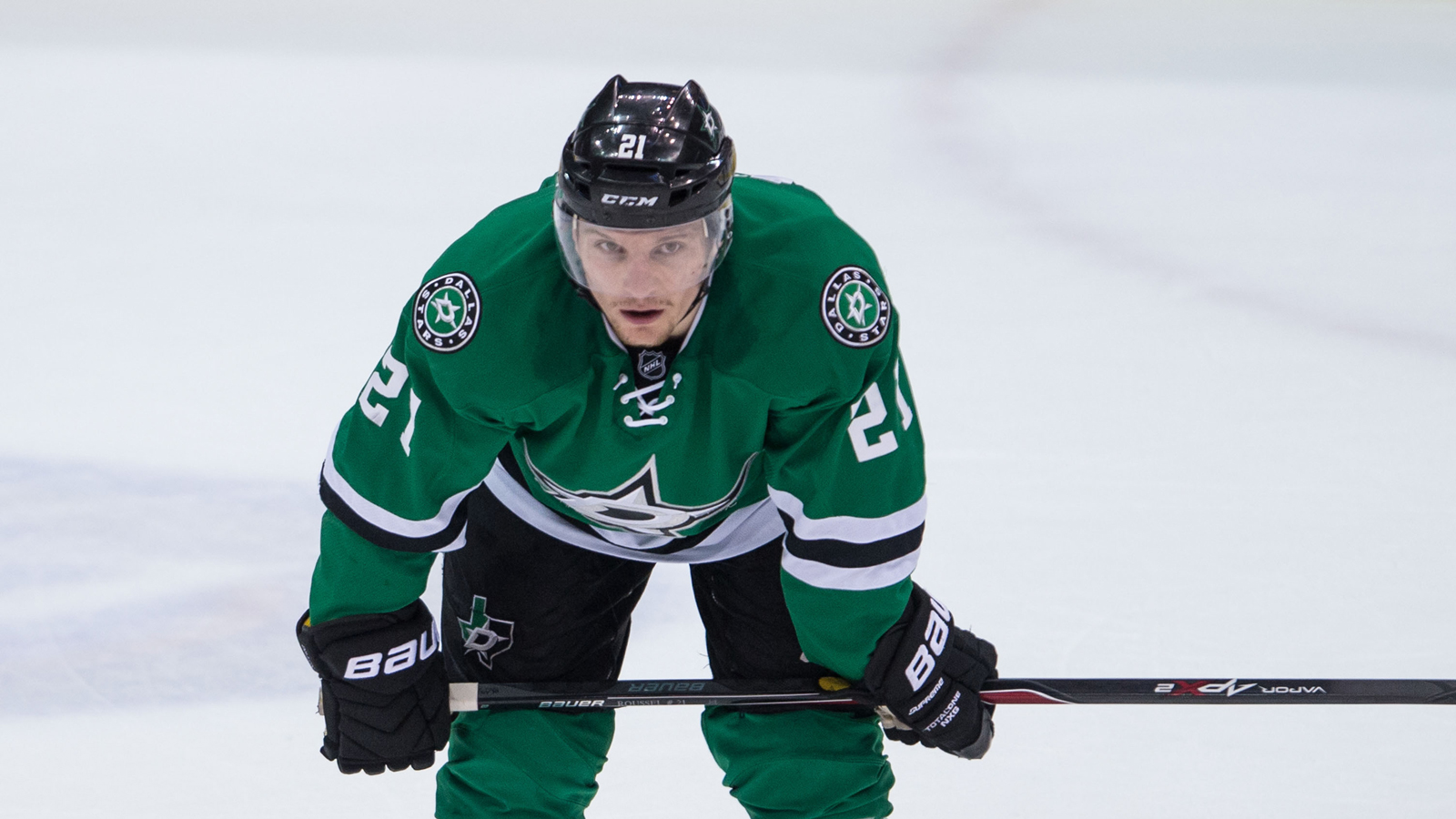 FRISCO, Texas — This has been a pretty good last five months or so for Dallas Stars winger Antoine Roussel.
In April, Roussel, 24, who had a career-high 29 points (14-15-29) over 81 games in the regular season, got his first taste of playoff hockey as the Stars snapped a six-year playoff dry spell against the Anaheim Ducks.
Unfortunately, Dallas lost that first-round series in six games. But in July, Stars general manager Jim Nill rewarded "Rousse" with a four-year contract to the tune of $8 million, meaning No. 21 will be getting under the skin of opponents, chipping in on offense and dropping the gloves whenever called upon for the foreseeable future.
In a fairly short time, Roussel has pretty much inherited the role of Dallas' resident fly in the ointment, that player no one likes to play against but who everyone would like on their side, from former renowned agitator and fan favorite Steve Ott, who was traded to the Buffalo Sabres in July 2012 and now plays for ex-Stars coach Ken Hitchcock with the St. Louis Blues.
And as fans have started to appreciate exactly what the young French-born winger brings to the Stars, he has become something of a fan favorite as more and more No. 21 Roussel jerseys are starting to pop up.
"It's awesome. I'm really flattered that people would buy my jersey. It just makes me feel like I should do more," Roussel said. "It's awesome to see that, for an undrafted player. I'm really fortunate."
Like most players, he took a few weeks off right after Dallas' season ended in mid-April and after that, he was back working out and getting ready for the season. During the offseason, Antoine did buy a house in Quebec, where he grew up and spent time with friends in Canada before returning to the Lone Star State.
His new contract not only gives him some stability in terms of his future in the NHL and in Big D, but it also provides him with the chance to continue playing for Stars head coach Lindy Ruff, someone he quickly bonded with last season, Ruff's first behind the Dallas bench.
"It's a great relationship. I love it. He's the coach, we apply what he says. I think he's a good person obviously. He just makes everyone comfortable, so it's awesome," Roussel said.
One part of Ruff's coaching style he has especially taken to is his mentality of "Everybody Ropes, Everybody Rides," not just a catchy mantra that appears on the wall of the locker room at Stars team headquarters in Frisco, but an approach where every player has to make plays on both ends of the ice, no matter their position or skill level.
"I want to make plays all the time and just make a difference on the ice. Embracing defense is what Lindy says, so sure (I am going to do it)," Roussel said.
And as the Stars begin training camp on Friday in Fort Worth, the Stars' resident agitator takes pride in what he and his teammates accomplished last season in year one under both Nill and Ruff.
"That was great, so much fun. We had fun, so we played well and got into the playoffs. It's awesome," Roussel said.
But he also knows that it's time to get his head right with puck for the coming season, one where he's intrigued to see how the new additions of Patrick Eaves, Ales Hemsky and Jason Spezza among others are able to mesh into what was a rock-solid group last season and hopefully take that next step by going at least a round or two in the postseason.
"I can't wait to get going again, to get good, new guys in the crew. Everybody's mixing pretty awesome together, so I'm excited about getting started, getting camp over with and the first game of the season, I'm really looking forward to it," Roussel said. "We have more depth now. I think we're a really solid team."
As a guy who got his first chance in the NHL two seasons ago under now-former Stars head coach Glen Gulutzan as an undrafted free agent, No. 21 has clearly embraced his role as someone who can take the other team away from their game plan, an asset that was on full display in Dallas' first-round playoff series with the Ducks about five months ago.
However, Roussel admits that while he loves doing whatever he can for the Stars in that respect, it was also nice to contribute on the offensive end, setting career highs in goals, assists and points along with penalty minutes of course, something he hopes to do more of this season.
"Well, obviously yeah, I am (that guy who gets under the other team's skin)," he said. "I'm not just that, that's what I meant. I just want to score when I go on the ice and just want to help the team win. By scoring, we win. That's my main goal on the ice (is to score), but if I can do some other things to make the opponent unhappy, that's part of the game as well."