Stars have several areas to address this offseason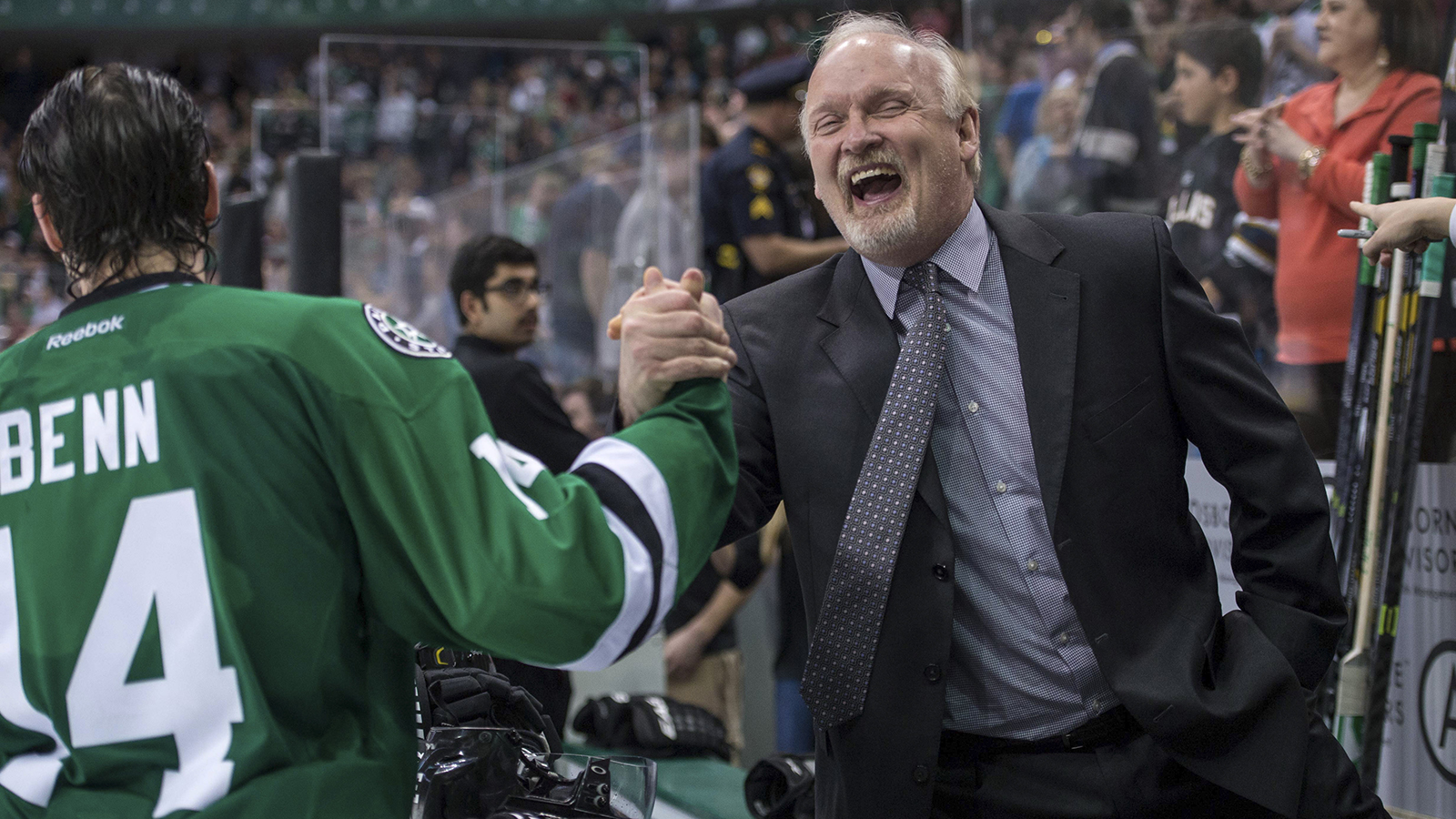 Year one of the Lindy Ruff era behind the Dallas Stars bench has been in the books for several weeks now. And as the Stars look toward preparing for the draft and determining how to improve the club for next season, Ruff, general manager Jim Nill and other organizational decision makers do so knowing that there are several areas of need with the club which need to be addressed.
But the good news is that considering how deep the organization is in a number of different areas, the number of viable internal options to fill these needs without bringing in free agents is higher than it's been in some time.
A Second-Line Scorer
With a plethora of scoring forwards in the mix like Alex Chiasson, who showed some nice flashes during his first full NHL season along with Colton Sceviour, who displayed a knack for scoring goals each time he was brought up from the AHL, and newcomer Brett Ritchie, Dallas' second-round pick in the 2011 NHL Draft who had 48 points in 68 games during the regular season with the Texas Stars, Dallas clearly needs a center for their second line.
The Stars could first opt to look internally and the top candidate appears to be Radek Faksa, the club's first-round pick in 2012. After three seasons in the OHL, Faksa played six games in Cedar Park late in the year and registered three points.
Faksa has two goals in nine games for Texas in the 2014 Calder Cup Playoffs, but it remains to be seen whether or not the youngster from the Czech Republic who is still only 20 would be ready to make the jump to the NHL next season. He should again get a long look during the Stars' offseason developmental camp as well as during training camp to see if he has what it takes to compete in the NHL.
Then again, Nill and company could opt to go the free agent route at center. Paul Stastny could become an unrestricted free agent in Colorado, making $6.6 million last season after registering 60 points (35 assists) for the Avs. However, it appears Colorado is pretty serious about locking Stastny up, so it's unlikely he even reaches free agency.
Veteran Olli Jokinen, who is 35 and made $4.5 million in Winnipeg last season, comes off a 3-point season (25 assists) where he appeared in all 82 games for the Jets. Durability has been a calling card for Jokinen, who has appeared in all 82 games in each of the past two full seasons and only missed three games for Calgary in 2010-11. He's an experienced player who would provide a solid veteran presence for a young Stars team.
David Legwand, the second pick in the 1998 draft by Nashville, could be another possibility. A pre-deadline acquisition by the Red Wings, Legwand had 51 points combined between the Motor City and the Music City and appeared in 83 games. Like Jokinen, he's extremely durable and is still just 33, so he clearly has a number of productive years ahead of him. Legwand made $4.5 million last season.
Anaheim's Saku Koivu is 39 and pondering retirement. He made $3.5 million for the Ducks last year and chipped in 29 points in 65 games. Dave Bolland is a solid center who made $3.4 million for Toronto last season but new Leafs GM Brendan Shanahan said he wants to re-sign Bolland, who doesn't provide the level of offense the Stars need on their second line.
One final possibility could be Capitals centerman Mikhail Grabovski, who turned 30 earlier this year. He finished with 35 points (22 assists) in 58 games for Washington last season but had two seasons of 50-plus points earlier in his career with Toronto. He made $3 million last season.
Another Defenseman with Size
When Brenden Dillon was injured late in the regular season and in the early part of the Stars' first-round playoff series with the Ducks, Dallas' lack of size at the blue line suddenly became quite apparent.
To his credit, rookie Patrik Nemeth, who is 6-3, stepped right in as a rookie and showed pretty well in a truly tough situation, impressing Ruff with his blend of size and hockey IQ while also displaying incredible poise for a green 22-year-old.
Nemeth was a second-round pick in 2011 who could be the best internal candidate to join the 6-2 Dillon at the blue line next season. But he is by no means the Stars' only internal option to break through in the back.
That's because 2011 top pick Jamie "Big Rig" Oleksiak, who is just now 21, will again get a serious look to start the year in Dallas. Oleksiak struggled in his seven NHL games last season but having another year of seasoning in the AHL could help him finally break through and stick with the Stars for good as soon as this fall.
Another option is Finnish d-man Jyrki Jokipakka, a seventh-round pick in 2011 who had 21 points (16 assists) in 68 games in the AHL this past season. Jokipakka, who is 22 and 6-3, already has four assists through nine playoff games with Texas.
Young Swede John Klingberg, a 6-foot-2 blue liner who was a fifth-round pick in 2010 who made his professional debut earlier this year, is another possibility. Klingberg is only 21 and figures to need a bit more experience in the AHL before he could be ready to make the jump, but he is another name to watch among a group of talented young d-men in the Stars organization making their push for a spot in the NHL.
A Solid Backup Goaltender
With Tim Thomas not in the equation for next year, the Stars will need a solid No. 2 goaltender to serve as Kari Lehtonen's backup. Again, there are several viable candidates within the organization in 2010 top draft pick Jack Campbell, who made his NHL debut last season, and Cristopher Nilstorp, who has six games of NHL experience over the past two seasons.
But the question with Campbell, who the Stars envision as Lehtonen's replacement in the near future is whether or not he would be best served by playing behind Kari next season as his backup or if the more favorable course of action would be to keep him in the AHL for most of next season so he can get a lot more experience and games on a more consistent basis.
However, the Stars could also decide to go the free agent route to find Lehtonen's next backup. Two of the best veteran options expected to hit the market are Jean-Sebastien Giguere, who is 37 and made $1.5 million last year with Colorado, and Scott Clemmensen, 36, who made $1.2 million with the Florida Panthers last season.
But there are other less-expensive options to consider like Joey MacDonald of Calgary ($925,000), Thomas Greiss of Phoenix ($750,000), the Flyers' Yann Denis ($675,000), Alex Stalock of the Sharks ($625,000), the Jets' Al Montoya ($601,000) or even Nashville's Carter Hutton ($550,000), who filled in nicely for the Predators last season during Pekka Rinne's extended absence.
Last offseason, the Stars brought in Dan Ellis to be Lehtonen's backup and he was gone by the deadline due to ineffectiveness in favor of Thomas, who came over from the Panthers in the same trade. The good news is Nill and the other Dallas decision makers have options to back up Kari, a wealth of options both internal and external, which is never a bad thing.