Stars have held their own vs. Ducks this season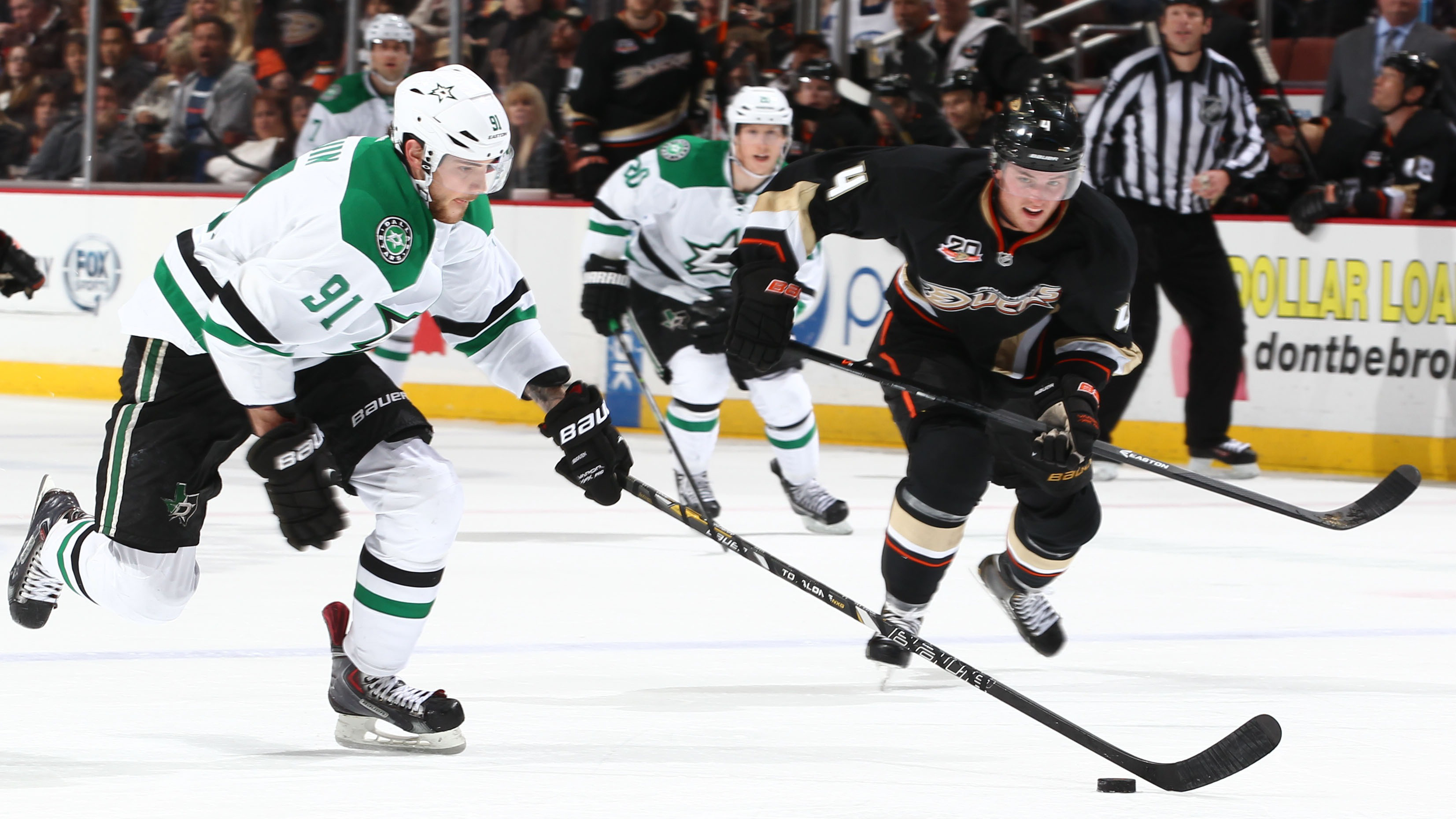 When the Dallas Stars and Anaheim Ducks drop the puck on their 2014 Stanley Cup Playoffs First Round series on Wednesday night at the Honda Center in Anaheim, it's a matchup replete with storylines.
Of course, this series pits two former Pacific Division rivals against one another and one where a longtime Star in defenseman Stephane Robidas, who was traded to Anaheim prior to the 2013 NHL Trade Deadline, is now playing for the Ducks.
And even though these teams are no longer in the same division after realignment, they did square off three times during the regular season. Here's a quick look back at those games:
Oct. 20, 2013 (6-3 Ducks)-Anaheim Blitzes Stars in SoCal
Dallas' top pick in the 2010 NHL Draft, Jack Campbell, who was taken 11th overall, made his NHL debut in this game at Honda Center and it was a tough debut to say the least. Campbell was under siege for much of the game as Anaheim finished with 47 shots, with Campbell stopping all but six of those attempts.
But this was a game where the Stars led 3-1 after the first period. However, the Ducks would erupt for a franchise-record 23 shots in the middle frame and three goals, part of a burst of five unanswered to prevail 6-3.
Ryan Getzlaf (goal, three assists) and Corey Perry (two goals, assist) were the big contributors for the victorious Ducks, who won their seventh straight. Anaheim also saw Craig Andersen, who replaced Jonas Hiller in goal after the first period win his NHL debut by stopping all 24 shots he faced.
Nov. 26, 2013 (6-3 Stars)-Dallas Notches Solid Win at AAC
The Stars gave their fans plenty to be thankful for from a hockey standpoint with an impressive 6-3 win over the Ducks at American Airlines Center two days before Thanksgiving. Anaheim led 1-0 after one period and 2-1 after 40 minutes of play after Nick Bonino scored just 36 seconds before the second intermission.
However, the Stars would erupt for five goals in the third, including three in a 53-second span from the likes of Cody Eakin, Robidas and Ryan Garbutt, to prevail by three on home ice. But was truly impressive about this victory was that neither captain Jamie Benn nor top offensive cog Tyler Seguin's names appeared on the stat sheet.
Dallas was instead led by a pair of goals by Antoine Roussel, who scored twice with family in town for the Thanksgiving holiday, a three-point night (goal, two assists) from Garbutt and two assists each from Erik Cole, Eakin and Vernon Fiddler. It was the sort of secondary scoring that brought a big smile to the face of first-year Stars head coach Lindy Ruff.
Feb. 1, 2014 (2-0 Stars)-Ducks Saddled with Rare Shutout
It had to happen sooner or later. At some point during the 2013-14 regular season there was going to come a night when the high-scoring Ducks offense was held at bay and they were shut out. Dallas was that team as backup goaltender Dan Ellis, who once patrolled the crease for Anaheim, stopped all 26 shots he faced as the Stars prevailed 2-0 at the Honda Center.
Trevor Daley delivered the game-winner for Dallas in the first period and Benn added an empty-netter with 29 seconds left as the Stars snapped a winless run that had reached five games. It was a nice moment for Ellis, who was also in net for Dallas when they beat the Ducks 6-3 at the AAC back on Nov. 26.
Daley's goal came when he tapped in a rebound, but it was Eakin who did the leg work. Eakin skated in on Ducks goaltender Jonas Hiller and after his wrister was turned away by the Anaheim netminder, an opportunistic Daley was there to poke in the carom. Eakin had left the ice earlier in the game with a cut to the face, but returned to the bench and the ice in a nice show of heart by the hard-working and often unsung Stars center.