Stars' dynamic duo of Benn and Seguin ready to get rolling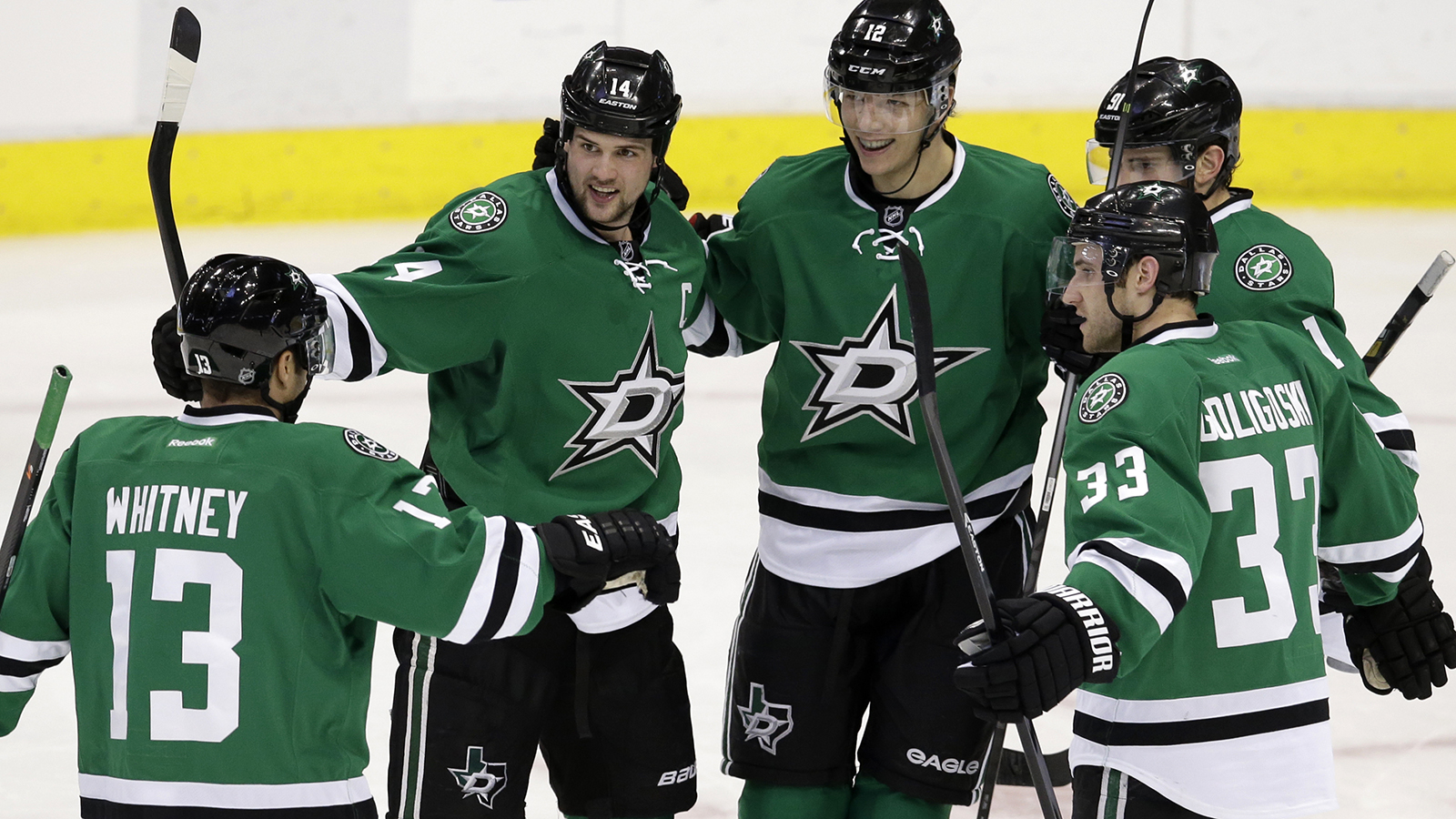 FRISCO, Texas — Year one of what figures to be a long and productive partnership between Jamie Benn and Tyler Seguin wearing the victory green of the Dallas Stars was a rousing success as the Stars' dynamic duo combined for 163 points and was a big reason why Dallas snapped a six-year playoff dry spell before falling in six games to the Anaheim Ducks in the opening round.
But of course, that was then and this is now. Both the Stars captain and No. 1 centerman have been skating with their teammates for several weeks now ramping up to Dallas' Oct. 9 season opener at American Airlines Center against the Chicago Blackhawks.
And as the Stars get set to start training camp on Friday in Fort Worth, both are ready and expecting bigger and better things, not just for themselves, but for the team, in this rapidly approaching season.
"Yeah, I think we (Seguin and I) made a statement last year in the way that we handled ourselves on and off the ice," Benn said. "We've got something we can improve here. We've got a great opportunity with the team that we have and we want to push each other and our teammates."
Seguin, who came to Dallas in a blockbuster trade with the Boston Bruins on July 4, 2013, agrees with his good friend and linemate that year one of the Benn/Seguin tandem was highly productive, but he also knows that was only the tip of the iceberg in terms of what they could help the Stars accomplish in the near future.
"Yeah, I definitely think we can be better. I think it was also our first years at those positions in the NHL. It's one thing to play there growing up. It's another to do that in the NHL," Seguin, who made the move back to center last season after playing wing in Boston. "We both are familiar with the other positions, but now we're back in our own positions. It's different and we keep learning in that and getting better as a tandem."
Benn, who completed his first season wearing the "C" as Dallas' captain admits he didn't watch a ton of playoff hockey once the Stars were eliminated by the Ducks in mid-April. But as time passed, he found himself catching a few games here and there.
"I watched a lot of the Game 7s, but up until that I didn't really care. I watched the Anaheim/LA Game 7 and a couple of the other ones," he said.
And seeing other teams get further than his Stars did in the postseason only energized him and got him thinking about how he and his teammates could put together a nice run of their own next spring.
"The first couple weeks after we were done were pretty tough actually. You finally get in and get a taste of it and you find out how fun it is and how hard it is to win, it makes you want to get back for more and makes you pretty hungry for this year to improve off last year," Benn said.
Not only does No. 14 want to see he and Seguin continue to build an even higher level of cohesion as one of the more potent offensive tandems in the National Hockey League, but as he heads into year two as Lindy Ruff's captain, he also wants to continue progressing in terms of the leadership he can provide to his teammates both on the ice and in the dressing room.
"I had a great year last year. It's fun to be captain of this team," Benn said. "I was surrounded by so many good leaders and that was what I was most excited for when I first got the "C". It was something I wanted and worked hard to get last summer. I thought the year was a successful one for my first year as captain, but I'm hungry for more. I want to improve and help this team to improve."
And both members of this talented and prolific offensive duo clearly feel more comfortable heading into their second year as teammates. Benn feels much more at ease after one year wearing the "C" while Seguin feels pretty settled with his first full season as an NHL center now under his belt.
"I feel more comfortable and it's also been great having a first full offseason this summer to develop a bit more, keep working on my body. I knew what I needed to work on and I had more time to do that in the summer," Seguin said.
But one big question surrounding this one-two punch is who will be the third member of the group this year?
Of course, that's an answer left up to Ruff, who is heading into year two on the Dallas bench and whoever Lindy goes with, Benn and Seguin will be fine with his decision.
"I'm not sure. I'll leave it up to the coaches. Obviously, me and Tyler had some pretty good chemistry with Val (Nichushkin) last year," Benn said. "I wouldn't be surprised if we see a little bit of him this year. He's a great young player and it'd be great to play with him again this year."
Seguin even took the discussion a different direction by mentioning that Ruff could decide to play different people alongside them both depending on matchups and assorted other factors.
"Yeah, it's pretty much Lindy's decision. I think Lindy's pretty happy with having options. Coaches can't be mad about that. I'm sure he's excited about making those decisions and I'm excited to see what works," Seguin said.
There is plenty cause for optimism with the Stars heading into this season, not just because of what they accomplished last season but also because of the great moves general manager Jim Nill made in his second offseason with the club, acquiring veteran center Jason Spezza in a trade with the Ottawa Senators, adding solid winger Ales Hemsky, fellow veteran Patrick Eaves and a solid backup goaltender in Anders Lindback among others.
Benn was impressed with the work of Nill heading into last season, an impressive haul that included his future linemate in Seguin and he's equally awed by what the former longtime assistant GM of the Detroit Red Wings has done in year two as the Stars' GM.
"He's not messing around up there. (Am I) Surprised? Maybe a little I guess, but he's been doing a great job of bringing in some great players for this team and just trying to make our team improve on the whole. We got a good piece last year in Tyler and got a couple more in the players that we got this year," Benn said. "It's a little bit of the same feel (as last year). We're excited. We've got some good guys coming in and it's going to be good."
This summer marked Seguin's first full offseason in the Dallas organization but he also took a step back to admire Nill's impressive work this summer and to also ponder the possibilities of how well all these new additions will fit with the Stars.
"Yeah, it's pretty crazy what Jim's done in just a couple years and how he can do it. There's a lot of people who say you can't get certain players and he's gone out and gotten a couple in two years," Seguin said. "Yeah, It's exciting. It doesn't seem like he ever rests. I got a chance to sit down and meet with him this summer and it seemed like it was just winding down. There's a lot of things going on but he's definitely improving our team and we're a team this year that got better."