SMU wins AAC for first conference title in 22 years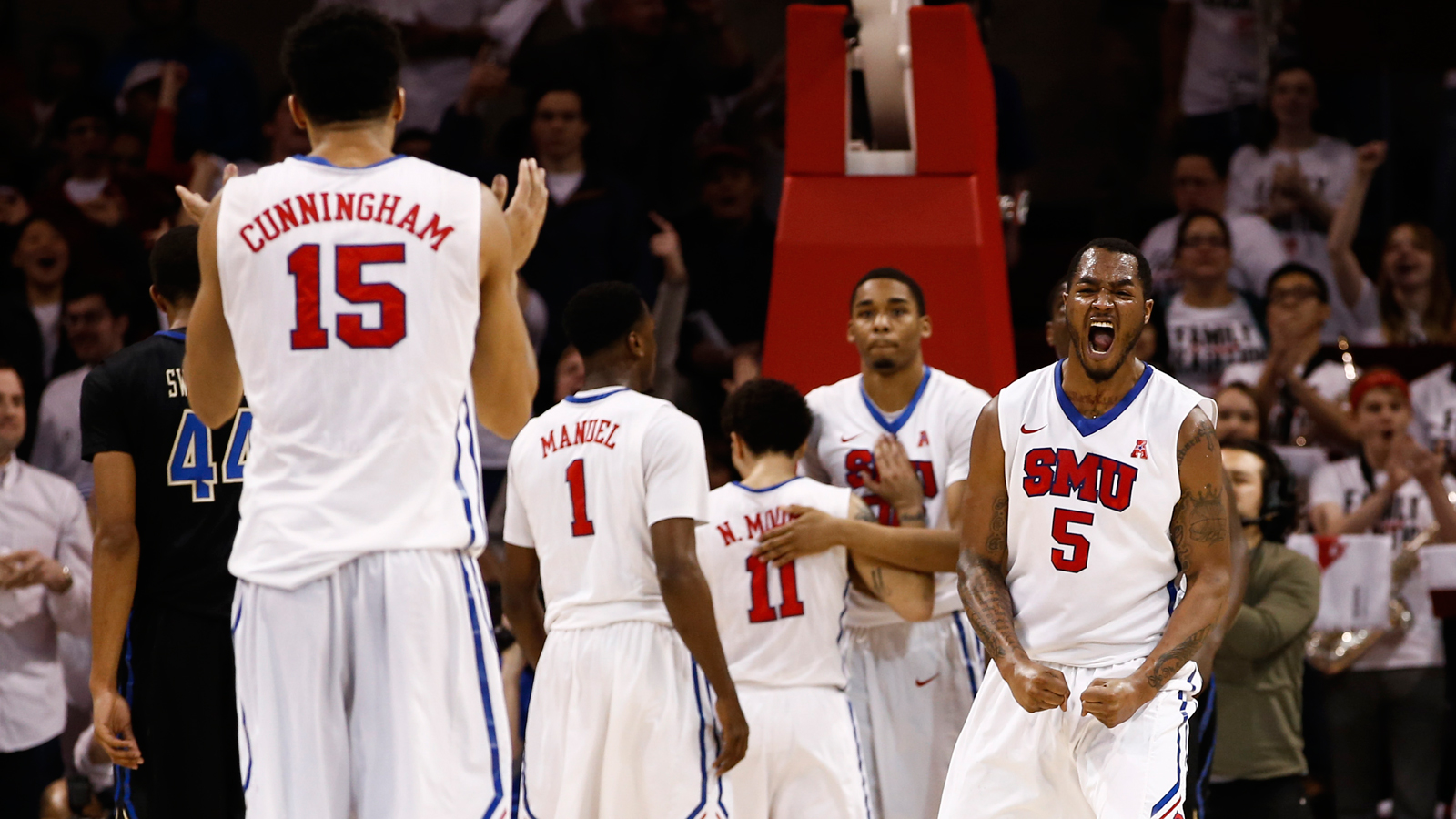 UNIVERSITY PARK, Texas — SMU forward Markus Kennedy thumped his chest and screamed in frustration as he walked up the court in the second half of Sunday's AAC title showdown with Tulsa.
From then on, the game changed.
Kennedy scored on four consecutive possessions and led SMU on a 17-5 run. The run, sparked by Kennedy's muscular low-post play, turned a six-point deficit into a six-point lead.
The No. 22-ranked Mustangs went on to a 67-62 win to capture the American Athletic Conference title and the top seed in the conference tournament.
Kennedy led SMU with 16 points and also grabbed 7 rebounds. His chest-thumping display also provided SMU with an emotional spark.
"That's how we knew he was mad," SMU center Yanick Moreira said. "When he does that, that's when he's upset. That's when he's ready to play, so we just hope that he does that every time."
SMU shot 50 percent in the second half in front of a sellout home crowd that included former President George W. Bush and Dallas Cowboys Tony Romo and Jason Witten sitting courtside.
SMU is now all but assured of a bid to the NCAA Tournament after seeing its bubble burst a year ago. Selection Sunday should be a celebration instead of a disappointment this year.
"On a Sunday last year we found out we were going to play here [in the NIT]," SMU coach Larry Brown said. "I think after today I'm hopeful we don't have to play here 'til next year."
Tulsa guard James Woodard did his best to make SMU nervous with a career-high 30 points on 10 three-pointers.
Woodard hit his last three-pointer with 8.5 seconds left to trim SMU's lead to three, 65-62.
"The basket seemed like a bathtub for him," Brown said. "And he kept stepping up and making them and forcing us to make free throws. He was phenomenal."
Kennedy made both ends of a one-and-one to give SMU a two-possession lead with eight seconds left, securing the victory.
The conference title is SMU's first since winning the Southwest Conference in 1993, which was also SMU's last NCAA Tournament appearance.
"During the national anthem, I was looking up at the banners and this has been the longest stretch without a conference championship," said SMU center Cannen Cunningham, who scored 12 points and grabbed 12 rebounds in his final game at Moody Coliseum. "It meant a lot for us personally, but also for the school."
Tulsa (21-9, 14-4) also had a chance to claim the conference title with a win. Now the Golden Hurricane may have more work ahead to prove their NCAA Tournament worthiness. Tulsa was ranked 47th in the RPI going into the game.
"There's such as thing as the eyeball test, and hopefully the committee's watching the game," Tulsa coach Frank Haith said. "I think there were two teams that deserve to play in the NCAA Tournament out there today."
Follow Keith Whitmire on Twitter: @Keith_Whitmire
MORE FROM FOX SPORTS SOUTHWEST:
– Ranking NFL quarterback salaries
– College football's highest paid coaches in 2014
– Oldest player on every NBA team