Should Texans take a QB later in the draft?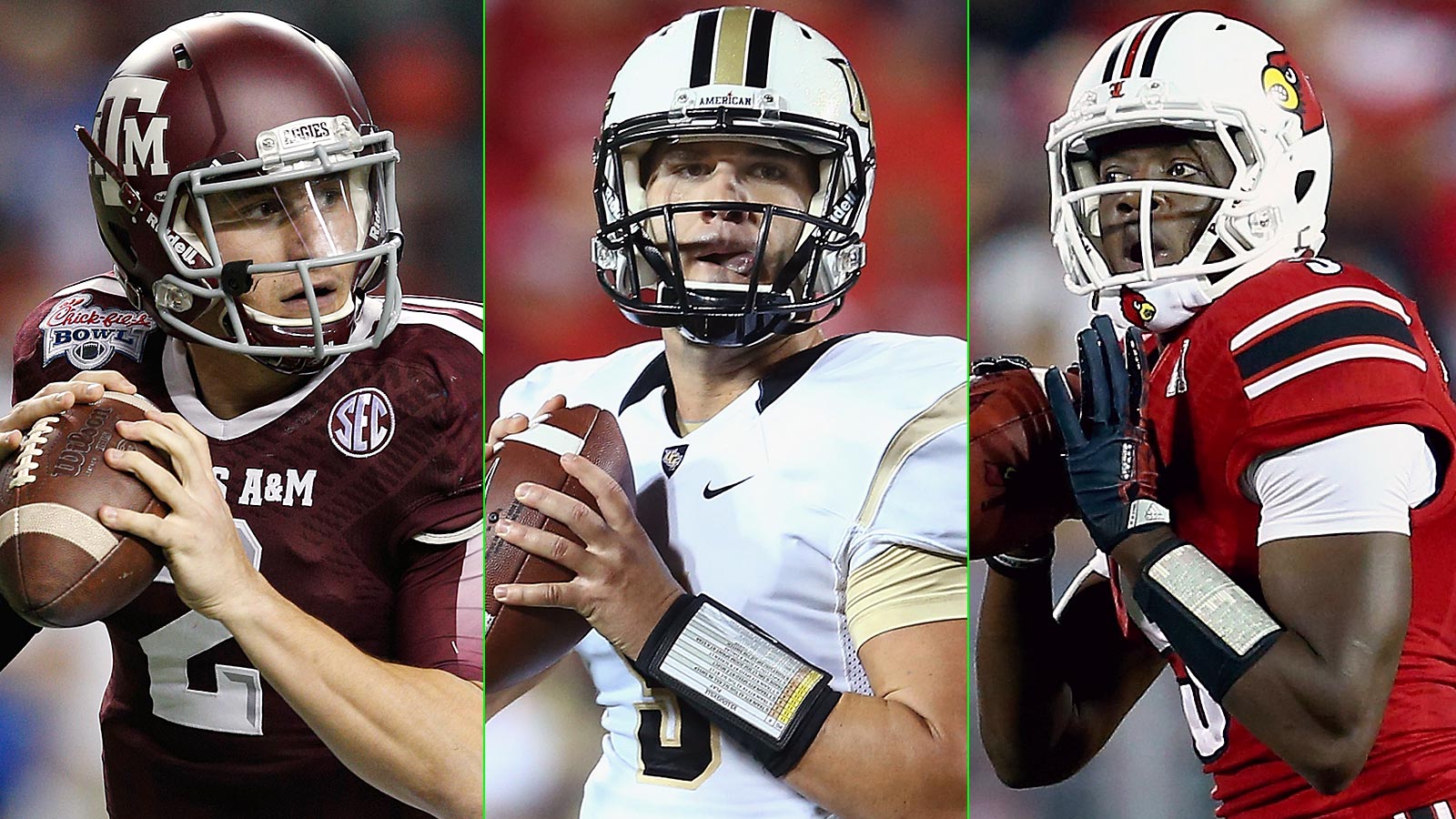 The Houston Texans are still months away from deciding who they will take with the No. 1 overall pick in this year's NFL Draft. High profile quarterbacks such as Texas A&M's Johnny Manziel, Louisville's Teddy Bridgewater and Central Florida's Blake Bortles have all been floated around as the guy who they should take. However, for all the factors that make each one of these quarterbacks a very intriguing prospect, there seems to be just as many questions about their skills as well.
With no presumable quarterback labeled as a can't-miss quarterback like Andrew Luck was in 2012, maybe the Texans would be wise to pick a quarterback later in the draft. Who would that quarterback be?
The answer to that question comes down to two guys, Georgia's Aaron Murray or LSU's Zach Mettenberger. Why does it come down to these two quarterbacks? New head coach Bill O'Brien wants a prototypical quarterback who can play under center and make a read on a defense as he is dropping back. Based on those credentials, there are no quarterbacks better than them in this regard.
By addressing another positions in what some, such as Pittsburgh Steelers general manager Steve Colbert, says is the deepest draft in the last 30 years, the Texans will be able to build a better overall roster.
Furthermore, the NFL epitomizes a copy cat league, with teams trying to take the previous Super Bowl winner's blueprint and adopt it for their franchise. If the Texans want to copy the Seahawks, they would be wise to try and find a quarterback later in the draft. While it is easier said than done to find a Russell Wilson-type quarterback later in the draft, think about what happens if you pick Murray or Mettenberger later. You give your team incredible cap flexibility to improve the team around one of these quarterbacks and your defense gets stronger with the selection of a guy like South Carolina defensive end Jadaveon Clowney or UCLA linebacker Anthony Barr.
What makes Murray appealing is the fact that Georgia and head coach Mark Richt have a history of playing in a pro style offense, where Murray has been a starter since Day 1.
In case you forgot, Murray is the SEC's all-time leader in career passing yards at 13,166, career passing touchdowns at 121, third in single season passing yards at 3,893 and has two seasons ranked in the Top 10 in single season touchdowns thrown in the 2011 and 2012 seasons. That is better than Peyton Manning, Eli Manning, Johnny Manziel or any other SEC quarterback ever.
In addition, Alabama safety Ha-Ha Clinton Dix was on Moving the Chains on Sirius Satellite's NFL Radio and he re-iterated the fact that Aaron Murray was the best quarterback he played against. That is something to note, especially since Murray did this in the SEC, a conference that many consider to be college football's best defensive conference. If you still aren't convinced that Aaron Murray is a viable option, just look and see how Matthew Stafford has panned out coming from a pro-style offense.
In regards to Mettenberger, he also operated in a pro-style offense last season under former Baltimore Ravens offensive coordinator Cam Cameron and he thrived in 2013. He threw for 22 touchdowns and eight interceptions and threw for 3,208 yards before having his season cut short due to an ACL tear. He has the prototypical size and arm talent that teams salivate over as he stands at 6'5" and 224 lbs. He also has an advantage over most other quarterbacks in that he worked in a pro style offense under former NFL offensive coordinator Cam Cameron. He got a head start on working in the pocket and reading defenses while dropping back.
The last point of comparison to note with both quarterbacks is a graphic that Pro Football Focus put together comparing all the top quarterbacks in this year's draft. The graphic can be seen here. By looking at the graph, Murray and Mettenberger rank in the top three in terms of quarterbacks with the least amount of off target throws and Mettenberger ranks as the best quarterback in terms of the off target throw percentage.
If you are the Texans and are deciding which quarterback to take, the personnel department should heavily consider lobbying to take Murray or Mettenberger. Not only will the Texans have a stronger overall roster, they will also save themselves from having another David Carr saga.
Follow Andrew Goldberg on Twitter @goaldieberg or email him at andgoldie12@gmail.com