Saints WR Cooks' game tape review shows a promising weapon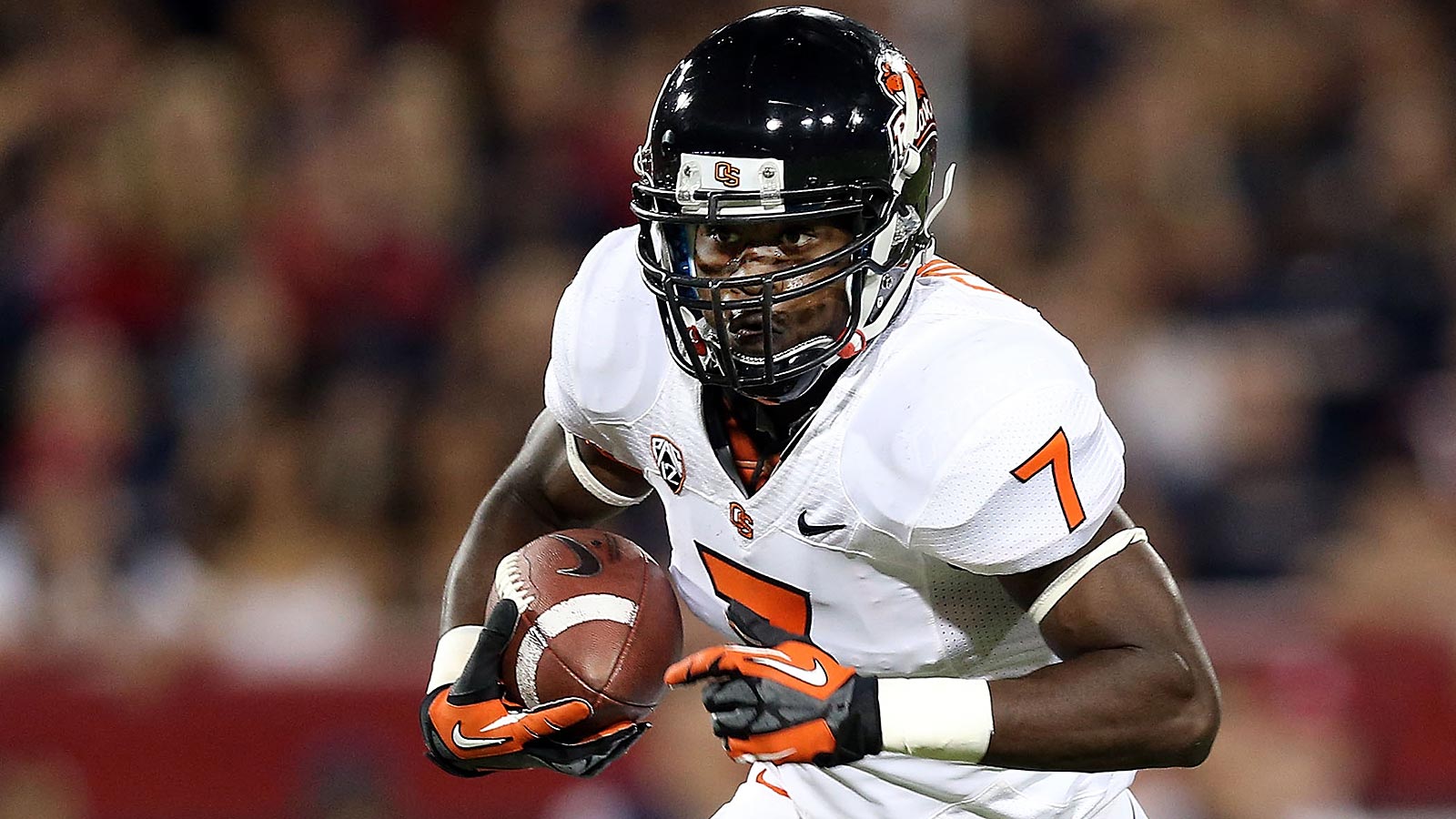 When the New Orleans Saints traded up to draft Brandin Cooks, they landed an offensive weapon. Sean Payton's offense runs differently than most, and he focuses on matchups and horizontal spacing more than most coaches. When Payton acquired Darren Sproles, he viewed his position as undefined and designed plans to use him as an offensive weapon. Cooks has a similar build to Sproles, and I expect him to be used in space in a lot of similar ways. Unlike Sproles, Cooks also has experience and success as an outside receiver. We will take a look at how Cooks compares to Sproles, and then reference the game tape to evaluate where he might find the most success with the Saints.
Sproles' role, just like Reggie Bush's before him, is designed for a player with unique speed, short area burst, and lateral agility. When Sproles entered the NFL, he had all three of those and that's why he caught the eye of talent evaluators. Sproles ran a 4.47 40-yard-dash (speed), with a 1.55 second 10-yard-dash (short area burst), a 3.96 second 20-yard-shuttle and a 6.96 second 3-cone drill (lateral agility). According to Mock Draftable, these numbers are above average across the board for the wide receiver position, and even more exceptional compared to the average running back. It is no surprise that Sproles has turned into an exceptional offensive weapon.
So how does this relate to Cooks? Well, Cooks bested him in every single measurement. Cooks ran a blazing 4.33 40-yard-dash, with a 1.50 10-yard-dash, a 3.81 second 20-yard-shuttle and a 6.76 second 3-cone drill. Oh yeah, he also stands almost four inches taller with a vertical that bests Sproles' by three inches.
Sproles leaves behind a major role in the offense that is ripe for the picking. Last season, Sproles finished with 71 catches on 86 targets, and according to Pro Football Focus, he ran 265 pass routes. In his three-year stint with the Saints, Sproles racked up 260 catches on 318 targets, while running 953 pass routes over 48 games including the postseason.
As Sheil Kapadia of Birds 24/7 pointed out here, Payton liked to call the wheel route for Sproles. You can visit the above link for Sheil's game tape screen shots, but the wheel route is designed to get the offensive player vertical against a linebacker or safety with a free release off of the line of scrimmage. In Sheil's breakdown, Sproles lines up stacked behind Marques Colston as a receiver in a tight formation. This ensures that he avoids getting bumped at the line of scrimmage to disrupt the timing of his route. He successfully runs the wheel down the right sideline and burns the safety for a big gain.
While the wheel route was not a featured play in Oregon State's offense last season, Cooks ran plenty of routes with the same concept in mind and sometimes out of the same stacked formation.
Stacked and Staggered Formations:
On this play against Colorado in 2013, Cooks lines up in a stacked formation and uses his quick burst and route running to get open after a clean release off of the line of scrimmage. With a better throw, Cooks might have been able to turn this into an even bigger play.
On this next play, against Cal in 2013, Cooks lines up in a staggered formation slightly to the left of the inside slot receiver, but also shielded by him for an inside release. The defense is in zone coverage, so Cooks bursts off the line vertically and use his precise route running to stop his route and get open on the buttonhook. After making the catch, you see the kind of open field skills that Cooks has with the ball in his hands.
Aside from the role that Cooks can inherit from Sproles, Payton plans to use him in many other ways. When asked about Cooks, Payton said, "He is versatile. He's obviously a receiver [first and foremost]. And I think we can line him up in the slot, line him up outside. [He has a] very good skill set with regards to acceleration, speed, catches the ball well. And I like his toughness."
It doesn't surprise me that the team plans to use him at both the X and Z wide receiver spots outside. He has had plenty of success at the collegiate level on the outside. Although the majority of his success in college came as an outside receiver, he has the skill-set to be a dynamic player in the slot as well.
Success As The "X" Reciever
The "X" receiver, also referred to as the split end, lines up widest from the tight end and usually on the left side of the formation. Cooks had a lot of success lined up as the X receiver in 2013.
On this play, again from the game against Cal, Cooks line up at the X and puts on display his pinpoint route-running skills. He breaks off the line like he's going vertical, stutter steps to freeze the defender, goes vertical again, and then flips his hips to make the catch. Even more impressive than the route was his body control in the air to adjust and come down with the catch.
In that same game against Cal, here he lines up as the split end and creates immediate separation into his vertical route before getting open and slowing down to adjust to an underthrown deep pass.
In this example against Colorado, he lines up as the X again and bursts off the line across the middle of the field beating his original coverage plus the opposite field safety to make the difficult catch while taking a big hit.
On this last play, against Hawaii in 2013, Cooks shows exactly the kind of dangerous weapon he can be in a third and short situation. Lined up as the X, Cooks takes advantage of Hawaii's safeties playing up to stop the first down, and he breaks off the line on an inside release blazing vertically up the seam and beating his man within seconds. This a prime example of his 4.33 wheels put to work.
Success As The "Z" Receiver
Cooks also created several big plays lined up as the Z receiver, also referred to as the flanker.
Against Cal, Cooks lines up as the Z receiver and runs a comeback route creating enough separation to make a difficult toe-tapping catch along the sideline.
Against Colorado, Cooks lines up as the Z receiver and moves in motion before the snap to assure a free release. He breaks off the line and gets vertical before displaying his incredible body control by adjusting in mid-air to make the catch in double coverage.
Against Hawaii, he's able to make a key play on third down by lining up as the Z receiver in a tight formation and beating man coverage and the accompanying linebacker with his blazing speed across the formation.
Again, against Hawaii, he lines up as the Z receiver and shows off his ability to run one of the NFL's most popular routes, the back shoulder fade. He wins here with body control and the ability to make a difficult catch, rather than strictly with his speed.
Success In The Red Zone
Some people might look to discredit Cooks as a red zone threat due to his size. Those people neglect to factor in his past success in the red zone due to his burst, quickness, and precise route running.
Against Colorado, he lines up as the Z receiver and shows incredible special awareness and pinpoint route running to secure the difficult touchdown catch.
Again against Colorado, he lines up as the Z receiver in a staggered formation before running a precise route to get open and secure the touchdown catch in traffic.
Against Hawaii, he lines up as the Z receiver and changes his route on the fly when he sees his quarterback scramble. Words can't do it justice, but he displays the kind of unique change of direction skills that only the best route runners possess.
Success In The Screen Game
If Payton wants to get creative with Cooks, he can use him in the screen game similarly to how he was used at Oregon State. His best success came as an outside receiver breaking inside after the catch.
Against Cal, he lines up as the X receiver and takes a wide receiver screen inside before breaking back outside and showing off his incredible lateral agility and breakaway speed to turn this play into a touchdown.
Against Utah, this time lined up as the Z receiver, Cooks takes a similar screen now with the help of a tight end, and he breaks it loose for another touchdown. On this play he simply displays his elite speed by zipping across the field, but also the ability to finish a play and get the most out of it.
Overall
Cooks brings a lot to the table, and the Saints will likely use him in a variety of ways. Based on his ability to win from multiple positions, across multiple formations, and in a variety of ways, it won't take long for Cooks to make a major impact on offense.