Saints' Stills finishes impressive minicamp on high note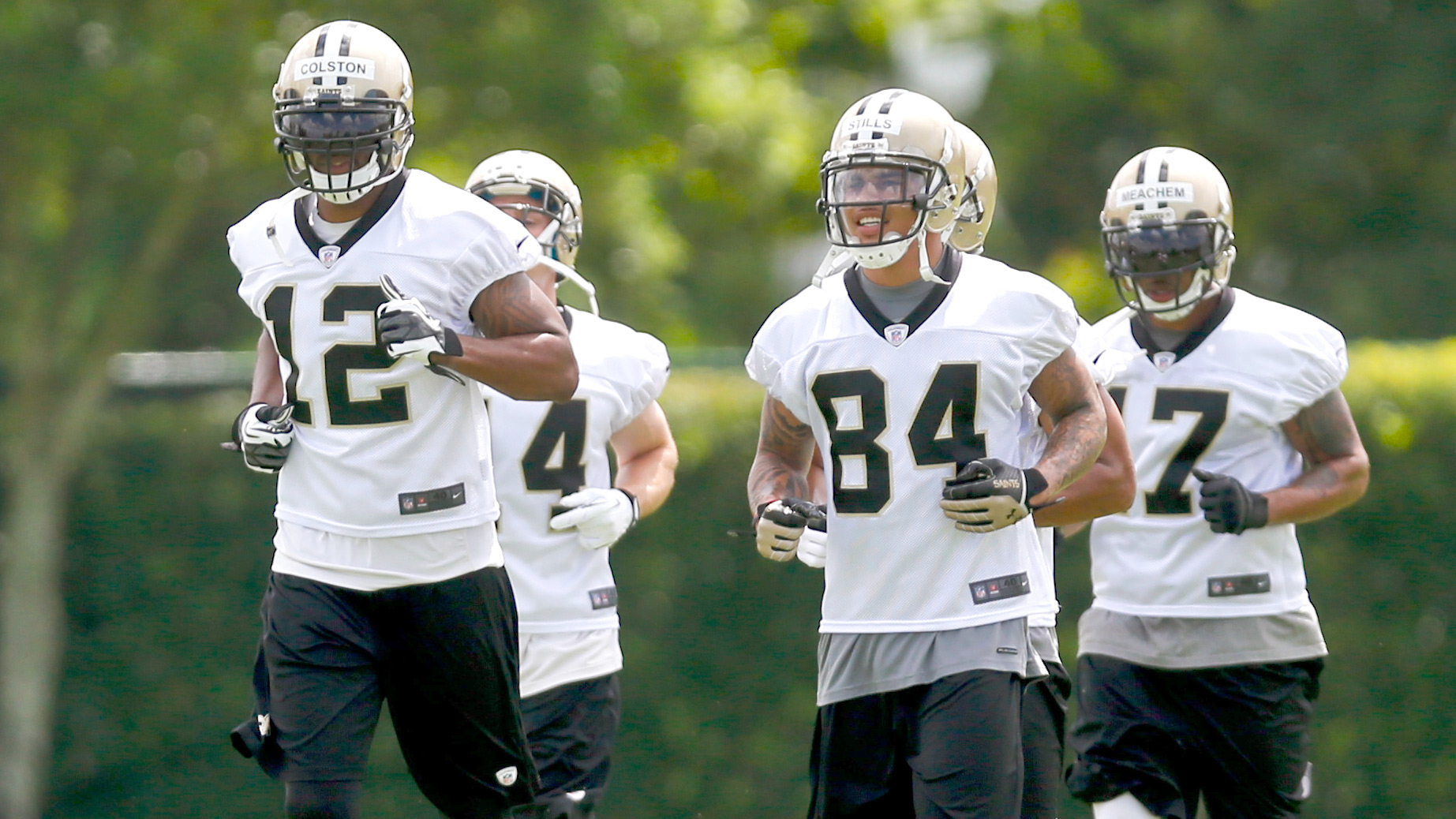 Although most of the buzz has surrounded first-round wide receiver Brandin Cooks, it's second-year wide receiver Kenny Stills who is turning heads during offseason practices. To be fair, per NCAA rules, Cooks hasn't been allowed to practice with the team since the end of the New Orleans Saints' rookie camp, but that doesn't take anything away from Stills' performance. Stills capped off an impressive three-day minicamp today with a four-yard touchdown catch from Drew Brees to end a 13-play, 70-yard scoring drive, as the team finished the day with a two-minute drill between the first-team offense and defense.
It should come as no surprise that Stills is exceeding expectations again after putting together an impressive rookie campaign in 2013. Despite being targeted just 50 times through the postseason, good for sixth-most on the team, Stills compiled 676 yards and five touchdowns on 35 catches. His 20.0 yards-per-catch average bested every other receiver in the NFL.
The advanced stats paint an even brighter picture. Mike Clay at Pro Football Focus created a formula that predicts a receiver's expected catch rate adjusted to his quarterback and the depth of each pass thrown to him. Stills bested all receivers by logging a 70 percent catch rate compared to his expected catch rate of just 54 percent. Because Stills had an average depth of target of 16.9, and because 15 of his 50 targets had a depth of at least 20 yards, his catch rate is even more outstanding. Stills only dropped one catchable pass all season long.
With Lance Moore and Darren Sproles gone, there is a big void to fill in the passing game. Moore and Sproles combined to catch 108 passes on 136 targets in 2013. Sean Payton recognizes that some of those targets need to be spread to Stills.
"After last season, I looked at him and said we've got to find a way to get him the ball more," said Payton, when asked about Stills' progress at minicamp. "My job is to get him different looks and different touches," he added.
After being used primarily to run vertical routes, sometimes only to clear out the safety and open up things for other receivers in the middle of the field, Stills will need to prove capable of expanding his role in 2014. Payton is confident that Stills will rise to the challenge.
"He is someone that is versatile and can handle playing more than one position," said Payton, when asked if Stills will expand his route tree in 2014. "He has the ability to stretch the field but then sink his hips and get in and out of cuts."
Stills anticipated that the Saints might ask him to assume a larger role on offense. He spent the offseason preparing for his chance to prove that he can be a complete wide receiver, and now the opportunity is finally in front of him.
"This offseason I worked on getting stronger," said Stills. "I kind of feel like I am a rookie out there because I am learning all three of the wide receiver positions on offense."
Last season, Stills lined up only as the split end, or "X" receiver. With the departure of Moore, Stills is now seeing work in the slot and as the flanker, or "Z" receiver. Moving him all around the formation will help prevent the defense from keying on him. It also puts Stills in a position to be featured on different route combinations aside from the vertical go routes.
Stills understands the opportunity in front of him and he is already seeing his hard work pay off through the trust of his quarterback.
"Brees has more trust in me now than he did last year," said Stills. "If he puts the ball up there he knows that I will go and make a play for him."
The former fifth-round draft pick is off to a great start in his sophomore campaign.