Saints rookie Cooks will workout with Brees before training camp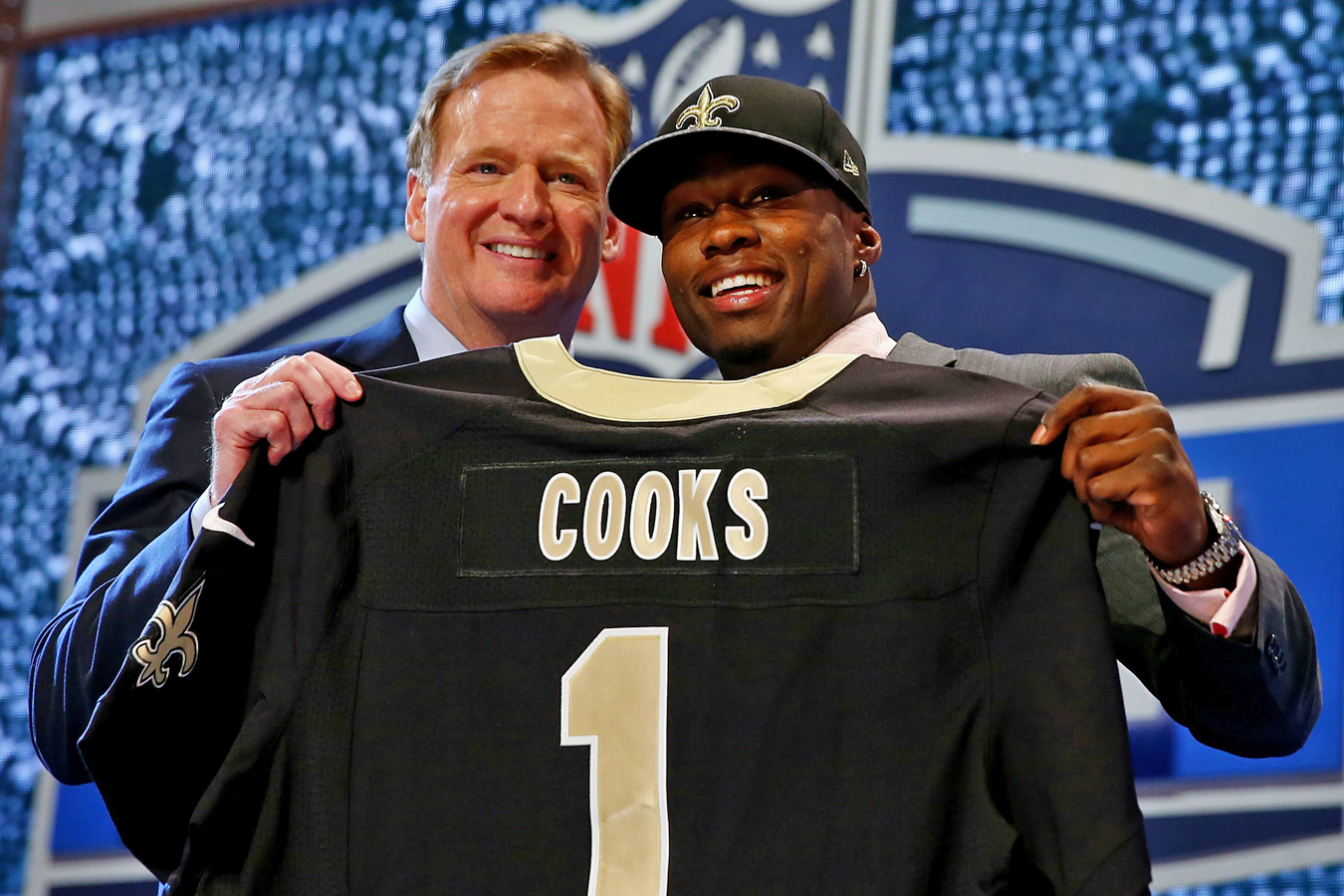 Due to a rule that prevents players at NCAA schools which use the quarter system from attending offseason workouts, this week's three-day OTA session marked the first time rookie first-round pick Brandin Cooks was able to practice since the rookie minicamp. This also marked his first action with Drew Brees, Marques Colston, and all of the New Orleans Saints' veterans. The missed practice time might be detrimental to some rookies, but not Cooks who has done and will continue to do just about everything to find a way onto the field.
Cooks might not agree with the seemingly archaic NCAA rule that kept him out, but he wasn't going to start a revolution over it.
"I don't think it's fair, but you have to abide by the system," said Cooks.
It was unlikely for him to stay unhappy once he learned that technology has created a way for him to get around the rule. The Saints' coaches set aside an hour and a half each night after practice to get online with Cooks and go through practice tape and playbook installation.
"I feel extremely comfortable due to the fact that I was able to over plays three times a week, just getting the playbook down," said Cooks.
Still, with just one set of practices with the full team under his belt, Cooks understands that he still has a lot of work ahead of him if he wants to catch up to the rest of his teammates.
"For me, the challenging part is getting used to the offense and the pace," said Cooks. "These guys have been grinding for three weeks and I come in for the last couple of days."
The good news for Cooks is that he finally had the opportunity to practice and learn from the veterans of the wide receiver group. The bad news is that this was the team's final OTA and last time they will practice until training camp gets underway in late July.
"The veterans, guys like Marques Colston and Robert Meachem, they've all helped out," said Cooks. "The receivers helped me out with my assignments, and I clicked with them right away. You hang on their shoulder."
Cooks has another plan to make up for missed time, and he will fly out to San Diego to train with Brees before training camp. This could present another opportunity for Cooks to learn from his veteran teammates, depending on who else travels to practice with Brees.
Some aspects of the game will simply require more practice time with the team. Cooks understands what aspect of his game needs improvement, even if we might have to wait until training camp to see progress. The area he pinpointed where he needs to improve the most is in letting the game slow down and playing within the pace of the offense.
"I have to learn when to be patient, how to set up routes, and how to play within the offense," said Cooks. "Speed can sometimes be my nemesis. It's just about knowing your strengths and weaknesses and attacking based on that."
It sure doesn't seem like the coaches view Cooks' 4.33 40-yard-dash speed as his potential nemesis. The coaches have already installed plays and packages that utilize Cooks in the running game. In practice this week, Cooks got the call to run a play familiar to him from his days at Oregon State. Cooks lined up in the slot, motioned before the play, and then sped horizontally into the backfield to take a handoff from Brees. It's safe to say that Cooks hopes to see a lot more plays designed like that.
"I like it a lot," said Cooks. "I'm used to that and we did that (the fly sweep) a lot at Oregon State. When we put that in I was smiling from ear to ear."
Using Cooks as a running threat is just one of the many ways the Sean Payton can get him the ball in space. A month back, I looked at some of the other ways that Payton can use Cooks after breaking down every play from several games in his college career. You can check out that film analysis here.
Cooks has a bright future ahead of him with the Saints.
For more on the Saints, you can follow Dan Schneier on Twitter @DanSchneier_NFL. He will be tweeting out nuggets from OTAs and training camp all offseason long. You can also "Like" him on Facebook, or add him to your network through Google.
Also feel free to contact him directly through email with any questions or concerns at Dan.Schneier27@gmail.com.