Saints' Jenkins out until training camp after surgery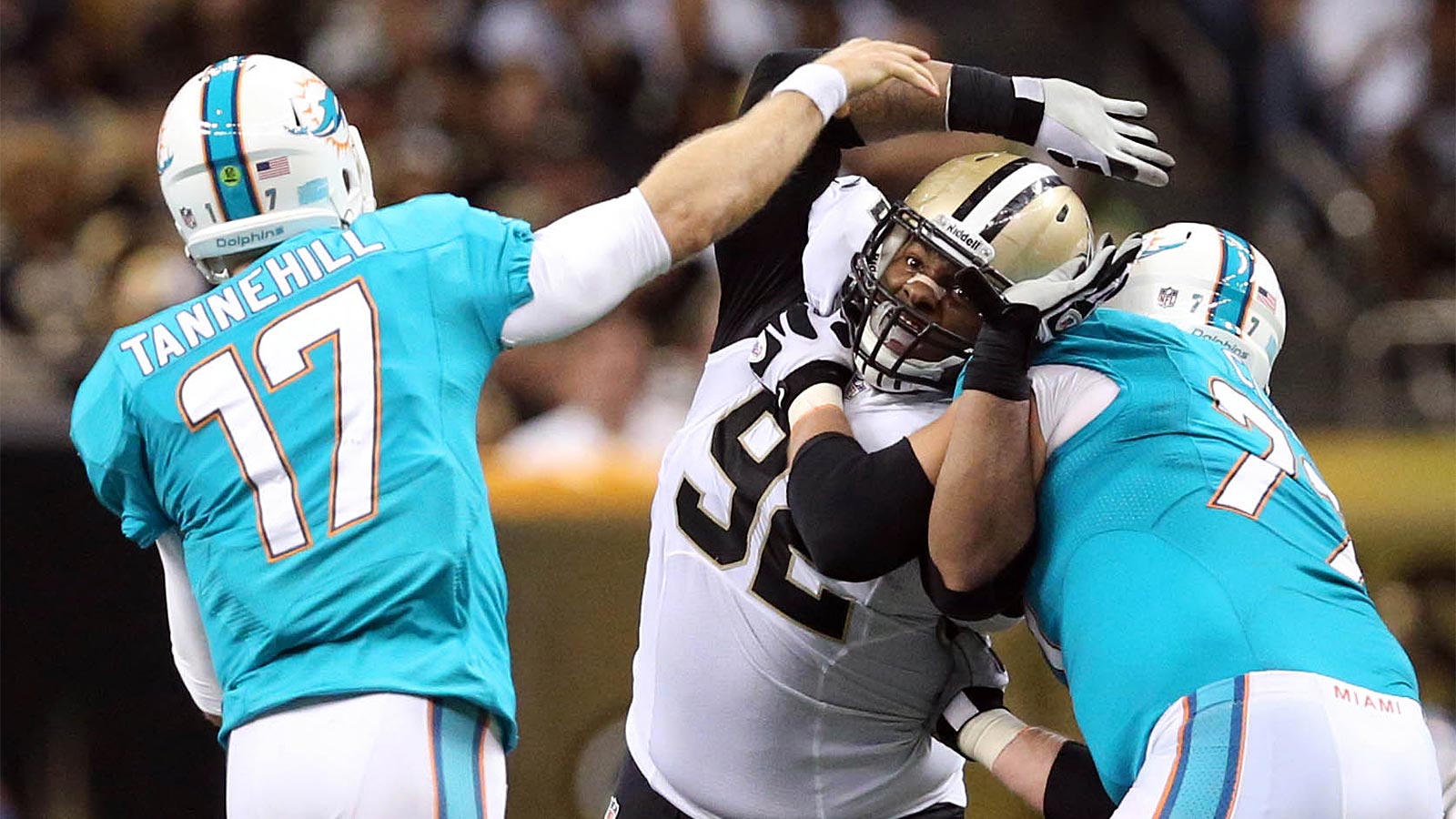 Throughout the first two weeks of OTAs, many questions surrounded second-year defensive tackle John Jenkins who had been absent at every practice. When given the chance to shed some light on the issue, at a charity basketball event last week, Jenkins declined to comment. As the New Orleans Saints opened their mandatory team minicamp today, Jenkins was absent from practice again, but this time we have some answers. According to Ian Rapoport of NFL.com, Jenkins has missed the offseason workouts while recovering from a minor pectoral surgery, but he expects to be ready to practice for training camp or sooner.
Although Jenkins hasn't emerged as a household name just yet, there are plenty of reasons to be excited about his potential. At 6-foot-4 and 359 pounds, Jenkins is the ideal build to play nose tackle in Rob Ryan's 3-4 base defensive scheme. Concerns about his performance in college against one of the SEC's best guards, Larry Worford, had hurt his draft stock. These concerns appeared to be overblown once Jenkins hit the field in 2014. Jenkins rotated in at nose tackle behind starter Brodrick Bunkley and ended up playing 481 defensive snaps, including just 19 less snaps than Bunkley in the two postseason games combined.
The Saints are reportedly "very high" on Jenkins as well, and based on his 2013 performance, there is reason to believe that his role will expand in 2014. When Bunkley missed four games during Weeks 2-5, Jenkins saw an increase in playing time. According to Pro Football Focus, Jenkins responded with two of his best games in that span, registering (+1.1) and (+2.2) overall grades. For comparison, while starting and getting the majority of snaps at nose tackle for more than 10 games, Bunkley only registered a higher overall grade in three of them.
There is also the issue with the team's salary cap. According to Over The Cap, the Saints are currently just $1,588,821 under the 2014 salary cap ceiling. As I detailed in May when, if Jimmy Graham is to win the grievance he filed to be designated under the wide receiver franchise tag, the Saints would be forced to immediately pay the $5.3 million difference. This money would count against the 2014 salary cap and in turn put the Saints over the cap ceiling.
Why does all of this matter? General manager Mickey Loomis will then be faced with the decision to both extend Graham long-term and push back his cap hit down the line, or to release a veteran player or two. If he chooses the latter, Bunkley could become one of the veterans that the team considers expendable in order to get under the salary cap.
Regardless, Jenkins has an incredible opportunity to see some kind of boost in playing time. It is important that he makes it back to practice for training camp so that he can get the necessary repetitions.