Saints evaluate next generation of offense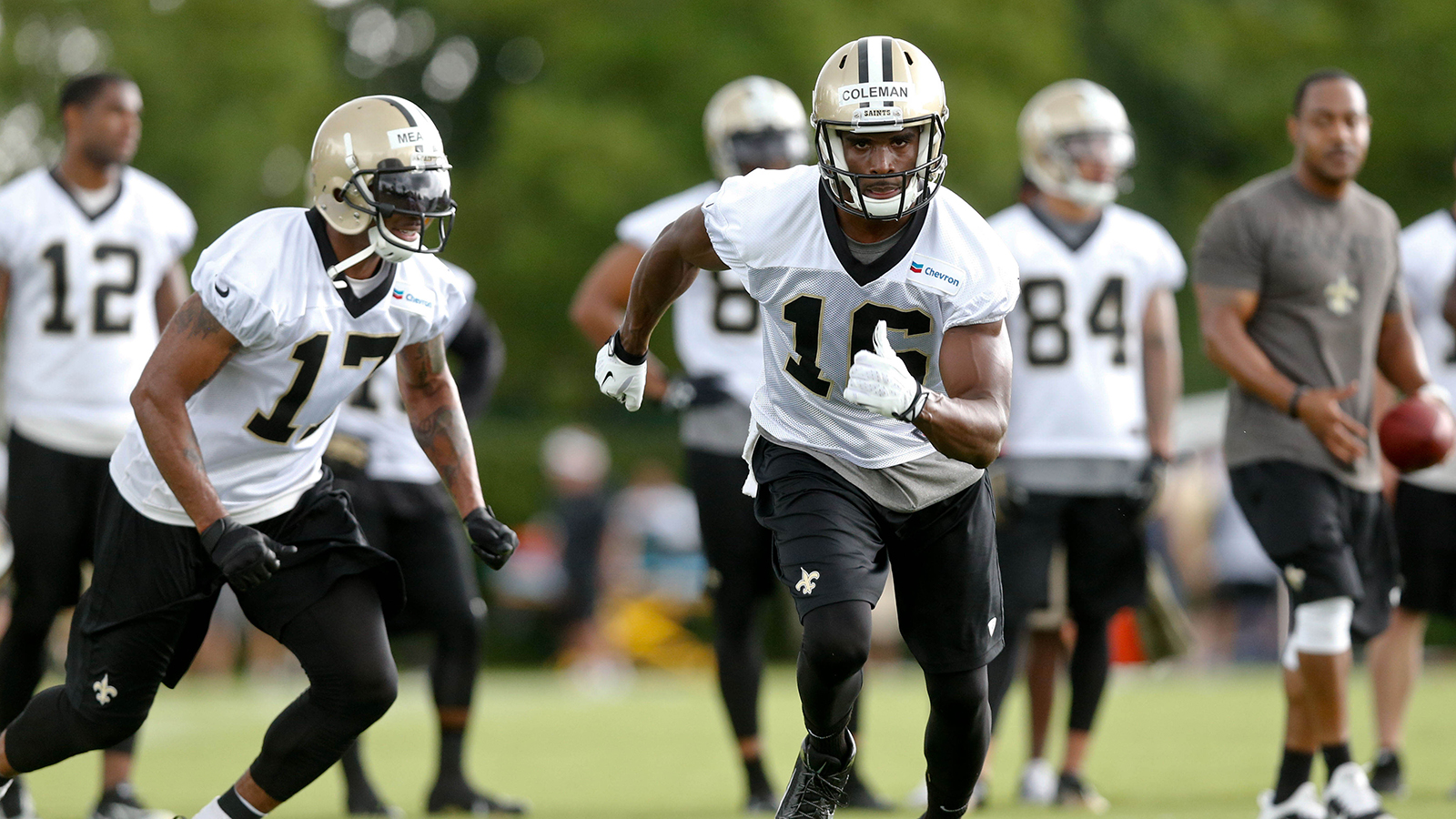 The New Orleans Saints opened Day One of minicamp Tuesday with all eyes on the bevy of young talent that the Black and Gold's front office has brought in to keep the roster fresh and competitive.
A spring cleaning of many members of the old guard equates to a great deal of opportunity in New Orleans for these young hopefuls, but the competition is stiff in every aspect: physically, emotionally and mentally.
"It begins now, yet it's important that we don't make any instant evaluations," head coach Sean Payton said. "We're evaluating how these guys are improving, more of it's on the mental out there.We are having a chance to teach technique and the fundamentals. I think when we get to training camp, we have a chance to see these players in gear and maybe give them a chance to see in a contact drill or scrimmage. Really the key now is giving them every chance to learn the system so they can execute when we put pads on."
Saints fans packing into mini-camp won't see many of their old favorites. On the offensive side of things, receiver Lance Moore, running back Darren Sproles, center Brian de la Puenta and full back Jed Collins are Saints no more. Now, Payton and company must determine not only who is best to fill their spots, but which players will be upgrades compared to their predecessors.
"I think we're younger on offense than we are on defense," Payton said. "That's part of the transition of our game. I think that we feel like we have a good nucleus of players that have experience and the job for us now is to get the younger players ready to play, to get on the field and know what to do. I think that's a challenge every year."
The battle within the ranks of hopeful receivers will be a fascinating one to watch now and through training camp.
"There's some new players," Payton said. "There will be some good competition here. We've had some veteran guys each year, whether its Devery Henderson or Lance Moore, guys that have played an awful lot of snaps that we're going to have to replace and get snaps from somewhere else. We have a lot of good candidates."
Meanwhile, the pressure is high within the backfield, both for the players and the Saints front office. Given the decision to part ways with Sproles, veteran Mark Ingram must finally deliver, prove his worth and validate the Saints' decision to make him a top dollar prize.
"He feels good," Payton said. "He's 100 percent. He's doing well. The evaluation on the runners right now is more difficult (because of no-pad workouts). I think you really saw in the last part of the season his play improved."
The initial decision to let Sproles move on, then the new call to trade him, left many critics scratching their heads, pondering who could step into his shoes and pose the same match up problem for opponents this season in both the running and passing game. Now, all eyes are focused on Travaris Cadet to answer that question, one way or another. Can the Appalachian State product run the same plays that the versatile Sproles did, with the same elusive success?
"I think a year ago, I don't know that I would have been able to tell you that," Payton said. "The focus for him was the running game per se. Even when he came here in 2012, he was with the receivers (some). That element with regards to running routes and catching the football, he would be further ahead, but we saw him last year as a guy who transitioned that we handed the ball to. That's something he's worked hard on. He's a guy with good hands, he's sudden with a good change of direction and I think that is one of the things we'll look for in this upcoming training camp. He's been able to do a lot of the things we've asked Darren to do in the passing game. You just keep building on that. He's a good young talent."