2014 preview: Winning on the road is key to Saints' success
With football season around the corner, FOXSports.com is providing a thorough analysis of all 32 teams heading into training camp. The offseason may have lacked some hard-hitting action, but franchise-altering moves have been made. Parity is excessive as ever. Every team looks great on paper in July. But it's the development and seasoning of a team that will matter in January and, yes … even February. Goodbye, offseason!
The series continues with the New Orleans Saints.
2013: The Saints went 11-5 in the regular season, defeated the Philadelphia Eagles in the wild-card round, then lost to the Seattle Seahawks in the divisional round.
Head Coach: Sean Payton (2006-Present)
Key Departures: Running back Darren Sproles, receiver Lance Moore, linebacker Jonathan Vilma, safety Roman Harper, safety Malcolm Jenkins, defensive end Will Smith
Key Arrivals: Safety Jairus Byrd, cornerback Champ Bailey, center Jonathan Goodwin, receiver Brandin Cooks and cornerback Jean Stanley-Baptiste
THREE QUESTIONS
1. Can the Saints defense build on last season's success, especially at creating turnovers?
It's hard to believe last season was the first in New Orleans for defensive coordinator Rob Ryan, both from his cult-like following in the Crescent City and his results on the field.
In Ryan's inaugural run, the Saints defense jumped from last in the league in 2012 to fourth in total defense for 2013. The Saints said goodbye to several veteran faces this offseason, clearing the financial way for additions like 12-time Pro Bowler Champ Bailey. Expectations are high for this re-tooled defense, and not just amongst fans and fantasy football players.
The Saints offense needs to see a better brand of complementary football in order for the team to reach its goal of playing in Arizona this February. Ryan bluntly admits the defense struggled to create turnovers last season, and that goal is now at the top of the list for this season.
Consider this: The Saints defense recorded 39 takeaways during their 2009 Super Bowl run. Last season Ryan's unit logged 19 takeaways, which was fourth-fewest in the league, ahead of just the San Diego Chargers, the New York Jets and the Houston Texans.
2. Can the Saints and Mark Ingram re-energize the run game, especially in the absence of Darren Sproles?
The Saints had to make room financially this offseason to upgrade the roster, but the move that still has many scratching their heads is the decision to part ways with dual-threat running back Darren Sproles.
"Sprolesy" as he was known to teammates, used his small size and quick speed to create a matchup nightmare for opponents, and his hands were a reliable weapon to catch a pass from Brees on occasion. Payton used to refer to Sproles, Mark Ingram and Pierre Thomas as "The Three Horsemen."
Ingram, a former first-round pick for the Saints in 2011, is well aware that the pressure is on him to produce now more than ever. Not just because of Sproles' departure, but this is also a contract year for Ingram since the Saints didn't pick up his option last year. Ingram and Thomas, along with youngsters Khiry Robinson and Travaris Cadet, will try to breathe new life into the Saints rushing attack this season. The run game is already being heavily emphasized this training camp.
"We are putting more time in on the running game than I have ever seen before," Thomas, an eight-year veteran, said. Payton and offensive coordinator Pete Carmichael Jr. would like to establish more balance, similar to the results in 2009, when the Saints recorded 2,106 regular season rushing yards, compared to 1,473 last season.
3. Can the offensive Line do a better job of protecting Drew Brees?
Quarterback Drew Brees may say he feels like he's 25 and wants to play until he's 45, but the reality is the soon-to-be father of four is 35. His strict health regimen and sleep schedule can only protect him from so much.
Therefore, the Saints offensive line needs to not just do their job but do it well. Brees persevered through more fire than usual last season, enduring 37 sacks. The o-line has some talented veteran faces: Pro Bowl guards Ben Grubbs and Jahri Evans, with reliable mainstay Zack Strief holding down the right tackle slot.
Brees and Saints fans are hoping to see a big jump from Terron Armstead at left tackle as he enters his second season. Meanwhile, another second-year pro, the undrafted Tim Lelito out of Grand Valley State, is hoping to lock down the starting center job.
This offseason, general manager Mickey Loomis brought back former Saint Jonathan Goodwin however, as insurance. Goodwin first came to New Orleans as a guard, then went on to have a great career at center, including a Pro Bowl appearance and a Super Bowl ring. Lelito alternated between the two positions as well last season.
That experience means the Saints should have some versatility options in case of injury or an off game day.
BREAKOUT PLAYER
Safety Kenny Vaccaro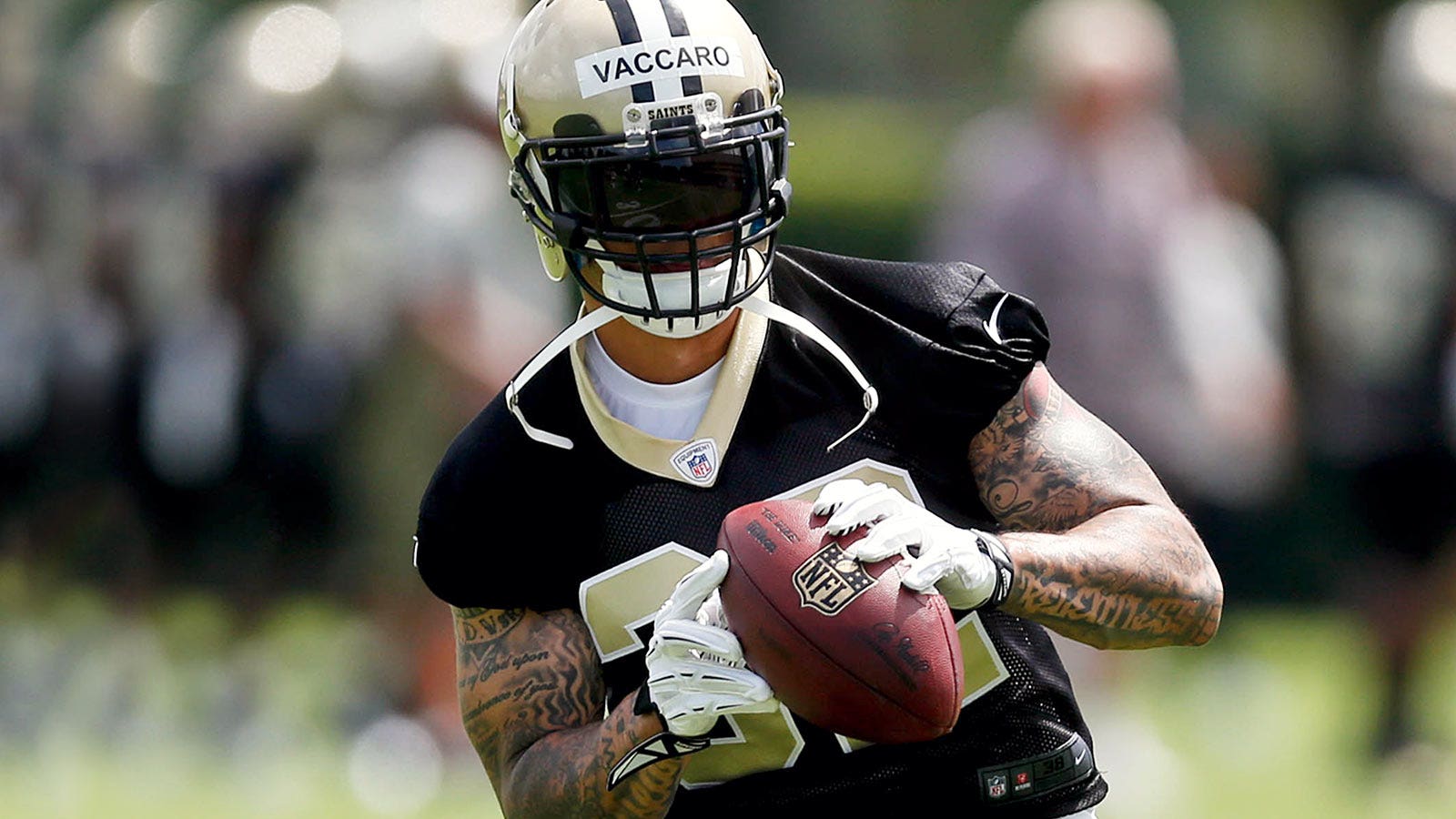 Vaccaro is already making up for lost time after his standout rookie season was cut short by two concussions and then a fractured ankle in Week 16. The University of Texas product finished third last year in Defensive Rookie of the Year voting and is hungry to build on his initial success.
Vaccaro is both fun to watch and effective on the field because of a style many describe as "reckless." This season, Vaccaro is armed with a little more institutional knowledge to complement his natural intelligence, instincts and savvy. That combination should add up to be both an invaluable and dangerous weapon for the Saints defense.
The coaching staff is already raving about the jump Vaccaro has made from Year 1 to Year 2, just from watching Vaccaro in mini-camp, OTAs and the first week of training camp. The 23-year-old Vaccaro says his personal goals for this season are higher than last season, and under defensive coordinator Rob Ryan's watch, he'll get the opportunity to bring those goals to fruition. Ryan relies heavily on his safeties, often having three in on a play at once.
True, the Saints secondary is deep, but Ryan's creative schemes will feature Vaccaro and his counterparts heavily.
REASON FOR OPTIMISM
The Saints are still driven by what's been the team's unwavering strength in the years since Hurricane Katrina: a high-octane offense powered by quarterback Drew Brees' arm and high football intelligence. Brees has set numerous NFL records and is in just as good of shape now as when he became the fastest player ever to join the 50,000-yard club last season, needing only 183 games.
For six straight seasons, Brees has recorded at least 30 touchdown passes and 4,000 passing yards. Expect a repeat performance this season. Yes, the Black and Gold made a concerted effort to get younger this year, but an experienced offensive core is still in place to guide the ship. Jimmy Graham, one of Brees' favorite targets, is already in mid-season form. The NFL's highest-paid tight end may have made the Saints front office work for that contract extension, but he was spending that time diligently at work as well, just in the gym.
Although newcomers like Brandin Cooks have Brees feeling "rejuvenated" and blessed with a plethora of weapons at his disposal, Brees still has the luxury of being able to rely on battle-tested counterparts in crunch time. Seven members of the offense were part of the Saints Super Bowl run in 2009 and remember exactly what it took to get there: Brees, receiver Marques Colston, receiver Robert Meacham, running back Pierre Thomas, center Jonathan Goodwin, guard Jahri Evans and tackle Zach Strief.
REASON FOR PANIC
The Saints are well aware of this team's Achilles' heel: playing on the road away from the friendly Superdome. In order to reach the Super Bowl, the Saints need to improve on the 3-5 road record that crippled them in the regular season last year. Since 2006, Payton's first season as head coach, the Saints are 36-28 on the road in the regular season.
Best case scenario: The Black and Gold win home-field advantage in the playoffs, as they did in their past Super Bowl journey. However, this now much-younger team will set the tempo for the season in the visitor's role.
The Saints open in Atlanta against the Falcons, then visit Cleveland, Dallas and Detroit in the team's first six weeks of competition. Towards the end of last season, the coaches tried to reverse the negative road voodoo with fresh travelling sweat suits, a new pregame meal of Popeye's Chicken and different flavored Gatorade.
It worked initially: the Saints banished a nagging demon when competing in hostile territory by notching their first-ever playoff win away from New Orleans against the Eagles in Philadelphia. Then they lost to the Seahawks in Seattle.
This season, Payton has already laid the road stats out for his players, discussed the importance of winning early away games, pumped crowd noise into minicamp practice for the first time ever and taken training camp on the road to the Greenbrier Resort in West Virginia.
ALEX MARVEZ'S 2014 PREDICTION