Russell Wilson throws out first pitch for Rangers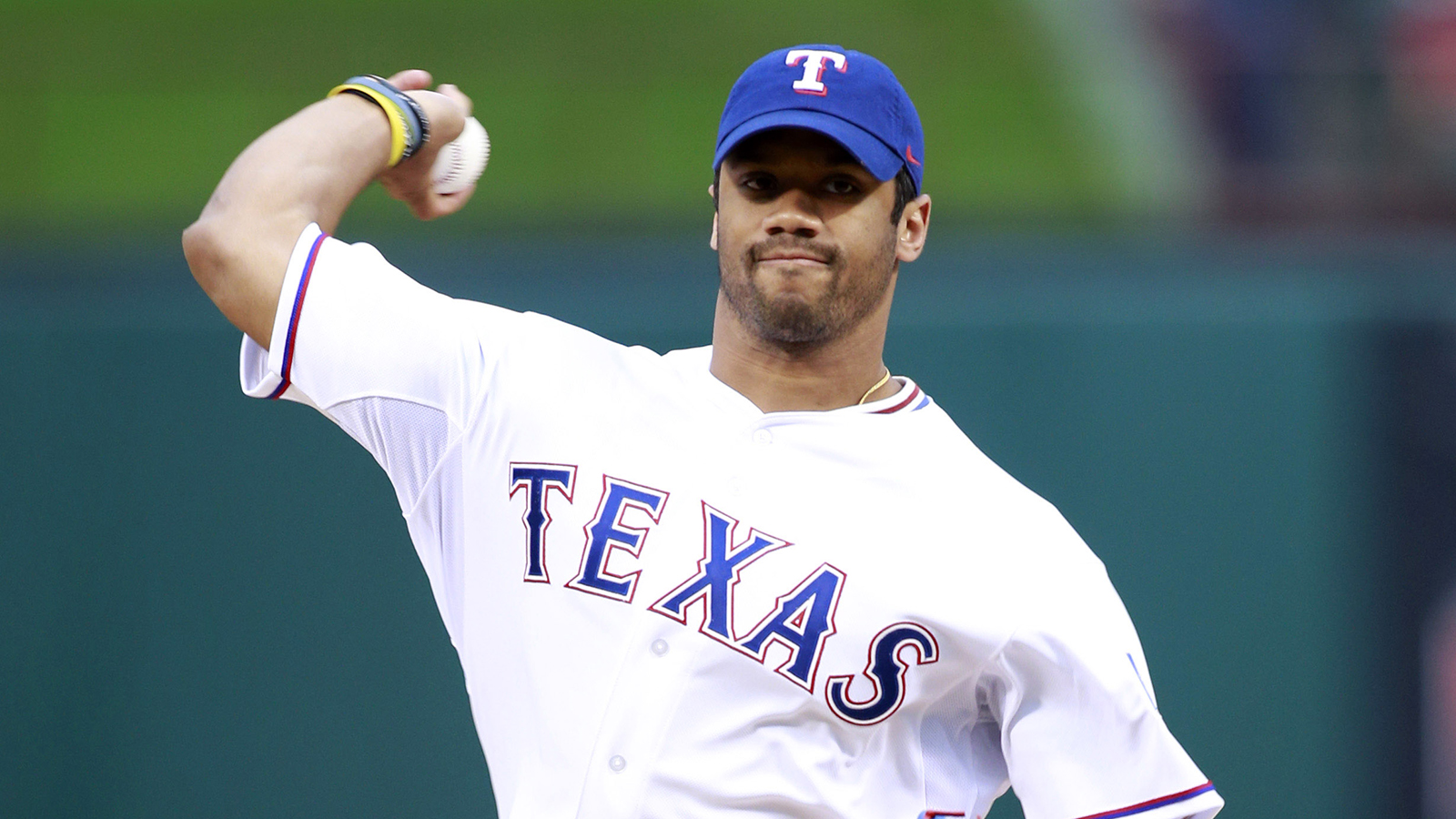 ARLINGTON, Texas – After quarterbacking a team to a Super Bowl win, the pressure of throwing out the first pitch before a major league game was nothing to Seattle Seahawks quarterback Russell Wilson.
Wilson also happens to be a former minor league infielder whose baseball rights are still owned by the Texas Rangers. That's why Wilson was able to calmly zip a fastball into the glove of Rangers coach Gary Pettis before Wednesday's game with the Phillies.
"I'm used to throwing a baseball, used to throwing a football," Wilson said. "Good thing it was a strike, so that's good."
Wilson played two seasons in the Colorado Rockies organization before devoting himself to football.
Although Wilson probably won't play baseball again, the Rangers claimed him in the Rule 5 draft last December. They invited him to spring training last month to work out with the major leaguers and speak to the minor leaguers.
The Rangers hoped Wilson's championship experience would serve as an inspiration for the players. Wilson said being around the Rangers inspires him, too.
"Obviously, I love the game of baseball," Wilson said. "But also being around this type of people keeps me going. It keeps my mind constantly thinking about the next opportunity, about the next thing and how I can continue to improve in terms of that championship mindset."
Wilson said he wasn't worried about pulling off the ceremonial first pitch, although he did take about 20 tosses in a batting cage before taking the field.
"I did take a couple of warmup throws just because I have to loosen up the arm a little bit," Wilson said. "I have to get it oiled up. You can't just start a nice engine."
Wilson said he hasn't caught any flack from Mariners fans back in Seattle for embracing the Rangers.
"Everybody knows I love the game of baseball," Wilson said. "I don't think I get grief from anybody in terms of being down here in terms of the Mariners and all that. The Texas Rangers are a great organization. I'm so happy to be a part of it, no matter if I ever play again or not."
It just so happens Wilson's alma mater, Wisconsin, is playing in the Final Four across the street from Globe Life Park in Arlington. Wilson said he will be there Saturday when the Badgers take on Kentucky.
"It's exciting that they're down here and playing in a big game," Wilson said.
"I'm so pumped for Wisconsin, I actually picked the University of Wisconsin to win the whole thing. So if they do, I'll be pumped up."
Of course, the Rangers' Double-A farm team also plays Thursday night in Frisco, Texas not far from Arlington, so…
"Go ahead and play," Wilson said with a straight face. "I was thinking about dressing up for this one tonight."
Wilson might run into another NFL quarterback while he's in Arlington. The Green Bay Packers' Aaron Rodgers has been showing up in the Wisconsin locker room after NCAA Tournament games.
Rodgers went to Cal, but Wilson doesn't mind sharing his Badgers.
"Aaron Rodgers is not cutting in on my turf at all," Wilson said. "It's Aaron Rodgers, he runs the Green Bay Packers. They're about the Wisconsin Badgers and Green Bay Packers (in Wisconsin)… I have a lot of respect for Aaron Rodgers. Hopefully he'll be at the Final Four game, and hopefully I'll see him."
Actually, this week it's Wilson who is on the turf of Dallas Cowboys quarterback Tony Romo, who grew up in Wisconsin.
"I don't really know Tony that well," Wilson said. "I do know that he's a great quarterback. Watching him on film, he makes a lot of great plays and he's elusive and finds ways to find his guys. So I have a lot of respect for Tony Romo and what he does for the Dallas Cowboys."
Follow Keith Whitmire on Twitter: @Keith_Whitmire