Russell Westbrook or Anthony Davis? Final playoff spot on the line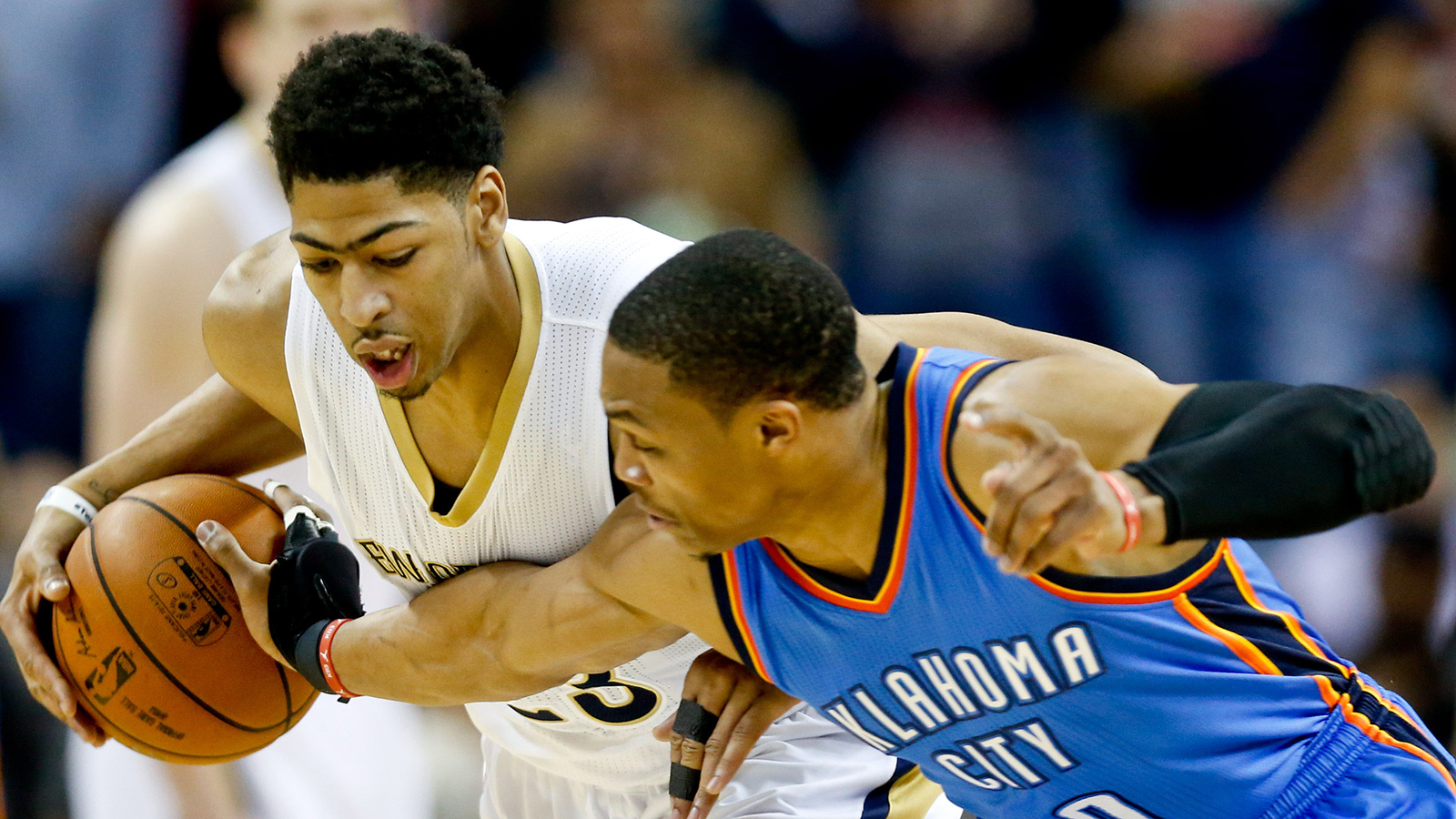 The Spurs have everything to play for. The Thunder might not have enough to play for.
You're confused and you're worried and you're excited, like that time you watched an hour of anime after a sixer of RedBull.
It's been a rough season. Nothing has worked out and a chance to see Russell Westbrook in the playoffs would be a nice treat. Read about that here.
So, good luck tonight, Thunder fans, as you cheer on San Antonio, cheer against the Pelicans and hope beyond hope Minnesota plays like a team that wants an extra helping of ping pong balls.
With that in mind, here are a few things that will help get you through the evening a bit calmer and maybe even the offseason, just in case the Thunder lose or New Orleans wins:
The Thunder will be back — better than ever next season. I know it's not much consolation now, but do you really think this Thunder team is on a championship kind of run? Well, unless you're wearing a giant, blue, foam finger probably not.
Realistically, the Thunder's season likely ends about a week from now when Golden State buzzes through a first-round matchup, anyway.
Hey, it's OK to let another team (New Orleans) have a bit of success. The Thunder have had their share, and next year, there won't be any mid-April standings watching, either. With Kevin Durant, Serge Ibaka, Russell Westbrook and everyone else back next season, there's a really good opportunity out there. Do you have the patience to wait on next season, or do you need the satisfaction of making the playoffs?
If the Thunder lose, we'll get a late spring surprise. It's been awhile since the Thunder have been in the lottery, so watching ping pong balls bounce around with a little hope in our hearts doesn't seem like a bad thing. We all know the chances of the Thunder landing one of the top-three picks in the draft are slimmer than the Thunder actually wining against Golden State, but someone wins the lottery every day. It happens.
OK, so we won't get to watch Thunder-playoff basketball, but we will get a chance to see who shows up to represent the Thunder when the draft order is selected. Maybe it will be Rumble the Bison. Perhaps Sam Presti is on stage, or maybe the Thunder go with a former player as a good luck charm, like Earl Watson or Robert Swift.
You won't have to stay up late. Just think, you won't have to come up with any lame excuse to tell your boss on why you couldn't make it on time. Those game at Golden State are killers. There's not enough coffee in the world to overcome a tip time at 9:15 p.m. Meanwhile, those late tips and the mornings that come up quickly afterward are justified with wins. West Coast losses and an alarm clock buzzing don't mix well.
Do you really want to watch the playoffs without Kevin Durant? Perhaps, it's for the best, really. No. 8 seeds, which OKC will be if it gets in, don't generally fare well in the first round of the playoffs, only winning five times since this format began in 1984.
In addition, this would be a No. 8 seed featuring a team that's injured. No Durant, likely no Ibaka and little hope. Sure, it's a chance to get players like Dion Waiters and Morrow some playoff experience, but is it worth it? I mean, is this the time of the year where you want to see Mitch McGary playing a bunch because he has to?
The Pelicans are a nice story. Listen, this isn't Patrick Beverley and the Rockets or Matt Barnes and the Clippers here. This is a good story of a team that hasn't had much success at all.
New Orleans has rallied back from the Chris Paul/Tyson Chandler days, dealt with its own injuries and has a chance to make the playoffs.
You're probably not going to see Golden State lose in the first round of the playoffs to anyone, but who has more of a chance of beating the Warriors — the injured Thunder or Anthony Davis and the Pelicans? Not saying that's much consolation, but it's something, right?
Follow Andrew Gilman on Twitter: @andrewgilmanOK