Ruff pleased with Stars' offseason moves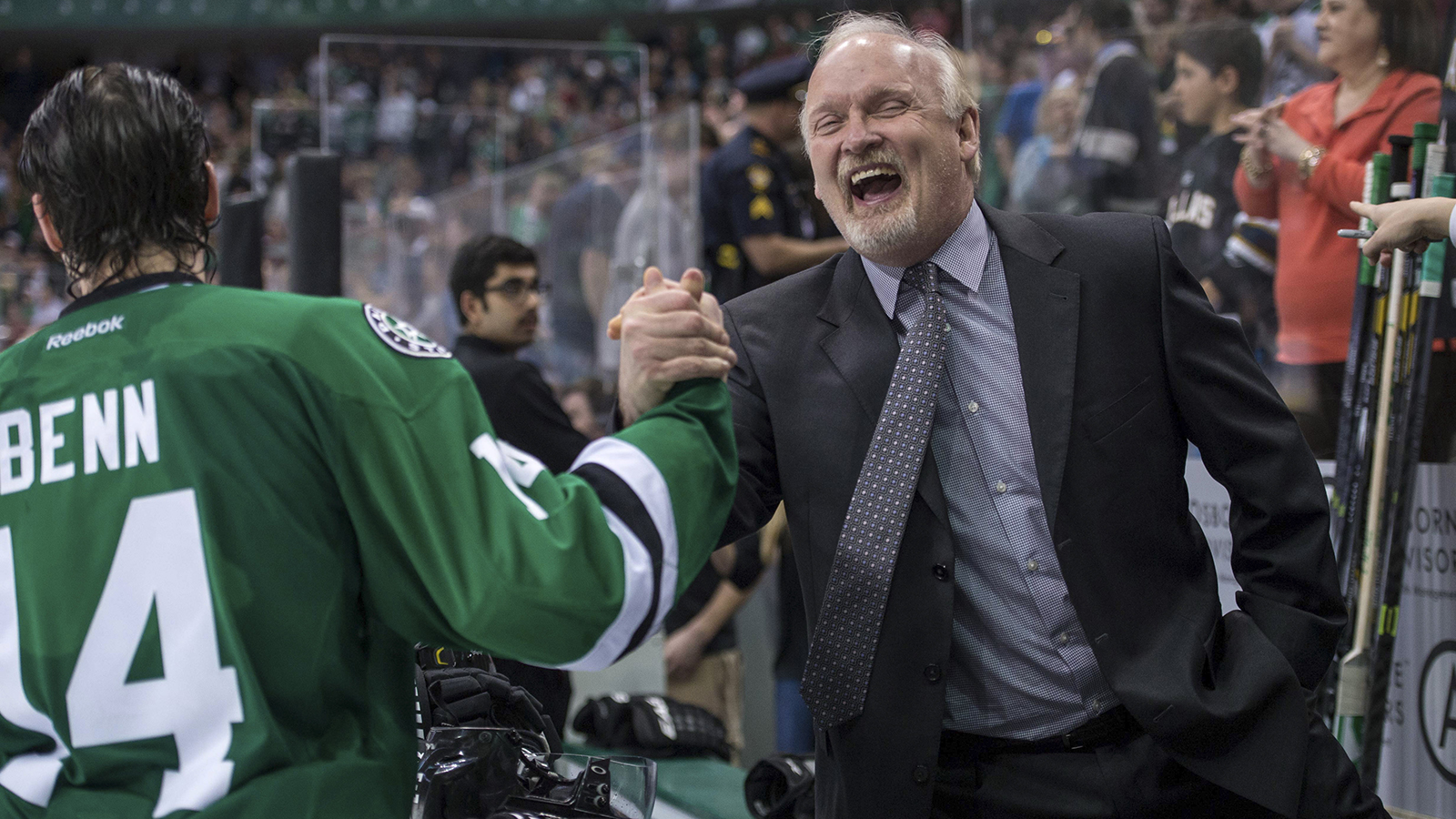 FRISCO, Texas – On Tuesday, Dallas Stars head coach Lindy Ruff was seen around the club's Frisco headquarters taking in the first day of the Stars' annual development camp.
On Wednesday, Ruff, who just completed his first year behind the Dallas bench, a season where the Stars snapped a six-year playoff drought before losing in six games to the Anaheim Ducks in their Western Conference First Round playoff series, addressed the media about the moves Dallas general manager Jim Nill has made since the opening of free agency last Tuesday.
And suffice to say that Ruff is quite happy to see newcomers like veteran center Jason Spezza, acquired in a trade last week with the Ottawa Senators, plus free-agent signings like wingers Patrick Eaves and Ales Hemsky and goaltender Anders Lindback join the roster along with center Vernon Fiddler returning for another season with the Stars.
Of course, the trade to bring in Spezza, who makes Dallas even deeper at center, was the headlining move of a busy offseason. The ex-Senators captain is someone Ruff knows well from having coached him in the past at the IIHF World Championship.
"Well, it (adding him) does a lot for this lineup. Jason's a guy that can control play, can make plays. A lot of times, he's making the people around him better," Ruff said of Spezza. "He's got tremendous reach. He's got great size. I think size and skill up the middle is really hard to find. He's been a point a game player, which is really hard to find."
But he also likes the addition of Hemsky, a former teammate of Spezza's as another savvy veteran who brings plenty of experience to Big D.
"He (Hemsky) has got great speed. He's got great individual skill," Ruff said. "I think there's times he looks to make plays before he shoots, but he's got tremendous talent package. He's had a little bit of injury problems, but we're hoping that he doesn't have to deal with that here."
Ruff also likes the move to re-sign Fiddler and to bring in Lindback to back up No. 1 goaltender Kari Lehtonen, who always seems to miss time due to injury at some point during the season.
"[Fiddler] was an important piece maybe in a smaller role. But on the ice, tough to play against, was a key part of our penalty killing, played in some big situations for us," Ruff said. "And then we brought in another big goalie [in Lindback] that we hope can help us win games. I think if we're going to move up, when our backup plays, we need to win games. We're hoping that he can help push us towards that goal."
Once this week's development camp is in the books, Ruff and the rest of the Stars brass will have some time off before returning to Frisco prior to the start of training camp in mid-September.
But as he gets ready to head off for some much needed R-and-R, he admits it's hard to contain his excitement about how Nill has made the roster better over the course of just a week. However, he admits he's also cautiously optimistic because he realizes just how hard it will be for the Stars to take the next step and advance past the first round of the postseason in the coming season.
"Well, I'm excited. The players are all excited. I think you try to temper that excitement," Ruff said.
And as he looks back on his first year on the job in Dallas, the veteran NHL head coach feels a solid sense of accomplishment with what the Stars accomplished in year one. However, he also knows that job begins anew once the puck drops on a new season come October.
"I didn't know a lot about the players when I got here. I didn't know how the pieces would fit. I think we had some pieces that maybe started to fit together later in the year," Ruff said. "We came together later in the year. We know a lot about each other and now it's to take that next step, which will be a real big challenge for us."