Romo looks comfortable in first game since back surgery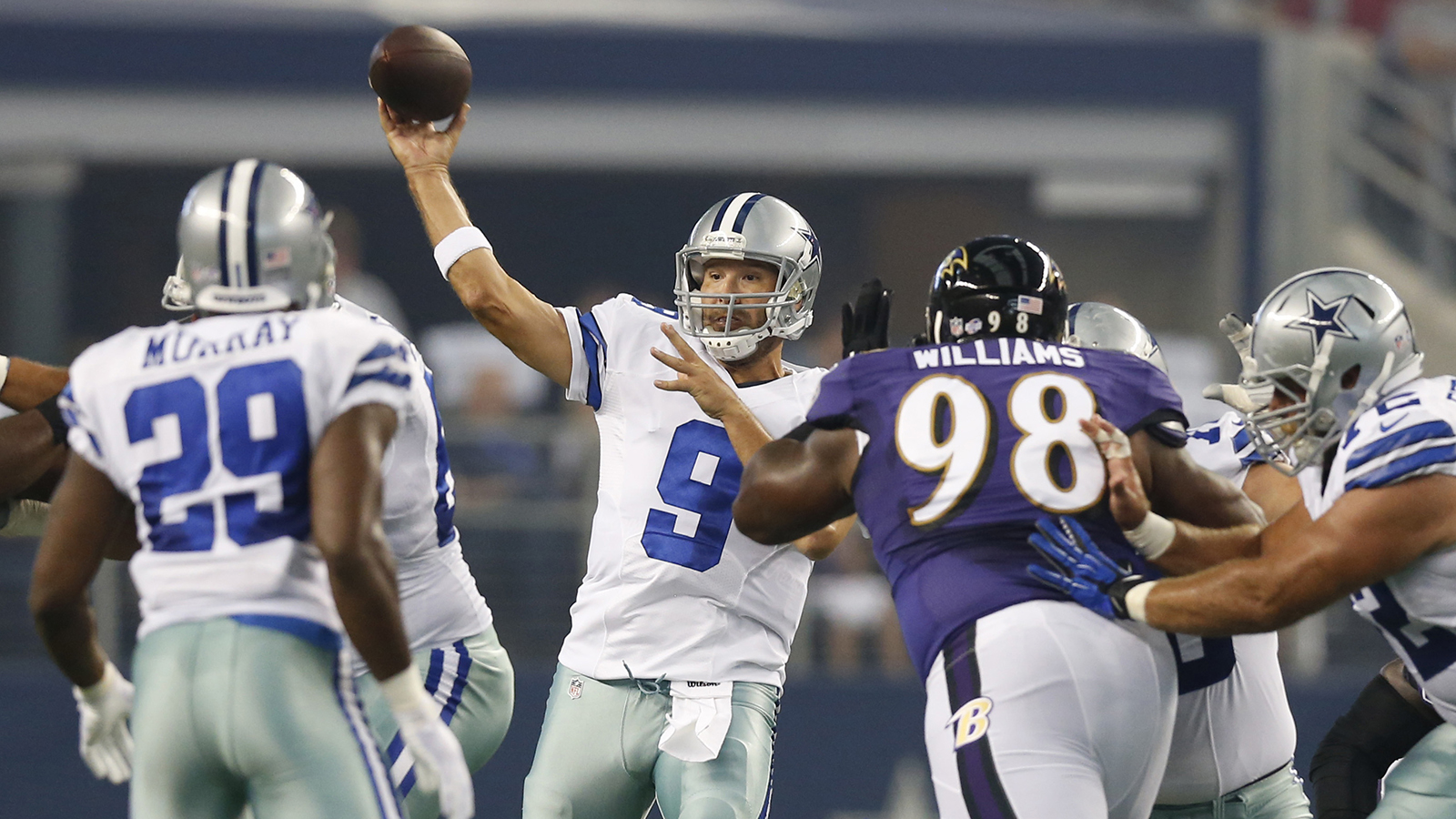 ARLINGTON, Texas – Tony Romo looked like his old self in his first game action since surgery for a herniated disc.
In a preseason start against the Baltimore Ravens, Romo made one big play and had a hand in committing one big turnover. Same old Romo.
What Romo didn't show were any effects from the back surgery that ended his 2013 season. But he also didn't take any hits, so it's yet to be determined how much wear and tear his back can take.
The Cowboys have also treated Romo very gingerly in training camp, but at least for two possessions Saturday he was able to stay upright against defenders with bad intentions.
"It felt good," Romo said. "I thought it was great to get out there and help the football team and go through the checks and balances you have to do to get your team in a position to compete."
Romo was in for 14 plays, not counting two that were negated by holding penalties.
He was 4 of 5 passing for 80 yards, including a nifty, 31-yard touchdown pass to Dez Bryant. Romo may be rusty, but he hasn't forgotten that throwing the ball up for Bryant is always a good option.
The rustiness showed on his fifth play when he didn't connect with DeMarco Murray on a handoff. The ball hit the turf and was promptly scooped up by the Ravens' Courtney Upshaw and returned 26 yards for a touchdown.
"We have to look at it," Romo said of the fumble. "We have to find it on the tape. That's stuff that can't happen, obviously, but we will get that corrected."
It was the next possession that ended with the touchdown toss to Bryant. The throw came at the end of a nine-play, 83-yard drive.
"Tony made the call, and he thought it was going to work," Bryant said. "I can't tell you the play, but he felt good with it. He wanted me to go get it, so I went and got it for him."
Earlier on that drive, Romo showed his trademark evasiveness on one play. With plenty of time to throw, Romo spun out of the pocket, then made another adjustment before throwing across the field to James Hanna.
Hanna dropped the pass, but the important thing is that Romo displayed some mobility. The thing about a back injury is that it may not be a big hit that knocks Romo out, it could be twisting away from a pass rusher. Any kind of jolt, even a self-inflicted, could put Brandon Weeden on the field.
That may not be a good thing based on the way Weeden struggled with his accuracy in his second preseason action. But it's just one game, just as it was just one step in the process for Romo's return to full-time action.
"I thought he looked comfortable," Cowboys coach Jason Garrett said. "I thought he looked like himself and moved around in the pocket. He made some good throws that looked like he saw the field well. He felt the pocket really well and looked comfortable moving the team."
Garrett can't be comfortable with the state of his defense, which was trampled for a second-straight preseason game. However, with a number of starters sitting out, it's tough to judge where the No. 1 defense really is.
What the Cowboys put on the field doesn't say much for the defense's depth, however. Not only did the Ravens drive at will, the Cowboys' special teams gave up a 108-yard kickoff return for a touchdown and another 50-yard return in the first half.
Guess who plays on kick coverage teams? Backup defensive players.
The Cowboys' defense actually caught a break in the first half. With the fumble and kickoff returns for touchdowns, the Ravens had 14 points before the Dallas defense took the field.
A spirited second half by second- and third-teamers made for a final score of 37-30, Baltimore. However, the first half – when more familiar names were in the game – ended with the Ravens leading 27-10.
But this game, from a Cowboys standpoint, was all about seeing Romo in game action for the first time since back surgery. Although it wouldn't take much to get a passing grade, Romo aced this first test of his tricky back.
"He looked good," Bryant said. "His mind was right, he was poised and went out there, knew what he wanted to do, and did it. He wanted to show the world he is "9" and he's a baller."
Follow Keith Whitmire on Twitter: @Keith_Whitmire