Rios ready to roll in first full season with Rangers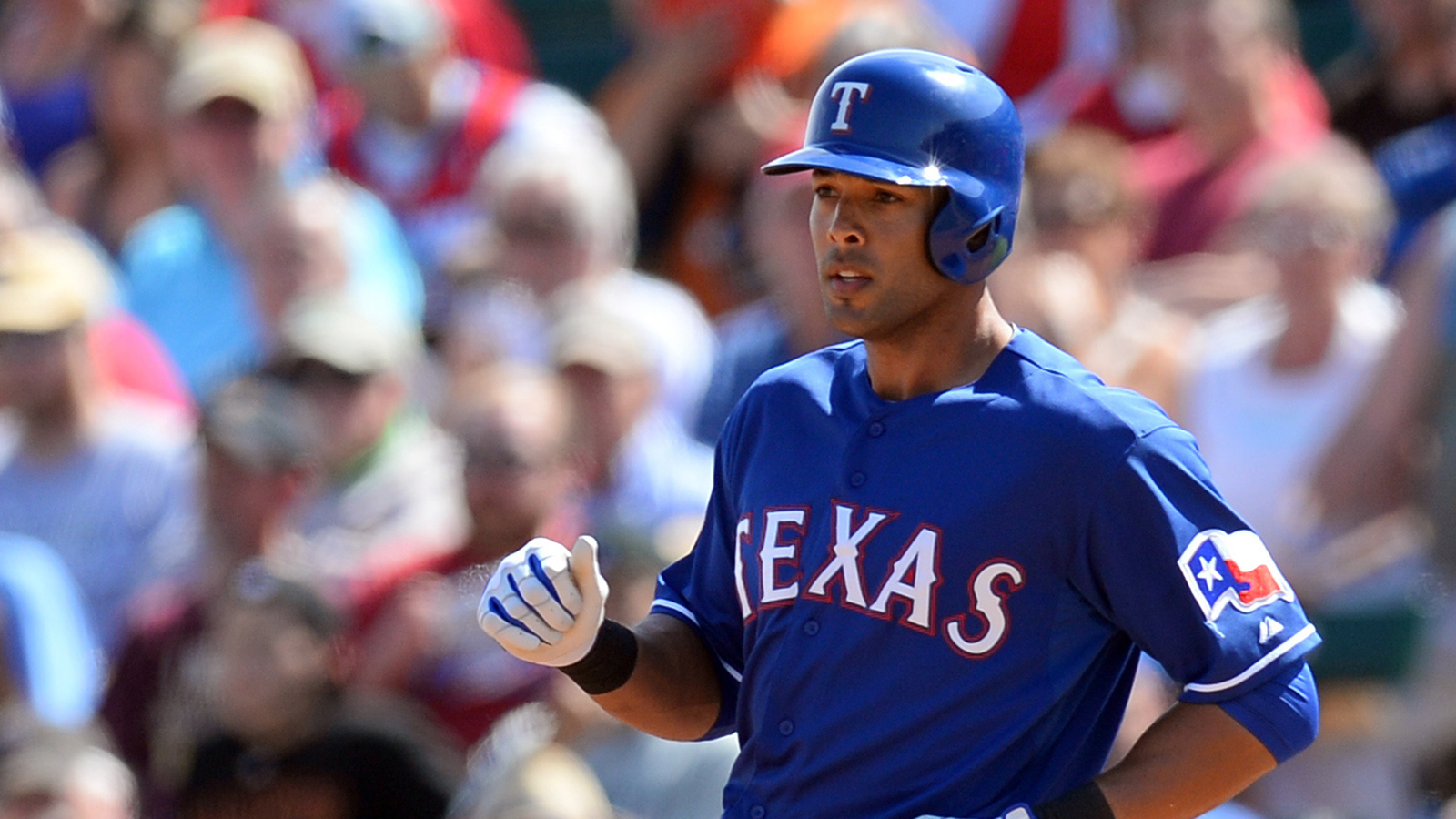 Alex Rios came to the Texas Rangers last season in an unenviable spot, having to try and fill the void created by the loss of suspended All-Star slugger Nelson Cruz.
It was a task Rios was more than up for, as he excelled in right field in his 47 starts for Texas as he tried to adjust to a new team after spending nearly four seasons with the Chicago White Sox.
Now Rios has the added comfort of knowing what's expected out of him in Texas to go along with a skill set that helped him become a two-time All-Star. That should make for a good combination for Rios and the Rangers in 2014.
"It's a little bit easier to come in here and start practicing and playing with the whole team," said Rios. "You see the whole dynamics of how the guys work, the staff works, and the logistics of everything. It's good to have a full season in here and see all the things come together, the way they work and how they do things I get a better knowledge of what they want to achieve."
Rios has been limited this spring because of a sore big toe and a sore right oblique. He hasn't played in a Cactus League game since March 4 but the Rangers are being more cautious than anything else with the 33-year-old Puerto Rican and he could be back in the lineup by this weekend.
Spring action or not, he's now a known commodity and a key part of the Texas offense.
"He has all-around game," Texas manager Ron Washington said. "He's not just one dimensional. The guy can hit for power, run the bases. The guy can play defense. He plays hard every day. He has attributes that you love having on the team."
He showed those attributes after being picked up on waivers last Aug. 9 from the White Sox. While Rios doesn't possess the power of Cruz, he batted .280 in his 47 games with the Rangers, scored 26 runs, had 26 RBI and stole 16 bases to go along with six home runs.
He led the club in steals, extra-base hits (19) and slugging percentage (.457) after the deal in his bid to get to the postseason for the first time in his career.
Those numbers helped fill the void with the loss of Cruz, although that wasn't Rios' goal.
"I knew my role," he said. "I knew we're different players. I knew I didn't come here to replace him. I came here to be a part of a team, and help the team achieve what we wanted to achieve. I didn't put any pressure on myself considering the situation. I just tried to accept my role and do what I had to do."
That's the same approach Rios is taking this season. He knows his teammates better than he did last year and he knows what's expected out of him. He's also comfortable in his role as the team's No. 5 hitter behind Adrian Beltre.
"I've done the fifth spot before," he said. "I know I'm going to have to get the leftovers from the big boys in front of me. I'm part of the run production part of the lineup. It's going to be exciting. It's going to be exciting to see how those two (Prince Fielder and Beltre) perform in front of me and to see what I can do."