Revivalry, not Red River, ground zero for intrigue, Big 12 title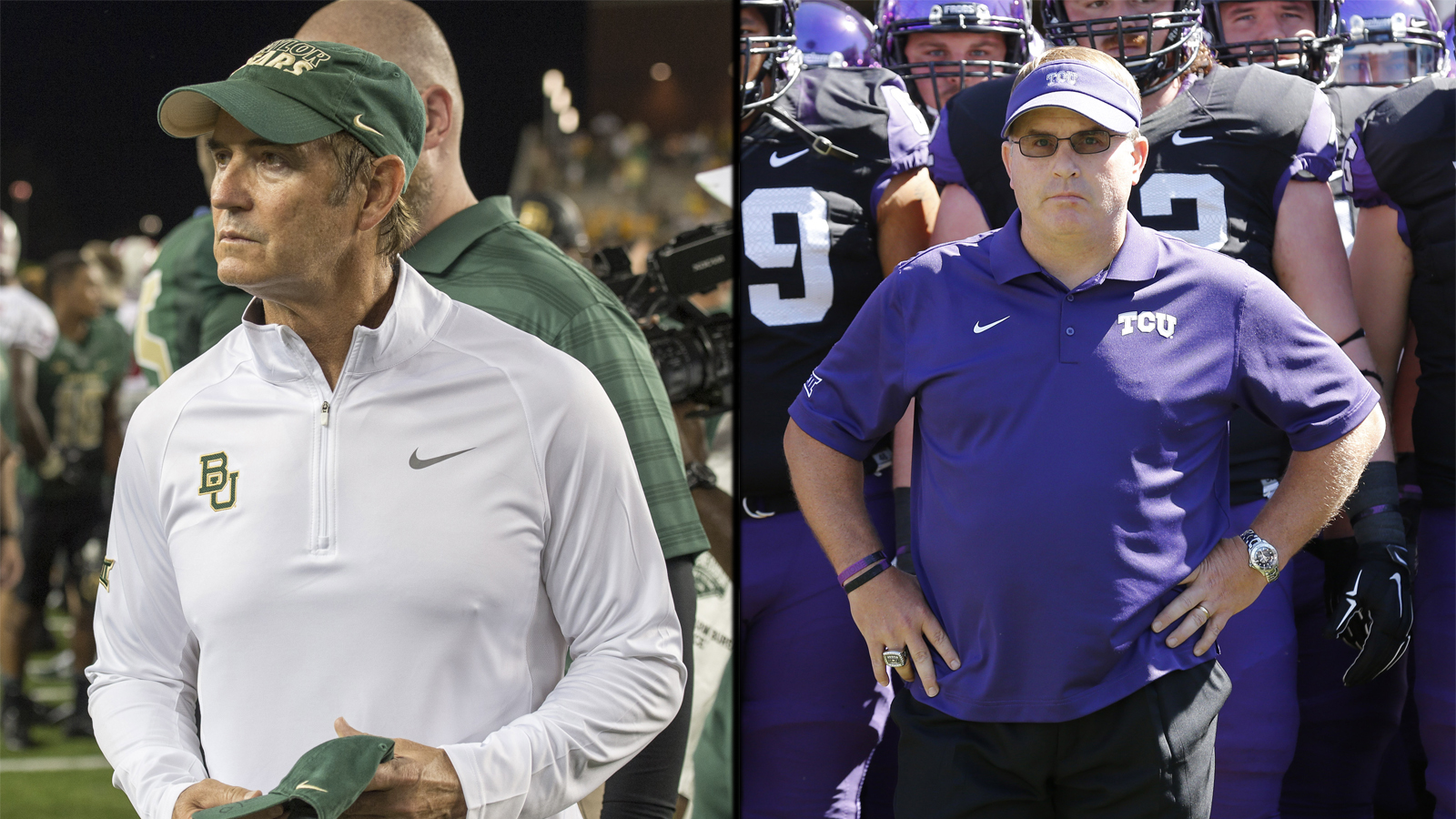 Are you looking for bad blood? Maybe a couple undefeated, top 10 teams? How about Big 12 title implications?
You won't find any of those things when Red River, the Big 12's most historic rivalry, resumes on Saturday.
You'll find all three in Waco, Texas when The Revivalry kicks off at 2:30 on Saturday in Baylor's sparkling new McLane Stadium on the banks of the Brazos River.
The winner of the Bears' date with TCU will earn the right to call themselves the Big 12 title favorite, its last undefeated team and its best chance to crack the inaugural College Football Playoff.
Oh, and about 100 miles up the road, a couple of teams from the middle of the Big 12 standings commonly referred to as "Oklahoma" and "Texas" will play the opening act to No. 3 Baylor and No. 9 TCU's main event.
"If you want to win championships, you've got to play the best," TCU coach Gary Patterson said.
In 2013 and now, 2014, the road to a Big 12 title runs directly through Waco, a sharp detour south from its previous path through Norman.
Baylor's 41-12 win over the Sooners last season on the way to its first Big 12 title assured that.
TCU's head-turning 37-33 win over Oklahoma last week knocked the Sooners off their perch as the Big 12 favorite and set up Saturday's showdown. A year ago, Baylor needed an interception in the end zone in the final minutes to hold off the Frogs, who nearly spoiled the Bears' first Big 12 title.
Saturday will be the 110th time TCU and Baylor have met, but just the first time they've done so while both were ranked in the AP poll.
Baylor coach Briles downplayed the idea of any lingering "nastiness" on Monday.
"If it is there, somebody needs to tell me or remind me," he said.
Allow me to oblige.
After the game, Horned Frogs coach Gary Patterson took offense to Baylor safety Ahmad Dixon's actions during the game. Dixon was ejected in the third quarter for targeting TCU's Trevone Boykin on a big hit, but didn't leave the field immediately. After the initial hit, Patterson screamed across the field at Briles.
"To come across the field to me … he's picking on the wrong guy," Patterson told reporters after the game. "You're not going to come across to me. You can go correct your player, not me."
When Dixon finally left the field, he blew kisses to TCU fans and laughed on the way to the locker room. After the game, Patterson and Briles had a testy handshake and Briles suggested Patterson "leave it on the field" and shake it off.
Patterson, incensed that Dixon had been making hits like that "for four years" spent much of his postgame press conference criticizing Briles for not correcting it, though he never mentioned Briles by name.
Patterson also took issue with Briles not suspending Dixon after his arrest in late September on a misdemeanor assault charge. A little more than two weeks after Patterson's rant, a grand jury cleared Dixon of charges stemming from the incident.
"The head coach comes across the field to me, OK? There's a guy laughing in front of the cameras on the sidelines," Patterson said of Dixon. "That's not what I call class. "So the bottom line is, we're not going to do that. Here's where I live. Gary Patterson lives in Fort Worth, if he's got a problem with me."
He also added: "If that's what class is, then I don't want to be it."
You can dig into the history between Texas coach Charlie Strong and Oklahoma coach Bob Stoops all you want and never find anything quite that spicy.
Briles and Patterson shared a few laughs at Big 12 media days in July and presumably put the feud behind them, but there will be more on the line on Saturday than any previous meeting between the two coaches.
"I'm not the most popular guy in Waco and that's OK," Patterson said Monday. "As a person, I have no problem with Coach Briles. I like him, I love his wife, great people. I like his family.
Monday, neither side was keen to revisit last year's events, but the controversy looms over this year's game between two programs that have a 51-51-7 record against each other.
"I saw what I saw in the ball game and obviously frustrated by the season and everything else. So, it is what it is," Patterson said. "Outside of that, we've got to get ready to play."
Texas' decline since playing for the national title at the end of the 2009 season has meant a decline for the Red River Rivalry. Bedlam surpassed it in relevance during that span, and you can bet The Revivalry will do the same this week.
No. 14 Texas A&M hosts No. 3 Ole Miss on Saturday, which officially makes Red River the third biggest game in Texas this weekend.
One day soon, Texas might be "Texas" again. The Sooners, who fell to No. 11 in this week's AP poll, figure to be waiting.
Until then, Red River isn't what it once was with Mack Brown and Stoops patrolling the sidelines. For much of the 2000s, Red River decided the Big 12 title.
With Texas at 2-3 and headed for a struggle to finish above .500, that's not happening this year.
But hey, those corny dogs? They're still as delicious as ever. I'll have two (and a fried Snickers).