Red River Rivalry: A tour of the fair's new fried foods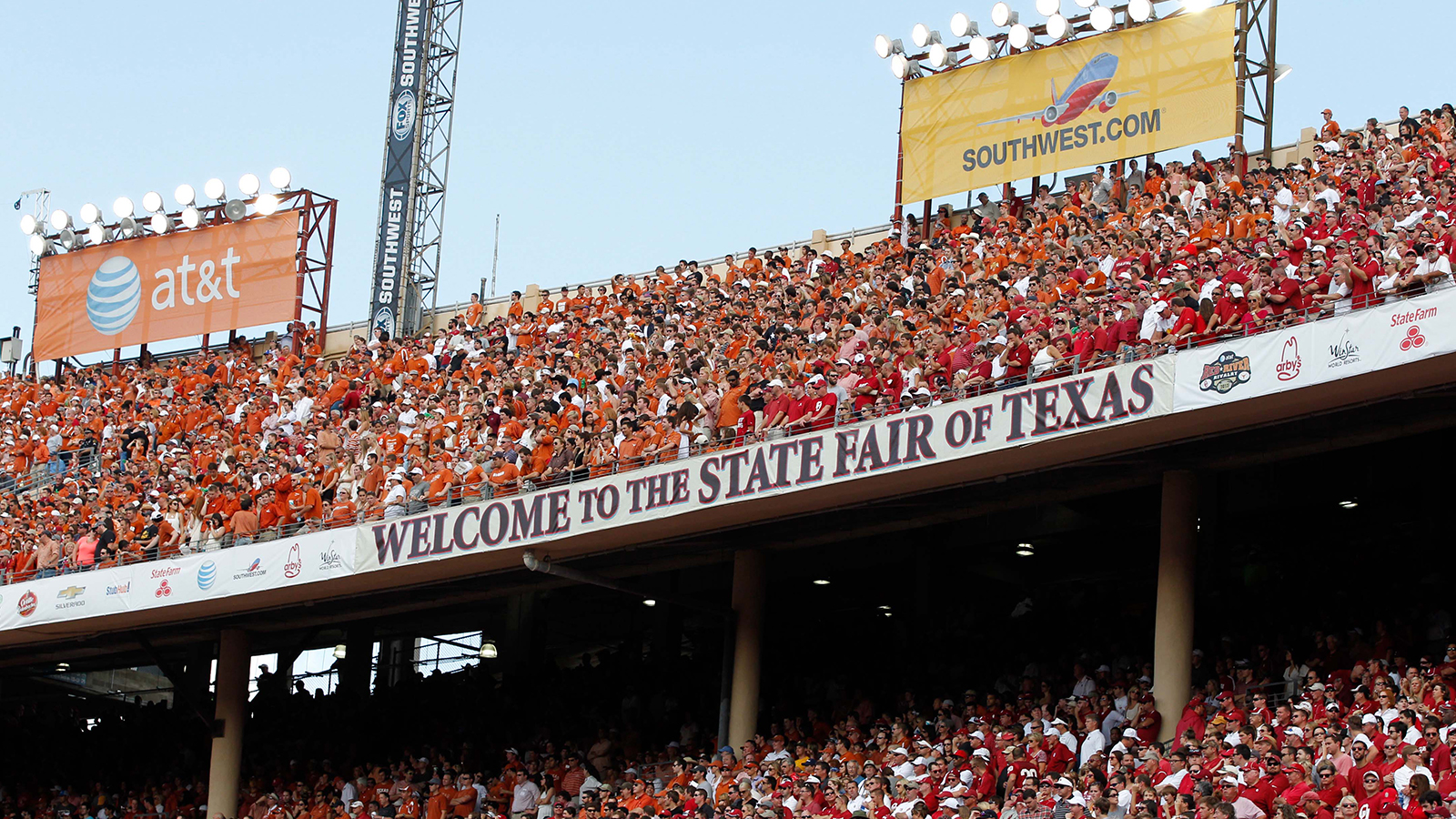 DALLAS — Friends, I do my best to help you out when I can.
Those of you who have paid the State Fair of Texas a visit know its darkest secret: There are thousands of people there itching to get their hands in your wallet.
A seemingly innocent offer to clean my wife Becca's wedding ring ended with us somehow walking away with $20 worth of cleaning solution (It can do other stuff, like make our nonexistent granite countertops look brand new).
My parents once stopped to take a rest in some massage chairs and ended up agreeing to have one shipped to their home for a preposterous price tag.
Get too close to the Midway and you'll be begged to try your hand at throwing a basketball through a hoop that's been hammered into an oval to lower your odds.
And yet, every year, I love making my annual visit to the fairgrounds.
I love fried foods and there is no better place to satisfy those longings than the fried food capital of the world.
Check out all the photos from the fairgrounds! Warning, they may leave you hungry!
These foods, sadly, are not fried for free.
This is where I come in. You may have encountered last year's tale of my trip to the fair, and this year, I was due for a sequel. For many (myself included) the food is the highlight of the fair. Some of us more adventurous souls can't settle for funnel cakes and corny dogs.
Every year, the fair premieres new, exotic fried foods that, in truth, should never be submerged in bubbling oil. The best earn designation in the Big Tex Choice Awards, but the other selections beginning their existence in 2014 can be only slightly more necessary than every product in a Hammacher Schlemmer catalog
Hundreds of thousands of people will make their pilgrimage to Dallas and the state fairgrounds this weekend.
So which fried food peddlers deserve your dollars? This year's selections didn't measure up to 2013's slate, but there are still a few deep-fried delicacies worth the dime. This year, my fellow food-loving wife joined me for the excursion into America's fried wonderland … and brought her report card with her.
Ever since last year's sampling tour, I wouldn't shut up about the Fried Cuban Roll, my favorite from a year ago and the 2013 Big Tex Choice Award winner for best taste. Just inside Gate 5 off Grand Ave, the Cuban Roll could be bought at the same stand as the Fried Texas Bluebonnet, so we double-dipped to start the day.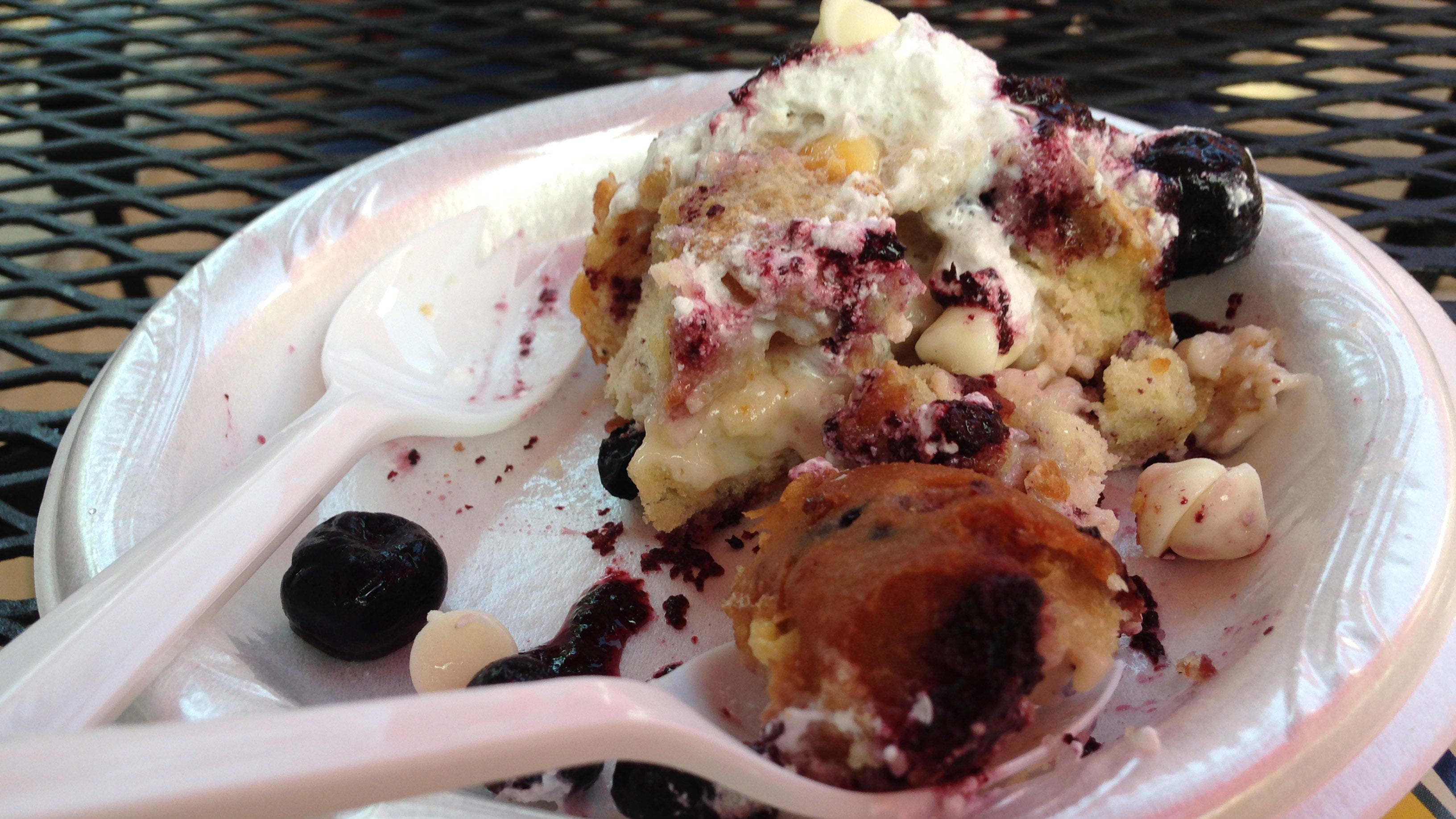 The Cuban isn't quite as good as it was last year, but it's solid. As for the bluebonnet, I'd give it a recommendation.
It mostly just tastes like a blueberry muffin from a store-bought mix, but frying it adds a little bit of moisture. The white chocolate chips and blueberries add a little extra flavor, highlighted by the tartness from the berries. Becca and I both gave it a B.
Grading is difficult. I generally ask a handful of questions to reach my final marks.
1. Do I enjoy eating it?
2. Does frying it make it a new, different food that sets it apart from an original, unfried iteration?
3. Do I feel like I've wasted my money in buying it?
4. Would I seek it out on a later trip to the fair?
Becca, something of a calorie counter, likes to use another:
Would I use up my daily calories on this food?
Our next stop was this year's winner of the Big Tex Choice Award for best taste: The Fried Gulf Shrimp Boil. You'll be surprised at how big it is, compared to the picture. Think of a large hush puppy. Ours had no real "handle" via the shrimp's tail, but upon first bite, a shrimp boil soup of sorts spills out. Sure enough, it tastes like a spicy shrimp boil. You'll get the big hunk of shrimp with little shredded pieces of shrimp inside, as well as potatoes, corn and cajun spices.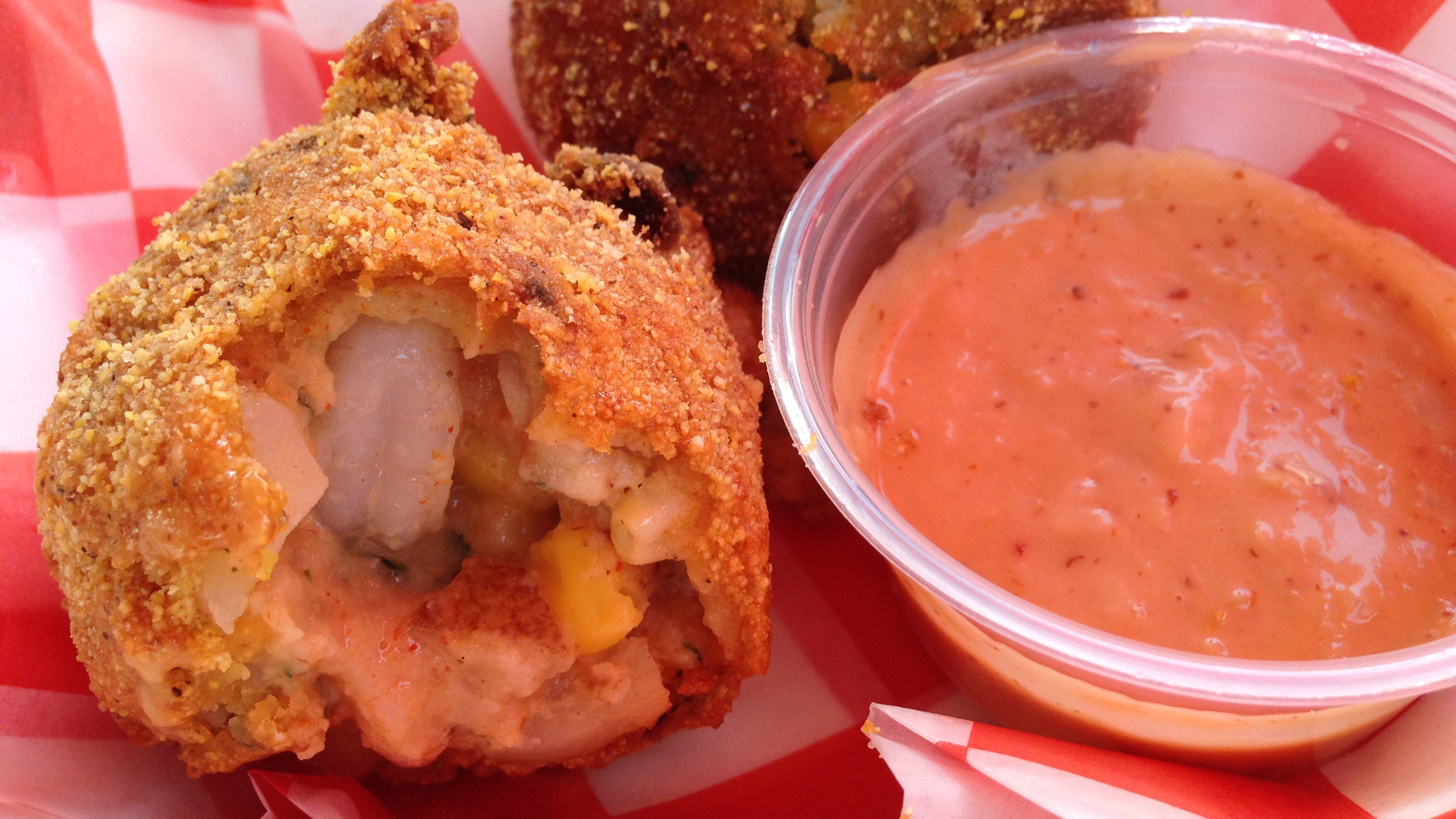 It works, but unlike my favorite fried delicacy, the fried Snickers, it's not better than an original gulf shrimp boil.
Neither one of us is a fan of spicy foods, but it was too much for her. She gave it a C-. I went with a B-.
I was most excited about the BBQ addition to this year's fried lineup: Fried Brisket. I was skeptical but hopeful. Cooking brisket is a tedious operation. Slow cooking ideally produces a tender meat packed with flavor from the fat and rub coating the slab of cow.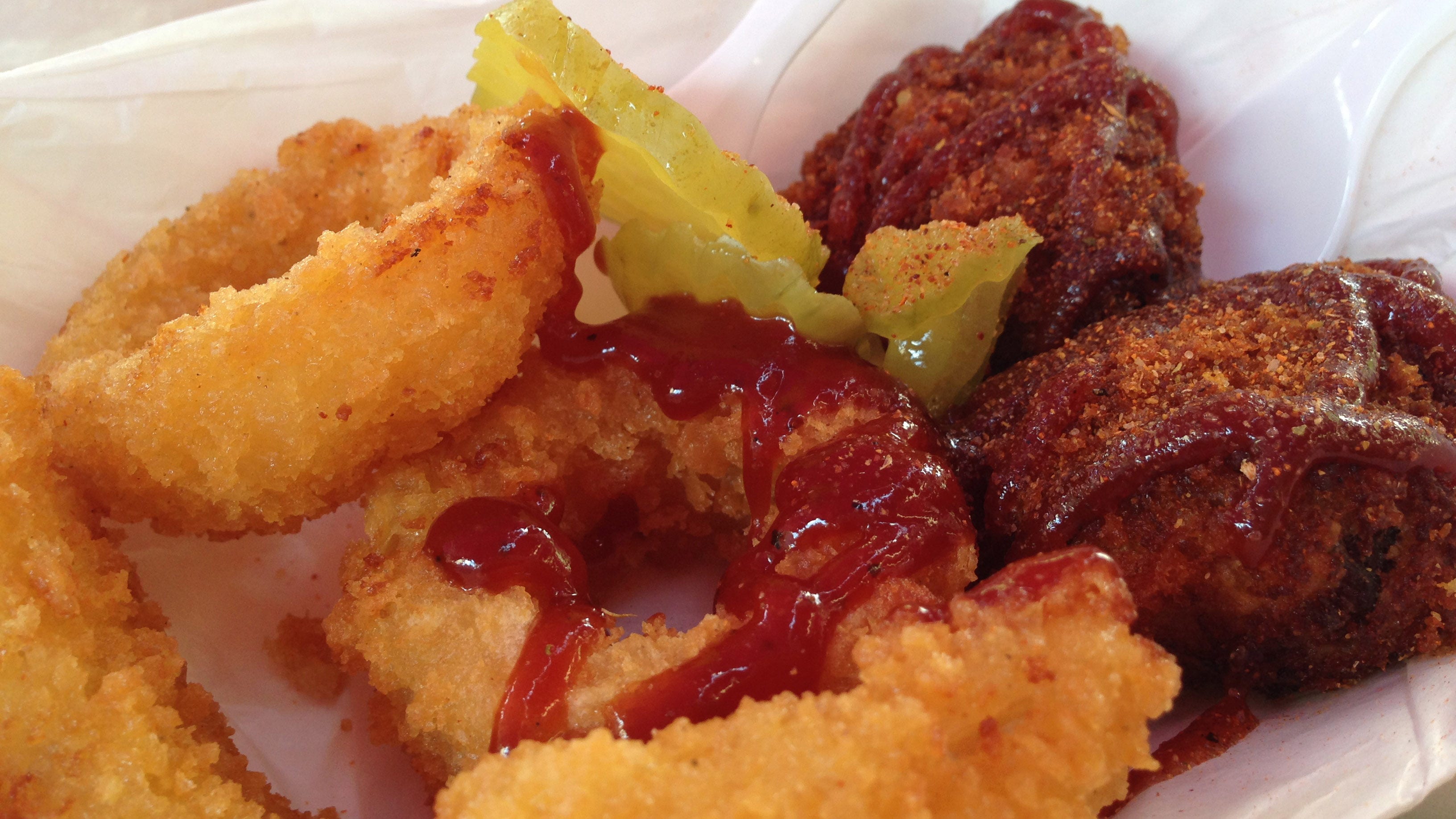 My skepticism was validated upon first bite. The fried coating is sprinkled with a barbecue rub that gives it good flavor, but the meat was tough and rubbery, likely from the frying process. The onion rings that came with the meal were satisfactory, but you'd need a steak knife to cut the brisket. Becca gave it a D+, I went with a D-. We were within walking distance of one of America's best briskets, Pecan Lodge in Deep Ellum. I felt dirty eating this brisket so close to another I revere. Brisket is simply not meant to be fried.
By this point, morale was low. It's one thing to eat outlandishly unhealthy food. It's another to do so and not enjoy it, at least in the moment.
Dogs doing tricks and practicing long jumps into pools provided the boost we needed (and the digestion time) to move on to a pair of desserts.
The Fried Milk and Cookies sounded like it might be the best thing we'd eat all day. A frozen custard with Oreo cookies rolled in bread crumbs and fried? I don't know why they didn't use a funnel cake batter instead of panko bread crumbs, and after our first bite, we confronted an uncomfortable reality.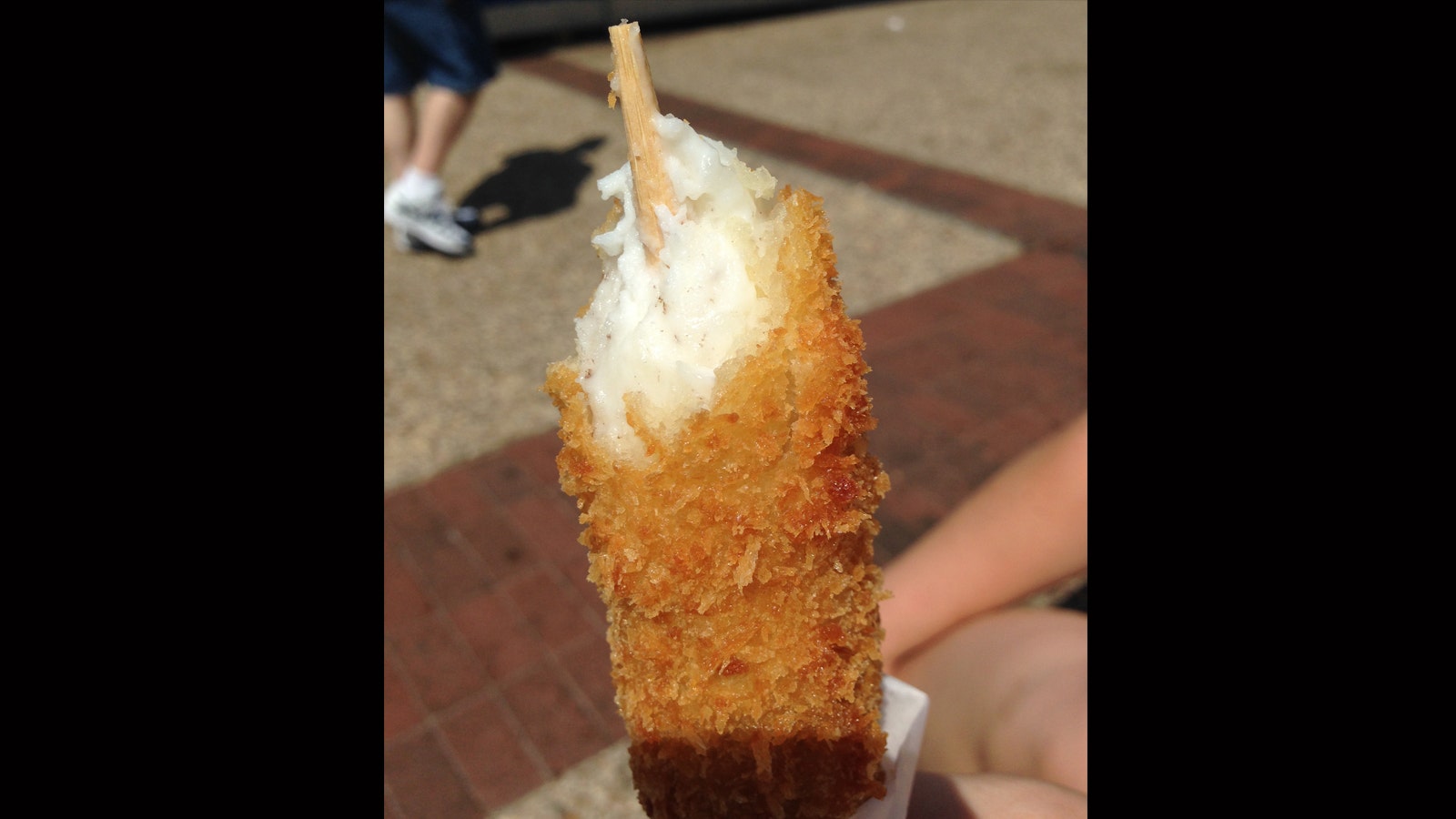 It was disgusting. The gummy "custard" looked like chunky, spoiled milk, had no taste and hardly any sweetness. As for the cookies? They were as plentiful as a Kansas football road win.
"They should just call it fried milk," Becca said. "It's like a milk marshmallow that isn't sweet. Where are the cookies?"
The texture was far from the ice cream-like smoothness I'd expected. Becca and I both gave it a D-.
It's never a good sign when I hear something is fried and my first reaction is "That's ridiculous." Fried butter? Fried bubble gum? Neither is good.
Expectations were low when I read the details of a "Fried Sweet Texas."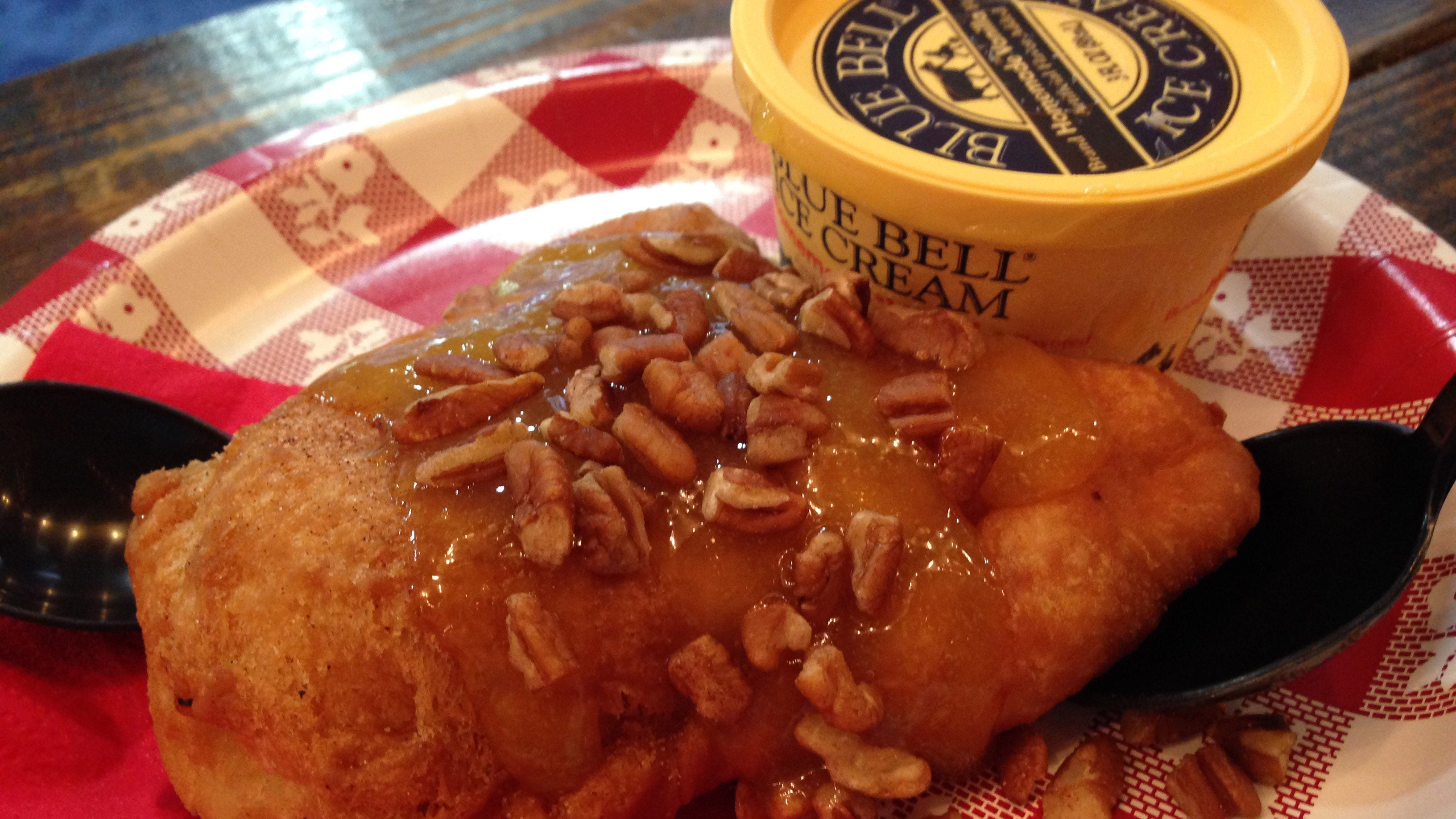 BigTex.com reads:
I mean … come on.
But then we took a bite. It was the best thing either of us ate all day. The flavors meld together inside a perfectly flaky, buttery crust. The buttermilk pie and pecan pie sort of just taste like sugar and caramel, but you get periodic bursts of fruit when you bite into a peach from the cobbler.
Becca's only qualm was she wouldn't bust her daily calories on it, but if I was counting, I would. I gave it a solid A-, only because the ice cream is rock-hard and in an individually packaged cup. It's impossible to scoop with the bendy, plastic spoon provided. Becca gave it a B+. If you're going to try one new dessert at the fair this year, make it the Fried Sweet Texas.
After two dessert entries, we backtracked into the world of savory fried delights. The Polynesian Pops were one of my most anticipated new foods and got major points for presentation. They come with an umbrella and the perfectly light golden brown batter glistens with a sweet, soy glaze.
However, the first bite revealed chicken that was overcooked and dry, and the sauce, while appearing appetizing, was too heavy on the soy sauce and the teriyaki-inspired flavor was too heavy on salt and too light on sugar. The crunch on the chicken and pineapple skewer was satisfying, but Becca was unimpressed with the sauce and the chicken's lack of moisture had me running for the nearest bottled water stand. Becca gave it a C-. I liked the sauce a little more and gave it a C+.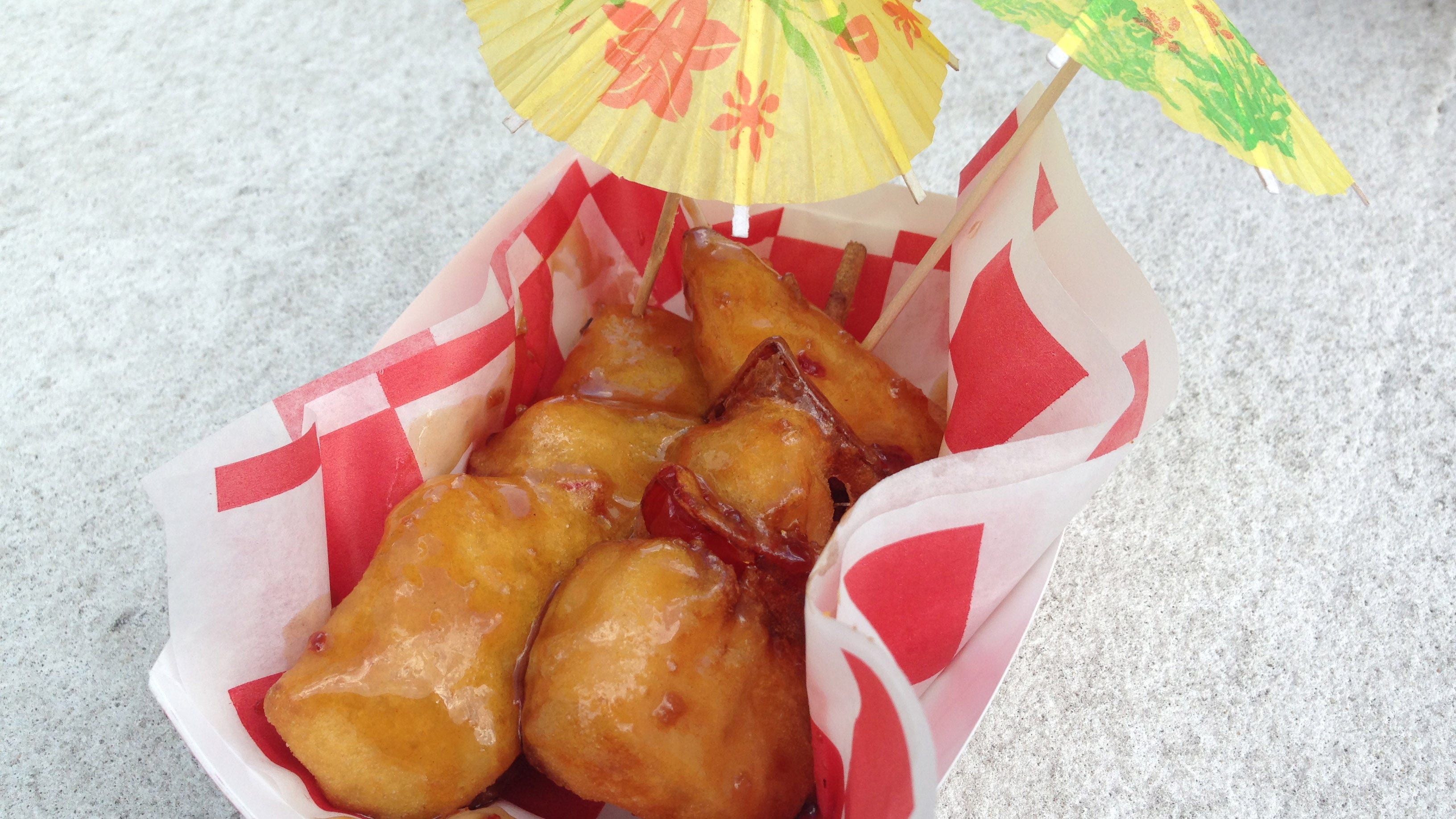 The next hour was a dark one, friends. To this point, we'd generally wandered aimlessly around the fair and stopped to buy foods that were on the list we'd made before heading downtown. That strategy now betrayed us.
Maps are not helpful for finding stands cooking up new foods. However, as we learned while wandering through the wilderness for 40 days and 40 nights, Midway houses much of the contemporary, alluring fried cuisine.
That's where we found "Fried Breakfast for Dinner," which easily qualified for my "That's ridiculous" category.
Scrambled eggs, sausage, bacon, potatoes, ham, onion, cheddar cheese and … wait for it…cinnamon roll bits are crammed into a 10-inch tortilla and deep fried like some perverse chimichanga.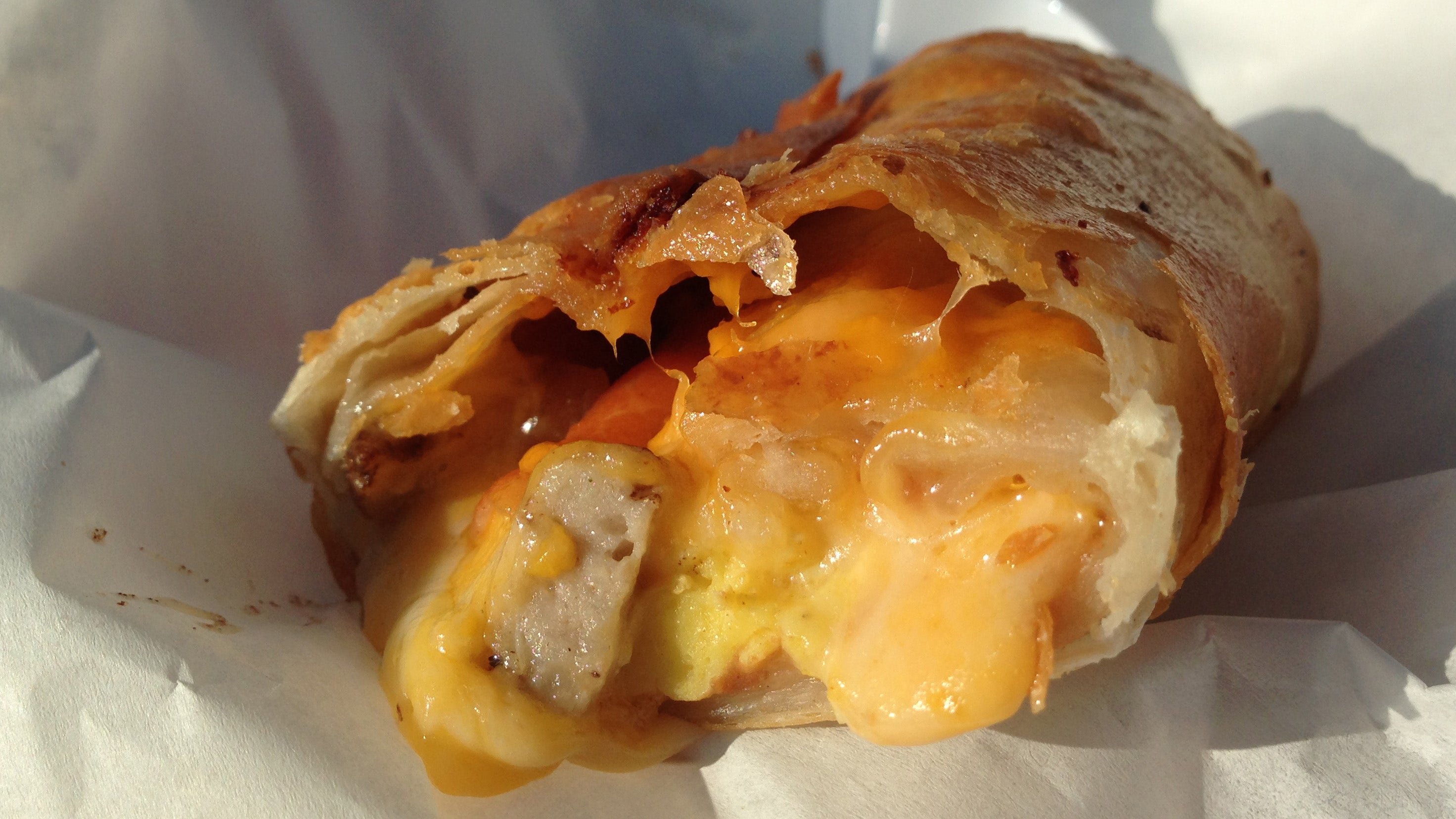 I couldn't believe how much I loved it. The eggs and meat dominate the flavor, but stringy bits of melted cheese that spill out when you take a bite are a welcome sight. The eggs were fluffy, and if they came from a powder and not a shell, I couldn't tell the difference. The cinnamon roll bits were hardly noticeable, but that might be a good thing. I suspect if they were more assertive, I'd be left wishing they weren't.
It was the best savory offering I sampled all day. I gave it a B+. Becca gave it a B.
A few steps later, we stumbled upon the entry both of us were most intrigued by when we first perused the menu: "Fried Sweet Tea."
Becca is a child of East Tennessee raised on glasses of imminent diabetes. I was raised in Arkansas by Iowa farm kids who might ask what's wrong with you while you poured six cups of sugar in a pitcher of perfectly good tea. Still, I don't mind a glass from time to time and thought it might translate well to being fried.
The fried bar is reminiscent of the St. Louis staple, toasted ravioli. The sweet tea syrup on top made it a little too sweet for me, but I was surprised at how much lemon flavor showed up in the dessert. The inside of the fried custard was cold, but I didn't get enough tea taste. It was closer to the taste and consistency of a lemon bar, but the crunch of the graham cracker crust added some much-needed texture.
Becca originally gave it an A- but later changed to a B+ when the tea flavor never shined through. I gave it a B-. Sometimes, you've just got to rein in the sweetness. Bill Belichick is an expert at this.
Back near the main entrance to the Cotton Bowl, we came upon the "Chicken Fried Loaded Baked Potato." I had been looking forward to this as a prime example of something that could take an already delicious thing and make it more delicious and different by frying it.
It was a little spicy, but it tasted like I hoped it would. Becca was not as pleased.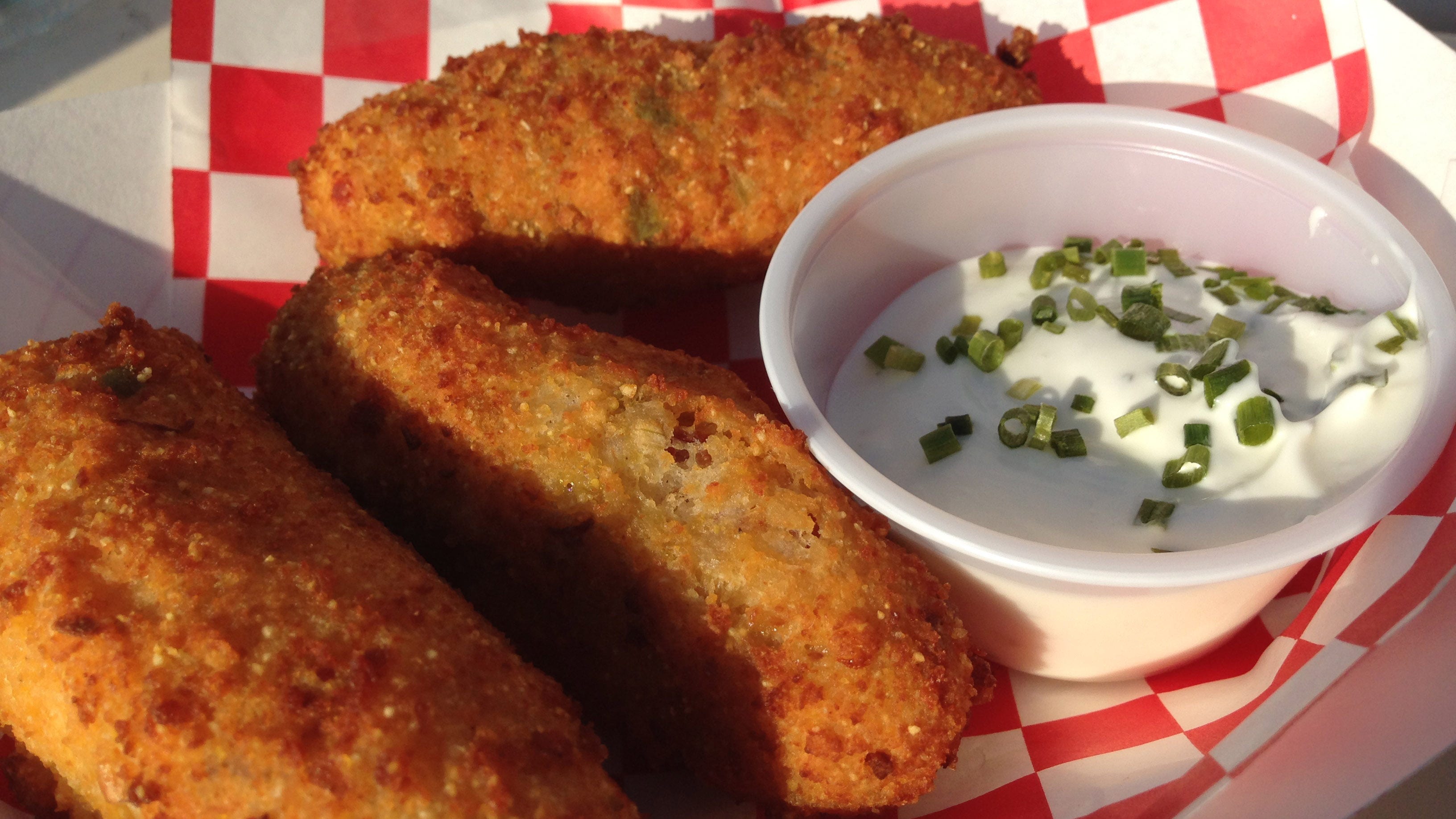 "All I taste is bacon," she said.
I did not understand how this sentence could be perceived as a negative. The potatoes were a little dry, perhaps from being fried. More cheese would have helped. Considering it's also got a little spicy kick, you can't get through this dish without a drink nearby. You're also given a cup of ranch to dip it in, but I would have preferred straight sour cream. It's not even an option.
I liked it enough to hand it a B. Becca was unimpressed and gave it a C.
We made another trip back into the food building adjacent to the Cotton Bowl and bought the "Hot Soul Cake" at a fried chicken stand. Supposedly there is chicken inside a vanilla cupcake that is dipped in waffle batter and fried, but it was pretty nonexistent when we broke open the cake with a fork. It mostly tastes like a store-bought cupcake with some crunch. I'm a major proponent of chicken and waffles and thought this dish might tap into the same sweet and savory notes. It does not, in part because of dry pieces of popcorn chicken that don't have much flavor. The cream cheese frosting was a highlight for me, but Becca felt it tasted like cheap, store-bought icing. It's also hard to eat and falls apart quickly because of the lack of moisture in the cupcake.
I docked the cake half a grade down to a B- for trying to charge me an extra ticket for an additional fork. … Really? Becca gave it a B.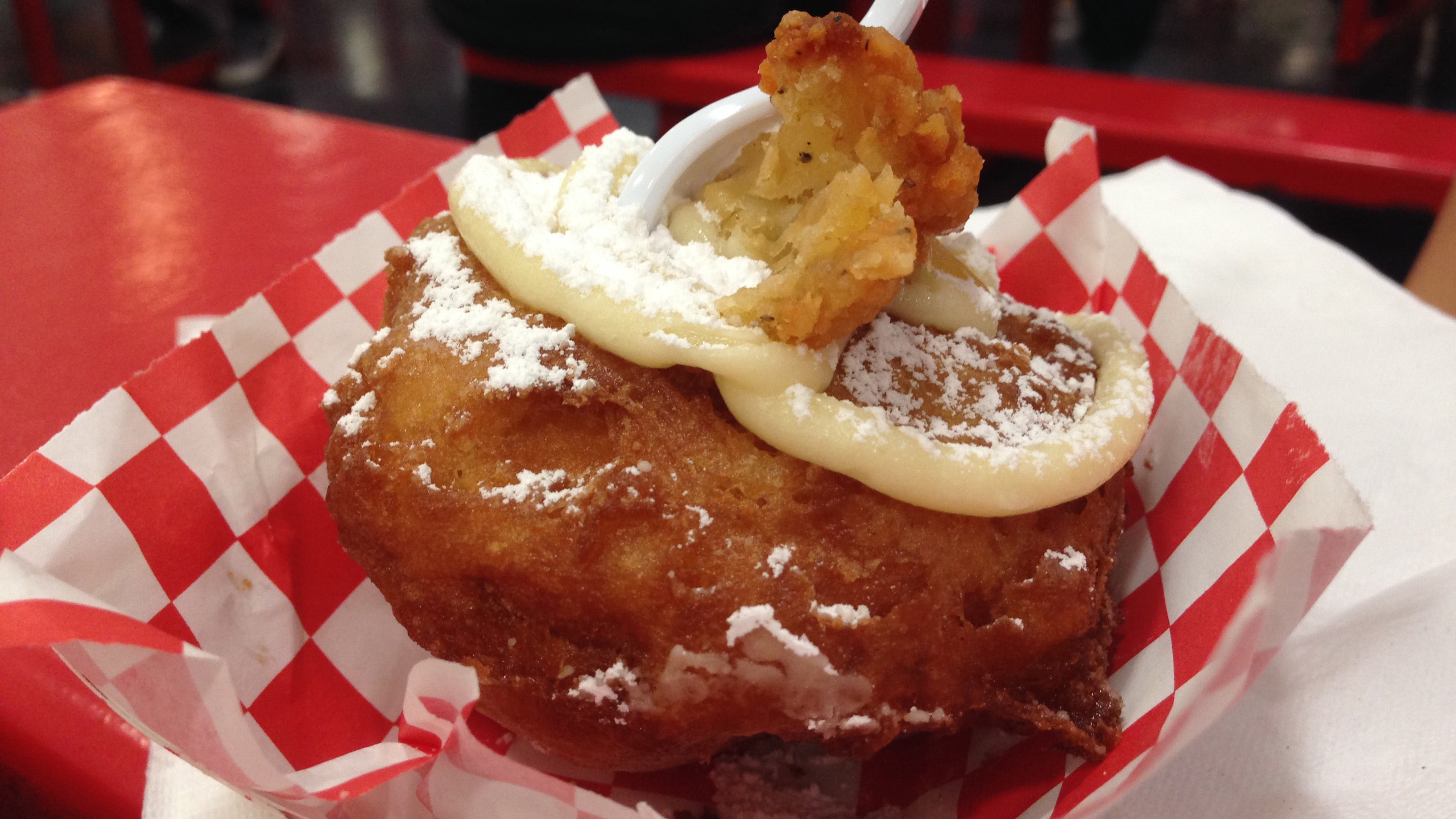 I stepped outside to buy the "Biscuit Fries with Chocolate Gravy" and brought them back inside so we could continue eating at a table, which is something of a rarity on a busy day at the fair.
They were exactly what you'd expect: Fried strips of biscuit dough and a chocolate gravy to dip them in. The "gravy" is basically just lukewarm chocolate pudding that has inexplicable spice we both found unpleasant. The biscuits didn't have much flavor, and the simple dish left us wanting more and eating less. We ate less of this basket than anything else we ordered at the fair all day. I gave it a C. Becca went with a C+.
A fruitless trip around the stadium in search of "Fried Chocolate Maple Bacon Amazeballz," the day's final offering led us back to where we started: Just inside Gate 5.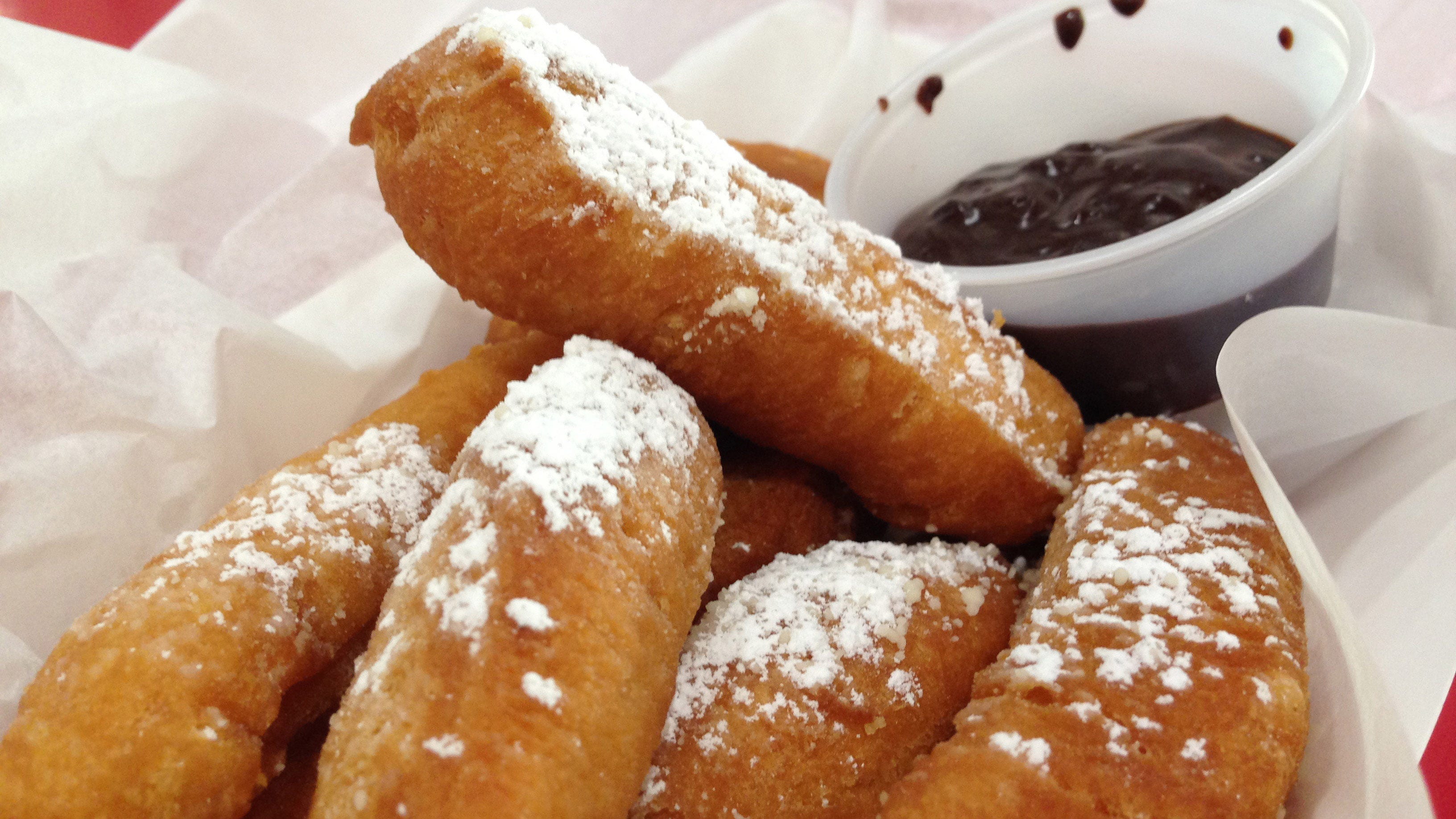 We ordered the obnoxiously named dish and were disappointed when the booth attendant reached inside a refrigerator and pulled out a gigantic bag of bacon bits to sprinkle on the chocolatey balls of goodness. The description says they're fried, but they don't seem like it. I was disappointed they were served cold and tasted simply like chocolate. They weren't fudgy enough to make them seem more than bland, derivative cake balls. When you've got the words "bacon, fried, maple and chocolate" in your name, you're promising big flavor. These did not deliver. I gave them a B-. Becca went with a C.
It was an anticlimactic end to a day made with good intentions, filled with ravenousness, flash fried with disappointment and sprinkled with a bit of shame.