Rangers' successful road trip gives hope amid injuries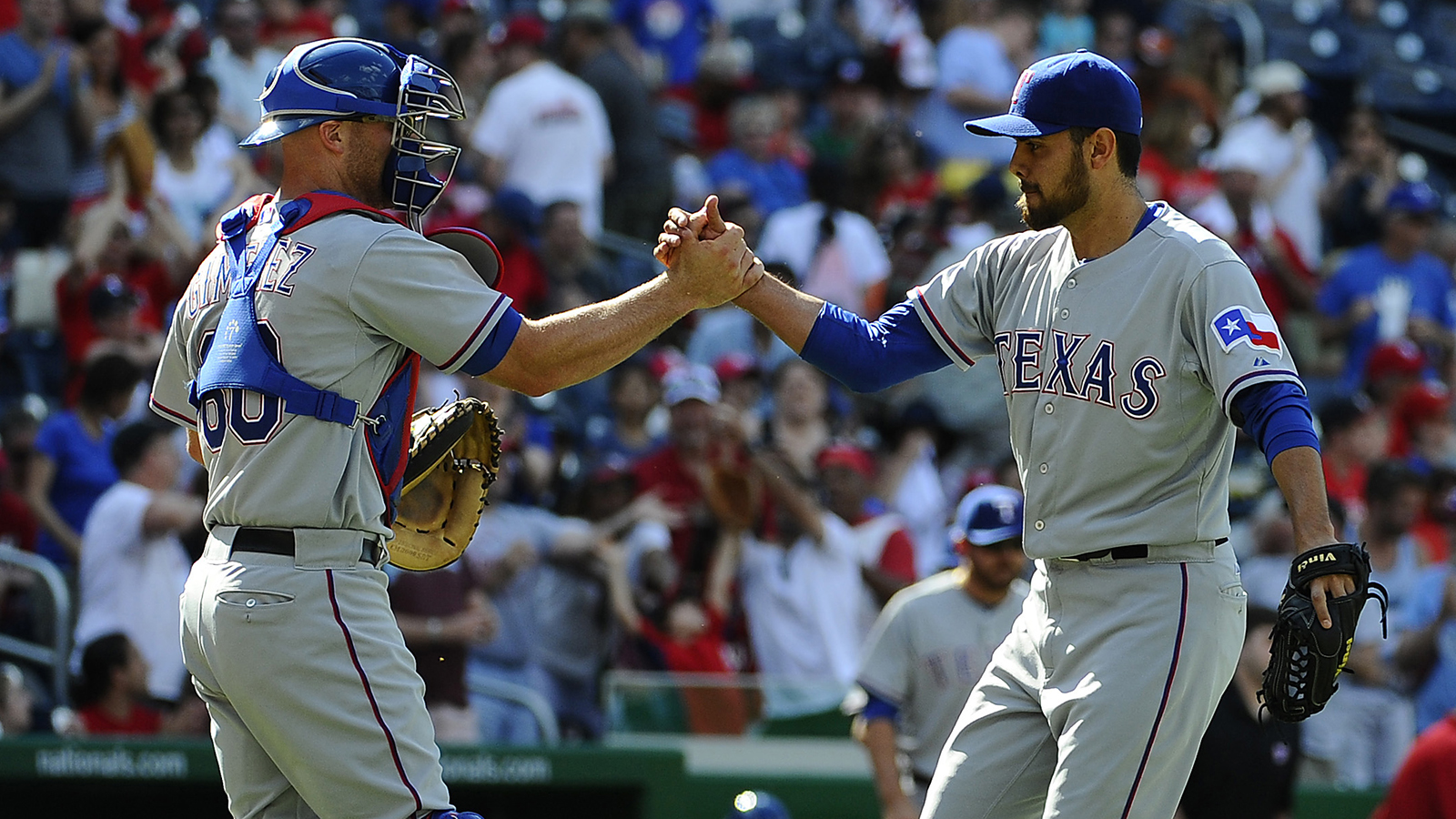 Under the circumstances, I think it's fair to say the Texas Rangers just returned from a wildly successful 11-game road trip. All hope appeared to be lost in the aftermath of season-ending injuries to pitchers Matt Harrison, Martin Perez and first baseman Prince Fielder.
Instead the Rangers suddenly have a foothold in the AL West. They are on the verge of catching the slumping Angels, who are currently in second place. It's still hard to fathom this patchwork rotation keeping the Rangers in contention, but it's encouraging to see how this team has responded to adversity.
How can a Rangers team with an utter lack of power win 7-of-11 games on the road? Well, it doesn't hurt that Alex Rios and Adrian Beltre were hot at the same time. And as harsh as it sounds, getting Prince Fielder out of the lineup has helped immensely. The third spot in the order is keeping things moving.
The Rangers did have back-to-back poor efforts from starting pitchers, but Yu Darvish was brilliant in Sunday's 2-0 win. And the best news is that he had no signs of neck stiffness. This team should spare no expense in trying to put its players on the best mattresses available.
I spent Saturday night at Fenway Park watching the hottest team in the American League. The Red Sox have also had to fashion lineups with duct tape due to recent injuries. I watched Brock Holt belt his first homer of the season and then follow it up with a 4-hit game Sunday. Boston had Garin Cecchini and Alex Hassan making their major league debuts Sunday, while hitting third and sixth in the order. The Rangers started rookie second baseman Roughned Odor in 9-of-11 games on the road trip. He had at least one hit in seven of those games.
On Sunday, Ron Washington decided to rest Mitch Moreland and Shin-Soo Choo due to lingering ankle issues. Then Michael Choice was a late scratch because of a shin injury. Donnie Murphy took a 90-minute crash course from Washington on how to play first base. He performed admirably, although it helped that Darvish amassed 12 strikeouts. Chris Gimenez is on his way to becoming Darvish's personal catcher. And it doesn't hurt that he's hitting .414.
Even the Washington naysayers have been temporarily silenced as he leads this ragtag group. He is doing a tremendous job instilling confidence in his players.
It's not fun for Washington or GM Jon Daniels to see former Ranger Nellie Cruz tearing up the league with 20 homers and 52 RBI. The same goes for the impact Ian Kinsler's made in Detroit.
The Rangers don't have any reinforcements on the way (Derek Holland is not ready for a rehab assignment), but they don't seem to mind. Maybe it's just one nice road trip.
Or perhaps it's something far more encouraging. This team hasn't received the message this is a lost season.
Now they just need to keep it that way.