Perez hot streak comes to a crashing end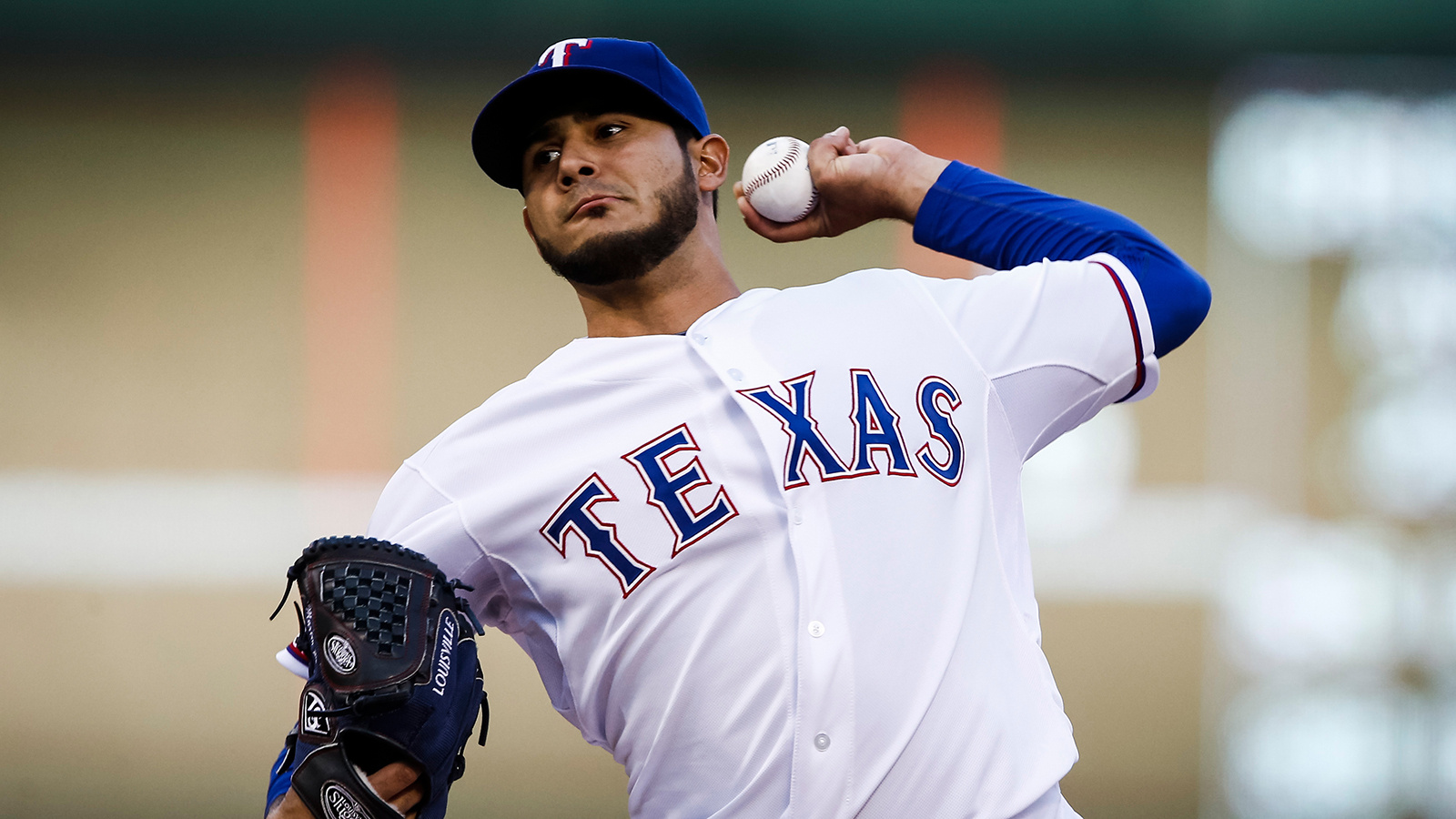 ARLINGTON, Texas – The Texas Rangers 1-2 pitching combo of Yu Darvish and Martin Perez have put up career numbers in the first two games of the team's series against Oakland.
Career numbers they never hope to match.
One night after Darvish had his shortest outing in the majors in a 4-0 loss to the Athletics, Perez was even more ineffective as he allowed a career high eight runs in 4 2/3 innings in 9-3 Oakland pounding.
Perez, who has been one of the best pitchers in baseball for the season's first month, struggled early and never got going as the Athletics touched him for runs in each of the first three innings and finally chased him in the fifth.
By the time he was pulled his 26-inning scoreless streak was a distant memory and Perez was looking to put Tuesday's outing behind him.
"My two-seam (fastball) always stayed up and I missed a lot of pitches in the zone and up in the zone and they got a hit," Perez said. "I have to focus on my next game and work on what I have to work on in my bullpen to be ready for the next start. I tried to stay with the same idea I did the last time and they were more aggressive.
Entering Tuesday the last run Perez allowed came in an April 8 start against Boston and he had an AL best 1.42 ERA. His last start was a complete game three-hit shutout against the Athletics.
The A's were having nothing to do with another shutout Tuesday night. It took Oakland five batters to end the fifth-longest scoring streak by a Texas starter as Derek Norris lined a two-run double past a diving Leonys Martin.
The Athletics scored single runs in the second and third inning five more (four off Perez) in the fifth as a bases-loaded walk ended a night in which Perez allowed eight hits, walked three and struck out three in an 87-pitch outing. His ERA jumped to 2.95 as his season earned run total more than doubled from six to 14. He could have escaped the disastrous fifth without allowing a run but walked Alberto Callaspo with two outs to force in a run. Oakland added four more after that off Perez and Jason Frasor.
"He (Perez) missed a lot of spots tonight," Texas manager Ron Washington said. "When he missed it was in the middle of the plate and it was up. Previous everything he threw he put it where he wanted it to. Tonight, like I previously said, when he missed his spot it was in the middle of the plate."
While the Athletics were battering Perez, the Rangers were struggling against Scott Kazmir. Texas scored its first run of the series in the fourth inning on an Alex Rios double. The Rangers added two more in the bottom of the fifth but all that did was make it a 9-3 game.
The Rios double is the only extra-base hit the Rangers have in the series. Oakland has 18 hits in the first two games, including five extra-base hits. The Athletics have also made the Texas pitchers throw 317 pitches in the last two games, 62 more than Oakland pitchers have thrown.
"Oakland's showed the last two nights they're a pretty good team," said Shin-Soo Choo, who returned to the lineup for the first time in a week and was on base three times Tuesday. "Every 1 to 9 hitter is consistent, patient in the batter's box. They only swing at strikes. That gives a lot of stress to pitchers. They change games."