Pelicans team meeting inside empty airport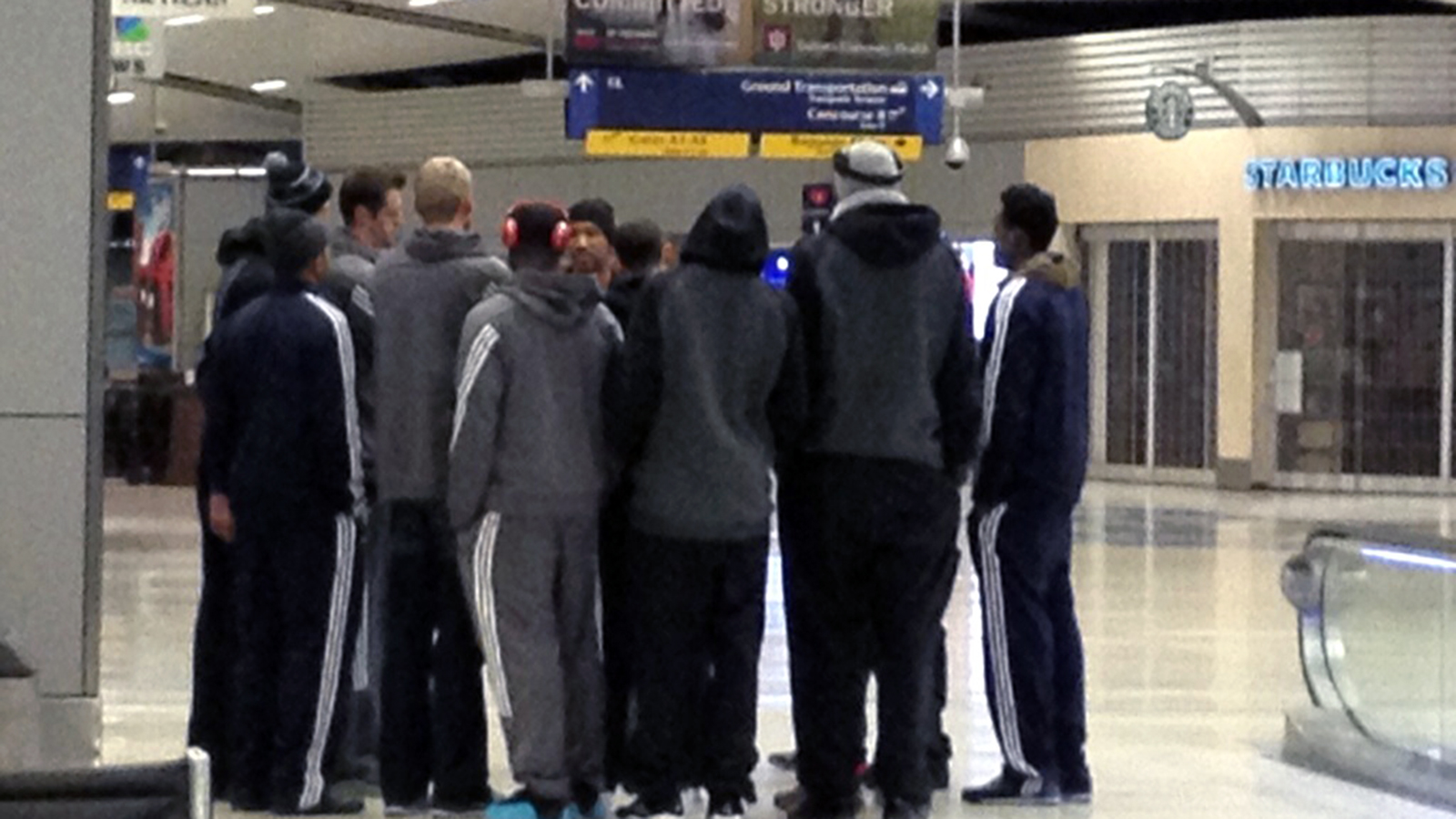 After trying to escape the icy confines of Indianapolis for two days, the New Orleans Pelicans finally landed in Miami Monday just before 11 p.m., ahead of Tuesday's faceoff with the Heat.
It took two trips to the airport, three different planes, gallons of de-icing fluid, hours of waiting in the terminal and multiple delays.
"It's a frustrating situation," center Jason Smith said. "But everyone is in good spirits and staying positive. We used the time for team bonding."
New Orleans played the Indiana Pacers Saturday night. As is customary whenever possible in a player's hometown on a lengthy road trip, the team stayed overnight Saturday to give Indianapolis native and Pelicans shooting guard Eric Gordon a chance to visit with his family. Point guard Jrue Holiday's wife is also from Indianapolis and was in town to visit her family while cheering on New Orleans.
The Pelicans' travel itinerary was set months in advance and proved difficult to change once the forecast developed.
Sunday morning, the Pelicans were able to arrange for the Delta plane and crew to back pedal the planned departure time by several hours, but it wasn't enough. The team sat onboard their charter flight for almost three hours, while crews de-iced the aircraft twice. Ultimately the pilot announced that it was too dangerous to taxi down the snow-laden runway. The delays snow-balled from there, and the team finally re-checked into a hotel for the night.
Mother Nature's fury covered Indianapolis in almost a foot of wet snow showers Sunday, beginning in the morning hours and continuing through the night. By Monday morning, temperatures had plummeted to -13 with a wind chill of -40. Local news stations reported an estimated 60,000 were without power, and the mayor asked businesses to join schools and universities in remaining closed until at least Tuesday to keep motorists off icy roads.
The Pelicans had planned to spend their down-time Sunday and Monday practicing intensely in Miami ahead of Tuesday's match up with the Heat. Instead, the trapped players kept their spirits up by playing cards and games on the floor of the Indianapolis airport.
"I learned a lot of things about my teammates that I did not know," Smith said. "AD (Anthony Davis) is terrible at cards, especially Texas Hold'em. Chief (Al Farouq Aminu) can sleep in any position."
Smith spent part of Monday morning and afternoon playing Trivial Pursuit with new teammate and fellow center Alexis Ajinca, who just joined the team in mid-December from France.
"I've been making the rounds, getting to know everyone a little better," Ajinca smiled. "From Day 1, everyone has been very cool with me. I've been on teams where no one talked to the new guy. But here, everyone welcomed me in. This could be a really miserable situation if no one was friendly to me."
There is however a real challenge for the Pelicans Tuesday, as they'll go into battle with the dominating Heat having done no physical activity in several days. Instead players alternated between sitting in cramped airport or airplane seats, eating lots of peanuts and pretzels, since most restaurants inside the airport were closed. Anthony Davis did manage to unearth a pizza from somewhere within the airport's expanse.
"We're looking at it as a mental challenge, not a physical one," Smith said. "On the bright side, we have fresh legs and we're very rested."
The Pelicans arrived again at the airport before noon for their re-scheduled charter flight Monday. After several hours of waiting inside the terminal for crews to dig out the wheels of the plane and coat the aircraft with de-icing fluid, the team boarded the aircraft a little after 4 p.m. Just before 7 p.m, the crew announced the plane was grounded because some equipment was frozen solid and could not be unfrozen or re-set in the extreme temperatures, despite several hours of trying.
The Pelicans de-planed and retuned inside the airport terminal, where the team had a brief meeting. Around 8:00 pm, a commercial Delta plane was able to make a landing in Indianapolis. Once the passengers disembarked, the team was able to board the unfrozen plane and finally take off for Miami just before 8:30 p.m.
Upon safely arriving in Miami, Smith took to Twitter to celebrate.
NOLA we have made it to Miami! #LongestTravelDaysEVER #LetsGeauxPelicans

— Jason Smith (@JasonSmith014) January 7, 2014