Pelicans' Gordon finally pieces together healthy season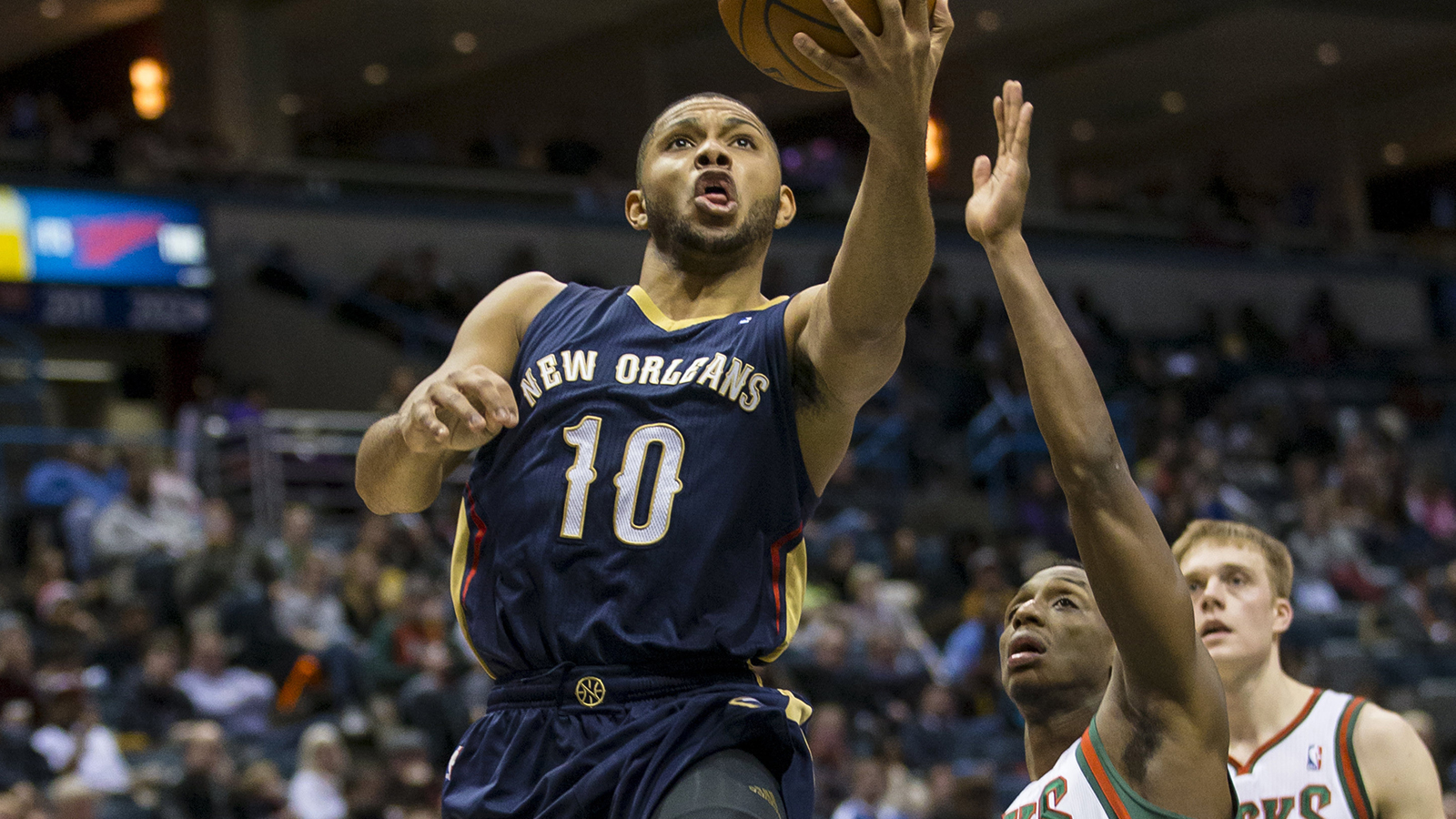 In today's NBA — where the league's Collective Bargaining Agreement places the allocation of every dollar each team spends under an unforgiving microscope — players are judged by whether their monetary worth is above, below, or perfectly aligned with their nightly contribution on the floor.
New Orleans Pelicans shooting guard Eric Gordon is a standard example. He is not a bad player, but the amount of money he makes (including this season, as much as $44.7 over the next three years) has spoiled almost all belief that he's a solid piece worth keeping around.
If you watch basketball, or even just understand what "market value" means, you know Gordon shouldn't make more than James Harden, Tony Parker, Andre Iguodala, Rajon Rondo, Joakim Noah, Stephen Curry, and quite a few others.
Due to a variety of reasons, Gordon's career derailed as soon as that max contract was signed. The various injuries weren't his fault, but Gordon made a tough situation more strenuous than it had to be, somehow acting contentious and indifferent at the same time. He wrote the book on "How Not To Handle Restricted Free Agency."
But there was a time not too long ago when Gordon was tapped as the NBA's next great shooting guard. Many figured he'd eventually snatch the torch passed down by Kobe Bryant and Dwyane Wade; All-Star appearances would be an annual event, and his arrival in New Orleans collided beautifully with hope and optimism.
A flawless jump shot and fearless navigation through the paint made all this feel inevitable; between his second and third season, Gordon's PER jumped from 14.1 to 18.5. His usage and assist rate also spiked, and his per game averages (22.3 points, 4.4 assist, 6.2 free-throw attempts, and 1.3 steals) were stunning. He was only 22 years old, James Harden a few years before Harden left Oklahoma City's incubator.
His narrative and production clearly hasn't lived up to those high expectations, but Gordon is still only 25, a high-volume 40 percent three-point shooter (a scintillating 45.8 percent on catch-and-shoot attempts), and, most importantly, currently leads New Orleans with 62 starts out of its 66 games. Taking the optimist's view a step further, Gordon's terrible contract actually isn't so terrible when you realize it could come off the books as early as next summer if he opts out of a $15.5 million player option.
(If he stays healthy and increases his efficiency a bit, hitting the open market as an above average 26-year-old two guard who can shoot and create off the dribble will guarantee the long-term security a lot of players prefer over a big single-season pay day.)
Gordon's contract also contains a 15 percent trade kicker, meaning his salary will rise even higher if he's dealt. And apart from Tyreke Evans' deal, the team's long-term sheet is relatively clean. Is actively looking to trade Gordon even worth the trouble?
The Pelicans have faced myriad injury troubles all season, which makes it difficult to assess Gordon's place within their chaotic situation. Most of the lineups he's featured in are terrible, but that isn't saying much on a lottery team missing Ryan Anderson, Jrue Holiday, and Jason Smith.
The team is rebuilding, so if Gordon is to stay he'll need to mesh with Anthony Davis (this is non-negotiable) and Holiday, his hopefully long-term backcourt mate. The good news here is that the Davis-Gordon-Holiday has worked so far, outscoring opponents by 2.2 points per 100 possessions. Pelican units that featured those three rank in the top-five offensively across the league, and on the other end they were right around average.
A somewhat major blip in the radar is Gordon's impact on defense. When Gordon is on the floor, New Orleans allows 9.5 more points per 100 possessions, a gap that's equivalent to the league's very worst defense and a top-10 outfit. Obviously Gordon isn't the primary reason the Pelicans can't stop anybody.
They're the fifth worst defense in the league; injuries are again to blame, but so is youth and general inexperience.
Gordon will chase his man through a minefield of picks, force him to work off the dribble, and make the effort to contest would-be open shots. But most of his issues come away from the action. Here's a correctable mental mistake from Sunday's game against the Celtics.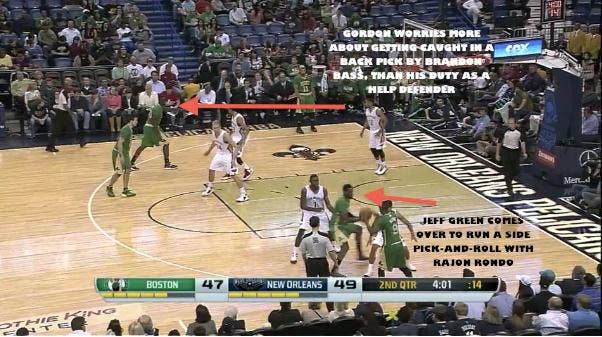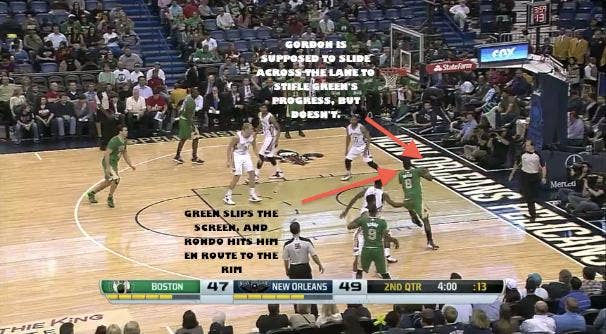 Green ends the possession with an easy dunk. It's the type of play Gordon needs to be more aware of when he's New Orleans' weak side help—in this instance, that means forcing Green to make a difficult pass along the baseline to Jerryd Bayless.
The Pelicans have Davis, who could be the best defensive player in the league before Gordon's contract expires. That safety net/anchor can make slow, punctured defenders look good; Gordon isn't terrible, but nobody's confusing him for Avery Bradley, either.
In his first full season as a healthy person, most of Gordon's offensive concerns have been near the rim, where he's shooting a sickly 54.7 percent in the restricted area and, by a wide margin, posting the lowest free-throw rate of his career.
These are unsettling developments, but again, it's too early to give up as he muddles beside injured teammates and inconsistent lineups.
Since the All-Star break (13 games) he's posting a 45.8/42.6/80.5 shooting split, averaging 15.3 points and 3.4 assists. He's flashing play-making patience in the pick-and-roll with an awesome step-back jumper.
Here's his shot chart for the entire season.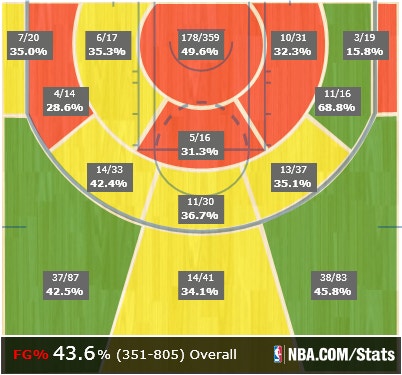 Is Gordon capable of better basketball in the future? Sure, why not? He'll never make an All-Star team, but he can still be an incredible weapon in the right situation for a very long time; surrounding Davis with shooters like Gordon isn't a bad idea.
Next season he'll be coming off an injury free campaign for the first time in what feels like ages. His role will solidify and the return of Anderson and Holiday (not to mention Davis somehow building on his already dominant game) will make life easier.
Will his accuracy around the rim improve with another healthy season under his belt? And more importantly, can he re-establish some more of the magic we saw earlier in his career? Who knows, but if the answers are yes and yes (they very well could be), trading Gordon this summer—a few years before his prime—would be a regretful move New Orleans can't afford to make.
Michael Pina is an NBA Digital Content Programmer for FOX Sports. He also covers the NBA for Sports On Earth, ESPN's TrueHoop Network, Bleacher Report and The Classical. His writing can be found here. Follow him @MichaelVPina.