Stoops takes responsibility for Sooners' underwhelming season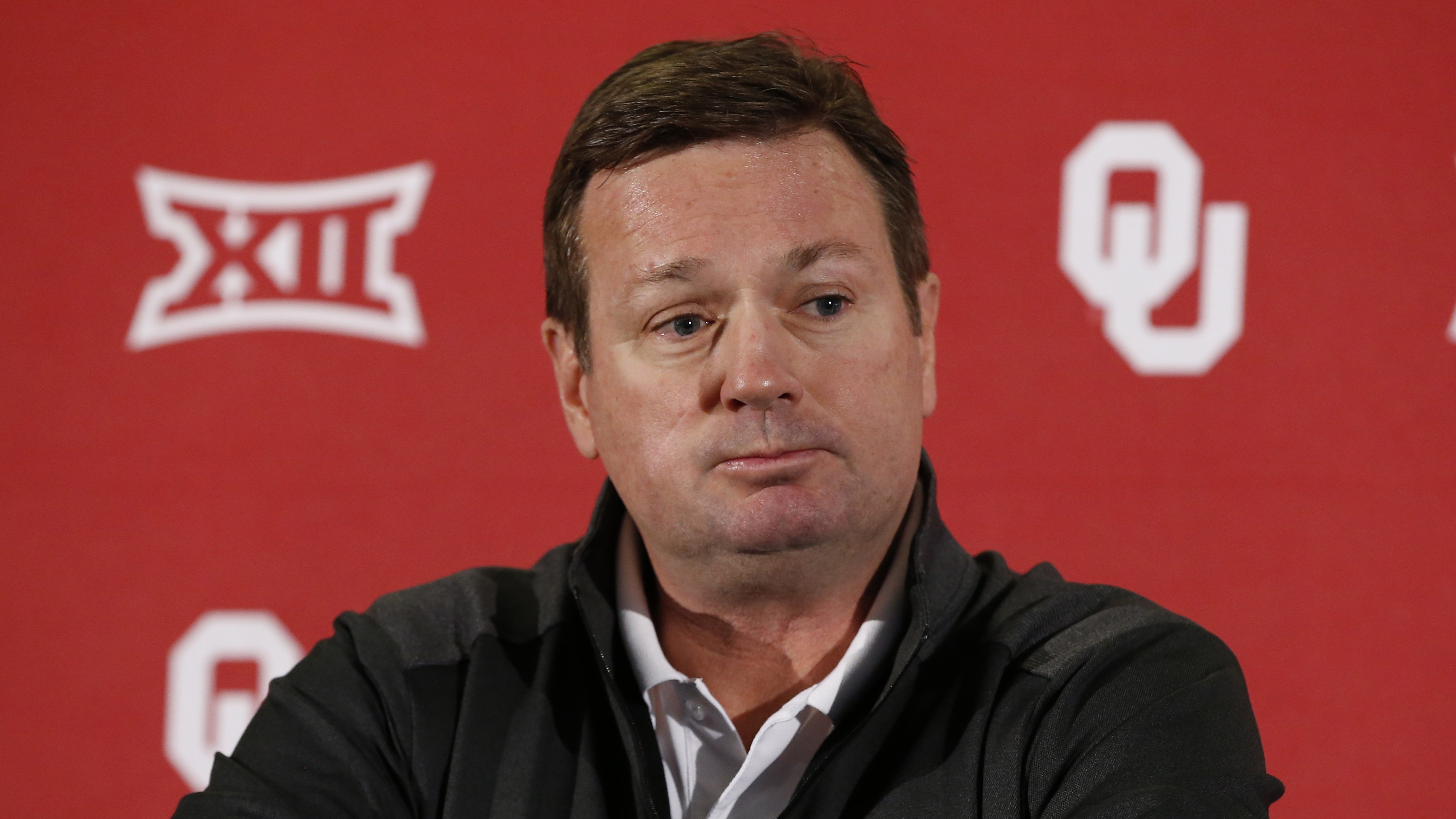 NORMAN, Okla. – Bob Stoops walked in and went straight to the podium. There wasn't any chit-chat or small talk or lingering around, only to be trapped in an awkward conversation with a reporter, like he does before his weekly, in-season press conferences.
There was no introduction, just, 3 … 2 … 1 … Go.
"I take accountability and responsibility for all of it," Stoops said of 2014, the lost year of Oklahoma football. "I'm the first one to be held accountable."
Accountable for an 8-5 season. Accountable for Tuesday when Stoops showed up and officially announced the firings of both of his offensive coordinators – Jay Norvell and Sooner lifer Josh Heupel.
In the first meeting with the media since the 40-6 loss to Clemson in the Russell Athletic Bowl, Stoops showed an intensity many wish his team would have displayed. He also used the time to express his loyalty to the program he saved in 1999.
His eyes watered and it was hard to tell if Stoops was going to cry or yell when he talked about Heupel and Norvell. Angry or sad? Both probably.
But desperate for sure.
But you get desperate when you're backed into a corner, suffocated by a home loss to Oklahoma State and a no-show at a bowl game against Clemson.
That's what you do when the record shows your team is barely average, when it was supposed to be great, and a fan base is gathering at the front door with pitchforks raised.
So, desperate and demonstrative, Stoops empowered himself. He fired two coaches over the weekend and by Tuesday he announced his re-dedidcation to the cause. A new beginning.
You could hear it in his voice as he talked like a guy announcing candidacy for a higher office, but Stoops showed it, too. His words lashed out from behind curled lips, challenging anyone who questioned his dedication to Oklahoma football or his desire to coach the Sooners. He was conciliatory as well, but energetic, too.
"My dedication has been questioned the last few weeks," he said. "I'm more determined that ever to get Oklahoma back in position to compete for national championships. I've got a lot invested in this program and no one cares about it more than I do. I'll promise you, I'm as dedicated as the day I walked in. no one cares more than I do. I'm excited moving forward. "
But while there was conviction in the voice of Bob Stoops voice, there was also a degree of weakness. The message was clear from Stoops: It's time to move in a new direction, he kept saying. But this is a message we've heard before.
For the second time in three seasons, Stoops has swept up messes, cleaning out coaches lWillie Martinez, James Patton and Bruce Kittle two years ago. Now this, just two seasons later?
Bob Stoops has earned the right to hire and fire his assistants as he sees fit, but a third house cleaning might be permanent, and Stoops might be out with the others, if it comes to that.
Undoubtedly what Stoops did was difficult. Firing Norvell and Heupel isn't the same as Patton, Kittle and Martinez. It's so different, the situation demanded a press conference.
And that's what you have to do after an 8-5 disappointment. Changes have to be made. If Stoops wasn't interested in getting better or getting a bit of the lost mojo back, he could have left things as is and been comfortable with his fat salary. Instead he cast away Heupel and also his best recruiter in Norvell. The changes were so significant, it's hard to see any motive other than trying to get this Oklahoma team better. Stoops' eyes got glossy when he talked about firing his first quarterback, Heupel. The guy who led the team to his only national championship and helped Sam Bradford and Landry Jones to gaudy, glitzy passing statistics. Stoops also fired his college teammate back when Norvell and Stoops played together at Iowa. A friend, not just a colleague.
"Lots of sleepless nights," Stoops said of the days since the season ended, leading up to the firings.
Maybe more to come, too. Stoops still will have to answer for his brother, defensive coordinator Mike Stoops, whose defense never improved as the season went on, falling apart against Baylor and then Oklahoma State and then Clemson. Bob Stoops said Mike will be returning, although it has been reported Mike has interviewed at LSU.
More importantly, Stoops has to answer for himself. He did that Tuesday with a sermon promising change and a return to greatness.
The new beginning, starting with an end to long-time friends and coaches, is also his last stand.
Follow Andrew Gilman on Twitter: @andrewgilmanOK
MORE FROM FOX SPORTS SOUTHWEST:
– Highest paid coaches in college football
– Ranking NFL quarterback salaries
– Oldest player on every NBA team