5 things to feel good about despite Thunder's lopsided loss to Spurs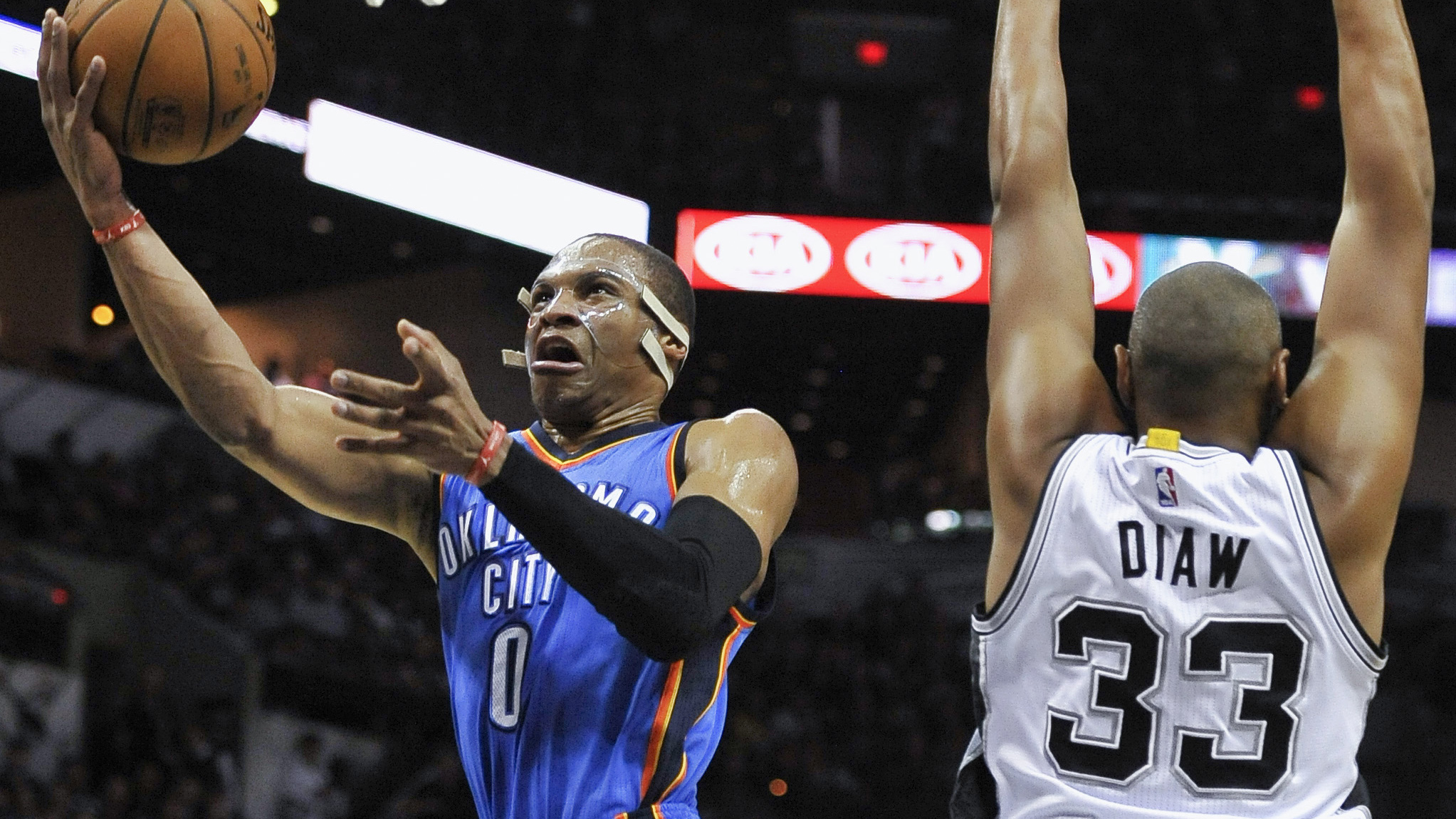 Tuesday night, the Thunder gave up 117 points to the Los Angeles Lakers, and won, so the fact the Spurs had their way, did what they wanted and won without resistance on Wednesday shouldn't be much of a surprise.
This is where we are with the Thunder these days: If they don't score at a prolific pace, this team isn't winning.
And that's pretty much the story of Wednesday's 130-91 loss to the Spurs in San Antonio. Even before the Thunder conceded early in the third quarter and before the Spurs challenged the 150-point mark, we knew OKC was going to have to play well offensively to mask what they don't do defensively.
With that in mind, a few things to feel good about after the Thunder got beat down Wednesday.
1. Check the standings
The Thunder have just 10 games left and head into Thursday with at least a two-game lead over Phoenix for the final spot in the playoffs. No doubt, it's not a sure thing, but the road trip success will come down to whether OKC can beat Phoenix on Sunday night.
OKC is 18-7 since Feb. 1, that's the important thing. The Thunder have started playing a lot better of late, getting some consistency from a number of different spots, despite three more injuries in the past week.
2. Plenty of rest
No doubt, coach Scott Brook would rather have had Russell Westbrook play his normal allotment of minutes, but once this game was decided, and it was pretty much over at halftime, Brooks conceded. The result was Westbrook went to the bench late in the third quarter and didn't come back. Westbrook played only 26 minutes and he scored 16 points.
The Thunder went with a lineup of backups for a good chunk of the third quarter and again in the fourth. In fact, no one on the team played more than D.J. Augustin's 28 minutes.
OKC has until Friday night –at Utah – before playing again, but if there's no chance of a comeback, might as well rest Westbrook as much as possible. Plus, it meant you got to see lots of Perry Jones and Jeremy Lamb. Not exactly a win-win, but you get the point.
3. Your opinion didn't change
The Thunder are likely the No. 8 seed in the Western Conference and they are likely going to win by outscoring foes. Did anything that happened Wednesday in San Antonio change your mind?
Didn't think so. It's just the fact San Antonio is so good, so efficient and was so due to beat the Thunder, it came off looking a bit uglier.
OKC had won six regular-season games in a row over San Antonio, dating back to last year. That streak wasn't going to last much longer. Meanwhile, San Antonio had just been beaten in Dallas on Tuesday, so their need to win was high.
OKC didn't look different, play much different or act any different than it has in the recent past. They just got beat Wednesday. Enes Kanter had another double-double. Westbrook was his usual aggressive self. No reason to think any of that changes Friday.
4. On the mend
Durant will be re-evaluated at a later date, Nick Collison should be back before the end of the regular season and Serge Ibaka could return by the end of the season and be set for the playoffs.
No set dates for any return have been announced, but at this point, including the injury to guard Andre Roberson, things can't get much worse.
Don't hold out for Durant to return this regular season, but with Westbrook being able to lead the team like he has, a healthy Ibaka and Westbrook would still be a worthy matchup for Golden State.
5. You didn't have to get worked up
The Thunder trailed after one quarter, were down by 20-plus in the third quarter and then down by more than 40 points in the fourth. The good news is you didn't have to have your night ruined by a bad call by a referee or worry about what play Brooks was going to draw up out of a timeout.
This one was over early. No need to stress out about anything other than how long you're planning to stand in line for the newest "Fast and the Furious" movie.
Follow Andrew Gilman on Twitter: @andrewgilmanOK
MORE FROM FOX SPORTS SOUTHWEST:
– Ranking NFL quarterback salaries
– 21 Fun Facts about the NCAA tournament
– Highest paid player of each NBA team
– College football's highest paid coaches in 2014