Thunder begin to come undone in loss to Pistons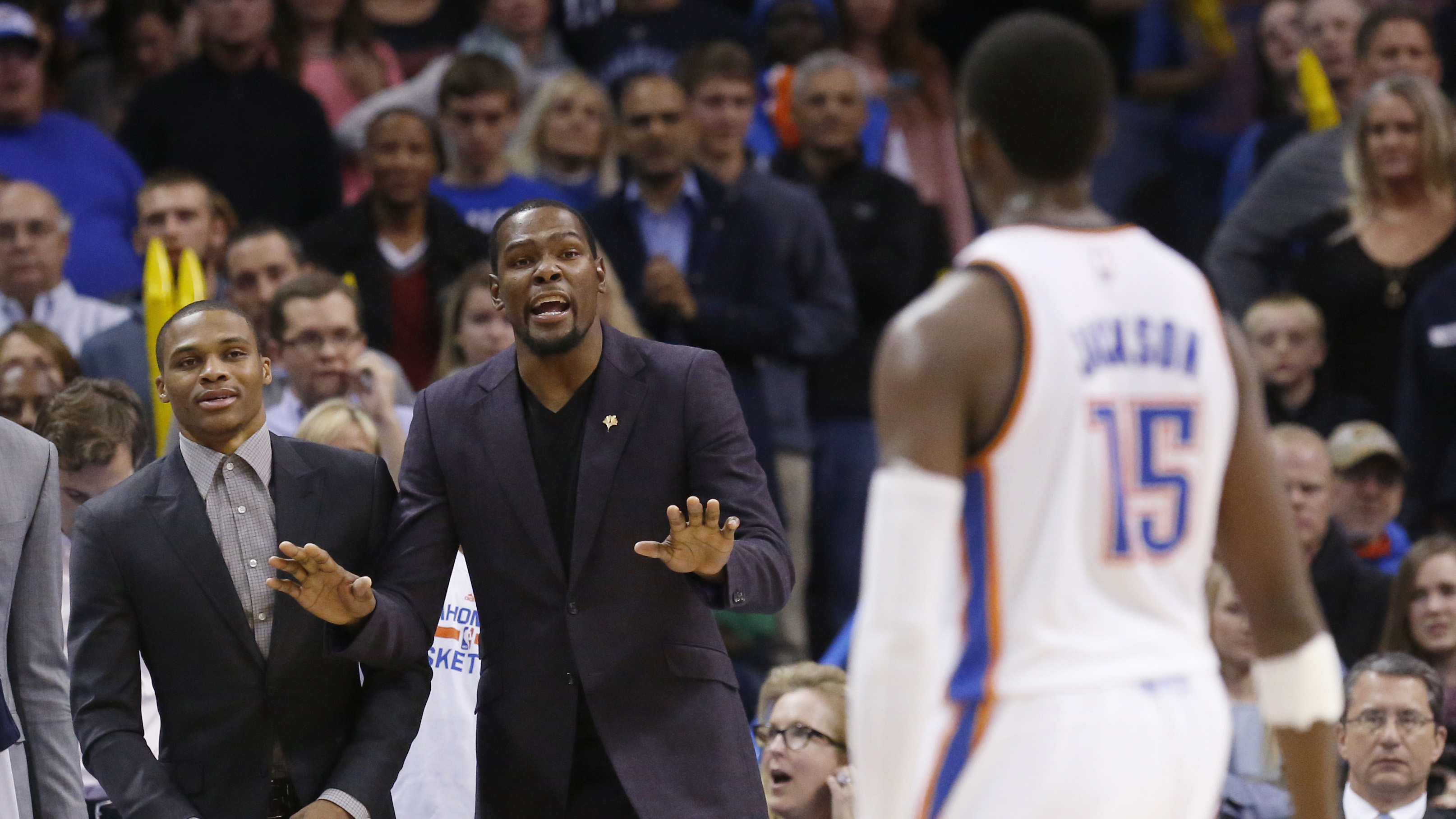 OKLAHOMA CITY — We knew it had to come undone – likely sooner than later, too.
Oklahoma City just doesn't have the pieces to hold itself together for any real amount of time, and all good will, momentum and overall positive vibes earned last time out, got washed away in a flurry of Brandon Jennings' overtime shots.
Instead of improving to 4-6 heading into a tough game with Houston Sunday, all those issues, concealed by a comeback win in Boston and a combination of Ish Smith and Sebastian Telfair baskets in a win over Sacramento, reappeared like a prom night blemish Friday night against the Pistons.
Bad timing.
Really ugly.
Another loss, this one 96-89 to the Pistons in overtime. Even Max Factor couldn't make this pretty.
Thunder guard Reggie Jackson will have you believe it was his fault OKC lost Friday, and Jackson should absorb some of the blame. Jennings went off for 25 points in the second half, eight in overtime, and wound up with a game-best 29 points.
"Anybody who watched the game, Brandon Jennings definitely destroyed Reggie Jackson," Jackson said after the game. "I lost the matchup and that's why we lost."
But It was more than that. It's 10 games worth of issues, and it doesn't take any deep introspection to figure out why. All this team has to do is look in the mirror to see why and how its become a 3-7 team.
The Thunder just don't have enough consistent offense, which manifests itself into not shooting enough free throws, which results into shooting too many 3-pointers and having to rely on hero shots.
No one has emerged as the leader of this team since Durant and Westbrook have gone down, which means no one takes over and goes to the basket.
"We've got to come with more energy at the start of each quarter," said Jeremy Lamb, who had 24 points. "We have to be more aggressive."
The Thunder weren't passive, but they weren't really aggressive, either, managing just six free throw attempts and making just one.
OKC shot 39 percent against a Detroit team that came in 2-6 overall. Reggie Jackson took the blame but there's enough inconsistency to go around for everyone.
"We have to put ourselves in a better position to get to the line," coach Scott Brooks said. "They played good defense and made us take a lot of 3s."
Too many. Oklahoma City attempted 36, making 12. Serge Ibaka and Anthony Morrow took took nine. Lamb had seven and Jackson had six. That's the sign of a team settling. That's the result of not having a superstar.
"We probably shot too many," Brooks said. "But we made 12 and that's not the worst thing in the world."
Now, Brooks is right about that. Making 12 isn't bad at all, but even that kind of production is a bit misleading. OKC isn't established enough to make that many per game.
"We gave ourselves a chance to win," Brooks said
The chance came at the end of overtime as the Thunder rallied from a nine-point, fourth-quarter hole. Jackson got a good look at a 16-foot, fade-away jumper. It climbed over the rim and fell out.
Jackson said it never should have gotten to overtime and that his teammates did their job but he didn't do his. Five players scored in double figures, despite the team shooting just 34 percent in the second half and going nearly 5 minutes without a basket at the start of the fourth quarter.
And Jackson's right about the first part. Friday should have never come down to overtime. Not against Detroit. The Thunder are good enough, even without its notables to win against the Pistons.
Look, the Thunder are ultimately flawed without Durant and Westbrook. Brooks has done a really masterful job of covering it up and diverting your attention elsewhere with a combination of odd lineups, a helping of zone defense, some smoke and some mix of Lance Thomas and Kendrick Perkins.
But there's only so much Brooks can do with this look his team is modeling now.
It's just not very pretty.
Follow Andrew Gilman on Twitter: @andrewgilmanOK
MORE FROM FOX SPORTS SOUTHWEST:
– Ranking NFL quarterback salaries
– Best college football traditions