Improbable rally goes Rangers' way in 10th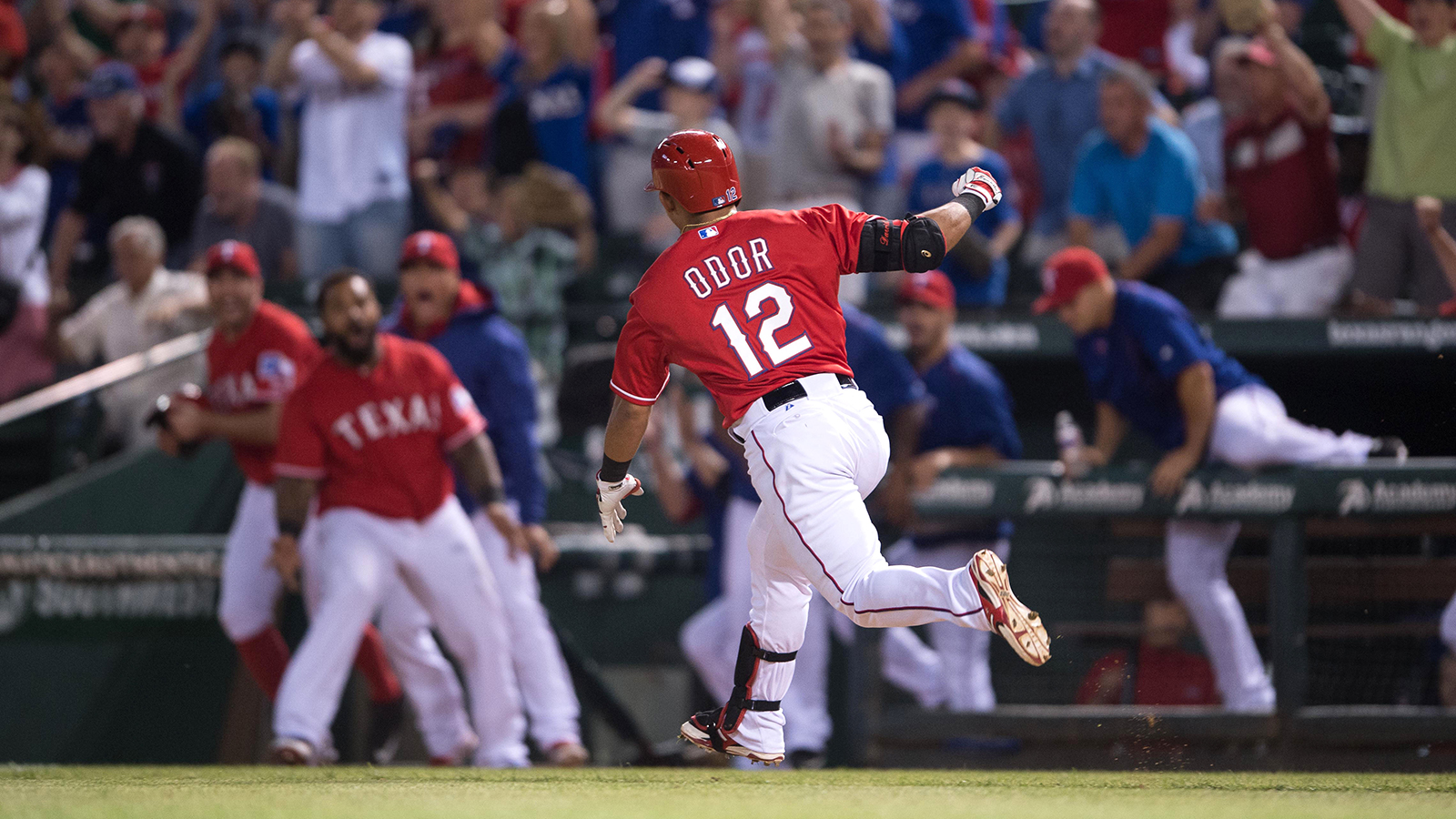 ARLINGTON, Texas — Saturday night's game for the Texas Rangers followed an all-too-familiar script for much of the night.
An early lead was blown in a disastrous seventh inning that included some rarely-seen plays and a fifth-straight loss for a last-place team seemed inevitable.
But at least for one night the Rangers flipped the script, rallying from a four-run deficit to beat Oakland 8-7 in 10 innings on a walkoff single off the bat of Rougned Odor. Odor's game-winner capped the biggest rally for the Rangers since 2013 and showed why the organization has embraced the "nevereverquit" hashtag.
"I've never seen anything like that," said starting pitcher Nick Martinez, who allowed two earned runs in his six innings of work. "We have so much fight in us. We're never going to give up. Even though we've gotten off to a slow start a game like today a game like today really shows what we're made of. Hopefully it's something we can keep going."
Texas seemed doomed after a 3-1 lead heading into the seventh was given back as Oakland scored six runs thanks to two errors, a hit batter, a hit umpire and a three-run homer in the top of the sixth. But as deflating as the top half of the inning was, the bottom half breathed much-needed life into the club.
Shin-Soo Choo, who came into the game batting just .107, hit a three-run homer with two outs in the bottom of the seventh off Fernando Abad to tie the game. The ball just cleared the fence in right but may have also been just the spark Choo needed.
He also doubled to lead off the bottom of the 10th and came around to score the winning run when Odor punched a single through a drawn-in infield.
"Last night I had a couple of great at-bats and I think good things were happening tonight in some at-bats," said Choo, who had his second two-hit game of the season and raised his average to .131. "I was trying to hit the ball somewhere hard. I hit the ball good but too high so I wasn't sure if it was going to be a homer."
While Choo was one of the stars for the Rangers Saturday, he had plenty of company as Texas matched a season high with 14 hits. Kyle Blanks smacked his second homer in three games with a solo shot in the sixth and matched his career high with four hits.
Rookie right-hander Keone Kela earned his first major-league win with a scoreless frame in the top of the 10th. And Odor's single was his only one of the night but was the first walkoff hit of his career. Choo's leadoff double was followed by consecutive walks that set the stage for Odor to deliver the game winner with no outs.
"There's no win that's more important than any other," said Blanks. "The way you do it definitely says something about the game. Being able to put that game (a 7-5 loss Friday) behind us and being able to do exactly what they did to us, giving up a lead, coming back, fight through it that's always a great way to win."
Martinez gave up a run in the top of the first but the Rangers answered that with an RBI double from Blanks in the bottom of the first and took the lead on an Adrian Beltre single in the third. Blanks' second homer in three days pushed the Texas lead to 3-1 before things fell apart in the seventh.
The Rangers gave up seven runs in the seventh Friday and six Saturday despite Oakland having just three hits. But unlike Friday the Rangers rewrote the ending.
"These guys, I see their heart. I see their fight every day," said manager Jeff Banister, whose team has won just three games at Globe Life Park. "I see their attitude and effort inside the clubhouse and how they work and how they go about their day. They're a competitive group of men who have a lot of pride in what they do. They show up every day, they expect to win every day. To be able to come back after they lost the lead in very similar fashion, I'm proud of how they show up every day."