NASCAR star Gordon representing Texas A&M at TMS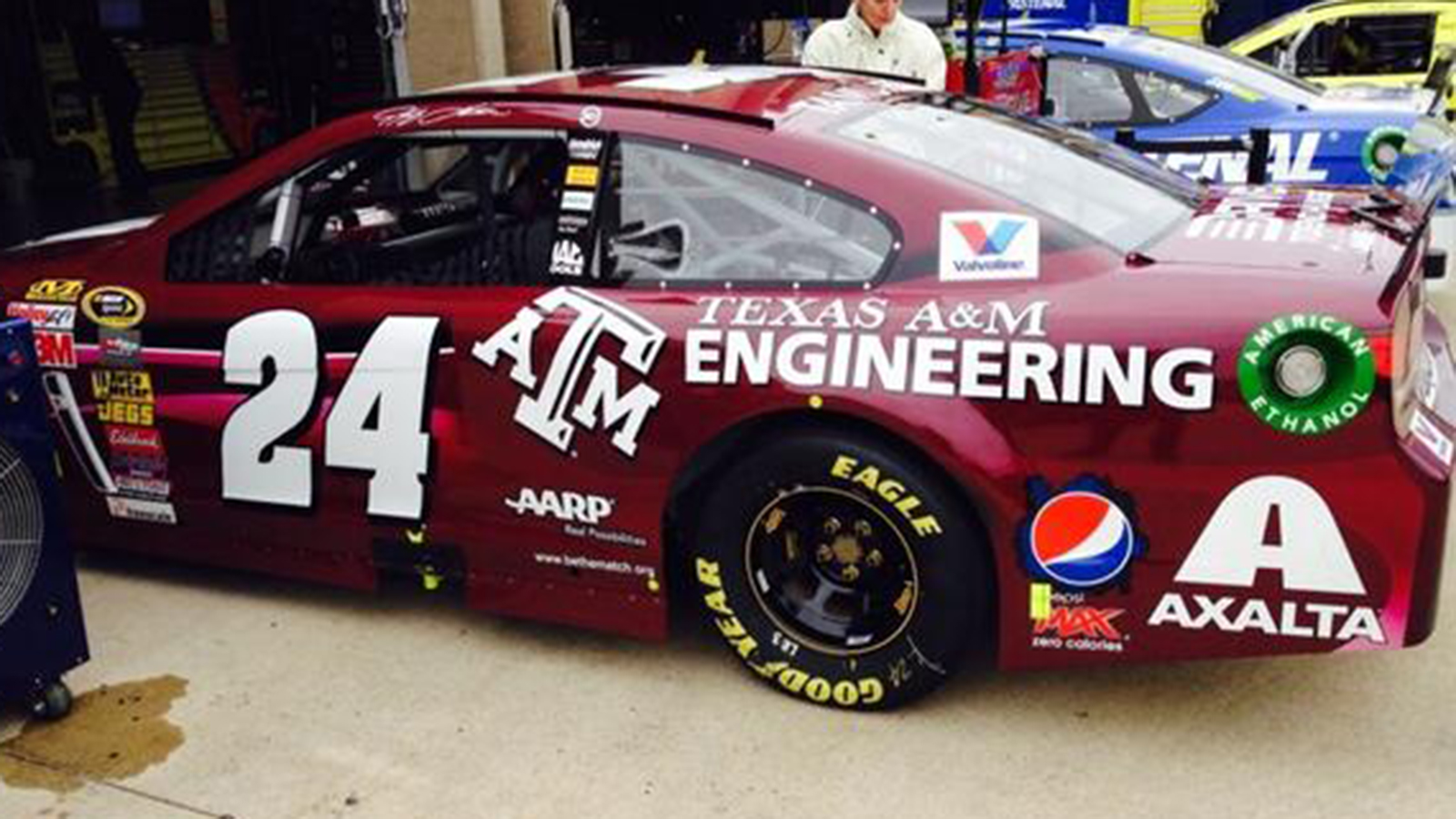 FORT WORTH, Texas – Jeff Gordon is already one of the most polarizing figures in NASCAR.
He's not helping his cause this weekend in Texas either as he's taken sides in what used to be the state's best college rivalry.
Gordon will be driving the No. 24 Axalta/Texas A&M School of Engineering Chevrolet in Sunday's Duck Commander 500 at Texas Motor Speedway.
The CEO of Axalta Coating Systems is Charlie Shaver, who is an Aggie. Gordon is driving a maroon (called Aggie Brillliance) and white Chevy in Sunday's race. He also visiting the campus Wednesday and is hosting 28 members of the school's engineering program at the track.
Jeff Gordon's car has as Aggie football flair as it sits in TMS garage. pic.twitter.com/gZPGpocg1l

— Anthony Andro (@aandro) April 5, 2014
"It's an impressive campus and there was a lot of excitement and buzz over there as well as here at the racetrack," Gordon said. "Being here in Texas and having Texas A&M on board our Chevy Axalta SS is really cool. I think it's a great partnership. I feel like I've got a lot of extra pressure on me to go out there and perform as well. What an impressive facility they have. The whole campus is just amazing."
Gordon's week in Texas started Thursday in College Station where he met with students, showed off his new paint scheme for the weekend, posed for a picture with Reveille and watched the Aggie football team practice.
A&M has one of the top engineering programs in the nation and because engineering plays such an important role in NASCAR, Gordon believes the partnership was a natural fit.
Gordon also believes Aggies have a lot in common with NASCAR fans.
"For me getting to experience what life is like there on a campus and how enthusiastic the students are to go to Texas A&M, a great, school, a lot of pride there," he said. "There are so many similarities between NASCAR and our fans and the passion we have for our sport and the same thing for Texas A&M and their students and alumni and fans who support them."
Gordon said the football practice at A&M stood out just because of the music head coach Kevin Sumlin has going during the workouts.
"They were pumping some loud music out there on that practice field," Gordon said. "I thought that was really cool that they were working hard but having a good time. It's all about how hard you work and how you motivate people to do their jobs and do them well. When you're working that hard, you've got to find a way to break up the intensity. I thought that was pretty cool."
Shaver said he wasn't concerned about the paint scheme Gordon had on his car this weekend.
"I warned Jeff about that," said Shaver. "But you've got to pick your horse and I think the reality is A&M, as far as school size, is as large or larger than Texas. You get an equal balance."
While Shaver is happy to see Gordon representing A&M, he's also pleased to see the impact the sponsorship deal has on the school. The 28 students at the track, which Gordon called his 12th Man, got to meet with different NASCAR officials Saturday and will attend the race Sunday.