Murray wants to win Super Bowl for Romo, Witten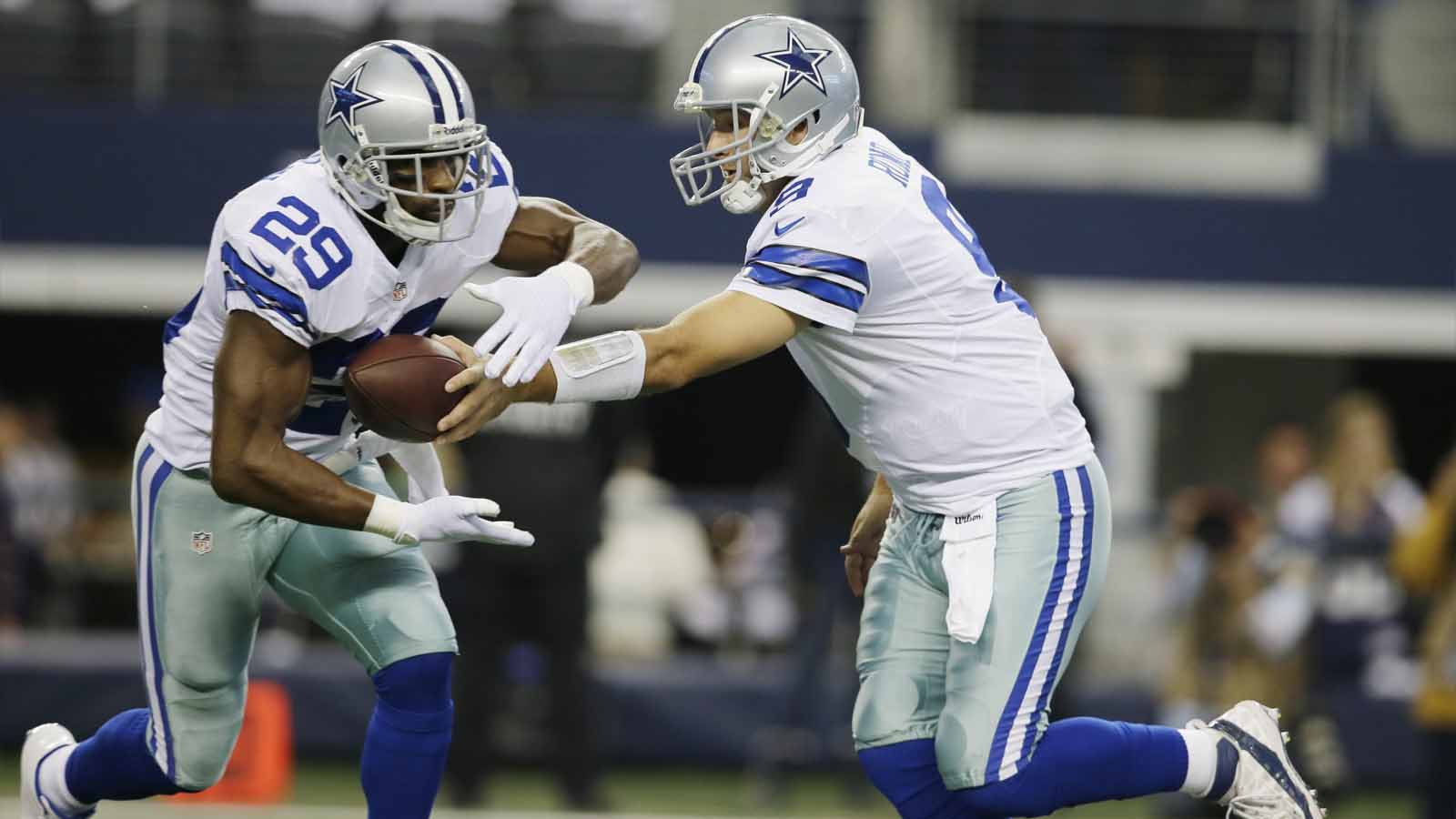 IRVING, Texas – Jason Garrett had the entire Dallas Cowboys roster close organized team activities by ditching their helmets to become coaches for a few hours.
The annual Cowboys U high school football camp was held at Valley Ranch Thursday with 160 players competing in the tournament. Following the competition, several Cowboys players stood in front of the group in the team's locker room and shared some advice about football and life.
Tony Romo kicked things off by explaining how he has persevered as a player.
"In my career, I've had more hurdles and stops along the way than I can even remember to this point," Romo said. "But I've always had a stronger belief in myself than the disbelief of others, and that just comes from something in your brain.
"If you take one thing from me today, it's just your ability to continually put your head down and go to work. … Not everything is going to go right, not everything is going to be perfect, but your commitment and approach every day, that's what is really going to make the difference."
DeMarco Murray used Romo and Jason Witten as examples of why he works to be selfless on the field.
"I want the ball every time, no matter what," Murray said. "But at the same time, I know it's a team game and I can't run the ball well if Tyron [Smith] and Doug [Free] are not doing their job and if Tony's not playing well and making the throws, or Witten isn't setting the edge like he's supposed to. I take it upon myself to work hard every day. The reason I do that is for these guys right here.
"I'm not going to be the guy that messes it up for [Witten] to get a chance to get a Super Bowl or for Romo to get a chance to get a Super Bowl. I want to make sure that I know my craft, that I know what I'm doing on each possession, each play. Always put the team before yourself.
"I love each and every one of these guys up here and the reason I do what I do and work so hard and prepare the way I prepare is for these guys. It's not for myself. I don't care about the individual accolades. I don't care about anything but the ultimate goal, winning. These guys have been here for a while and they deserve to win Super Bowls."
Brandon Carr, Kyle Wilber, Orlando Scandrick, Barry Church, Anthony Spencer, Free and Smith also addressed the group before Witten finished things off.
The nine-time Pro Bowl tight end even sounded a bit like Garrett as he talked about doing things the right way.
"These guys didn't just luck out," Witten said. "Romo didn't become a great quarterback just by being lucky. He had great quarterbacks here, that he had to beat out again, and again, and again. DeMarco, he had a first-round pick in front of him. Scandrick had all kinds of guys in front of him. But you just keep doing it the right way."