Morning after: Stars fall behind 2-0 to Ducks in series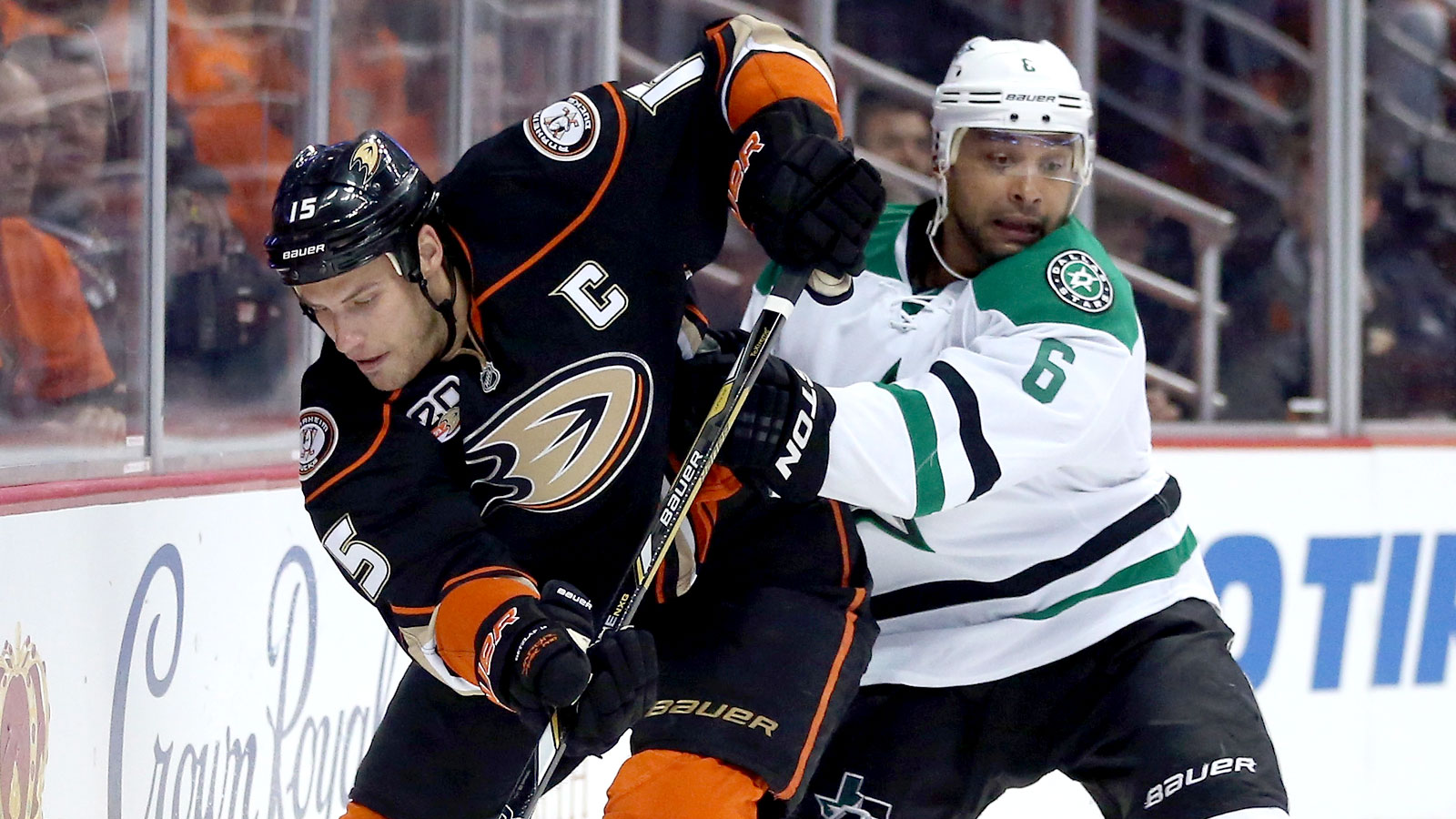 There are so many things that you miss about the playoffs when you are not involved that you actually forget most of them. That is how long 6 years in the wilderness can be.
You forget how much hate drives a playoff series. You forget about the headaches. You forget about the save on one end and the goal on the other that rips your heart out. And when it returns it all comes racing back quickly.
For the Dallas Stars and their faithful followers, as they fall behind 2-0 in a series where they can honestly feel like they have out-played the #1 seed Anaheim Ducks in many respects, it is possible that we have forgotten how finicky the hand of fate can be in a best-of-7 series.
The team that out-shoots the opponent does not win. The team that out-skates the opponent does not win. The team that out-works the opponent does not win. All of that could lead to a win, but it could also lead to a plane ride back of total frustration for a team that worked its absolute tail off only to fall short in both games by a single goal.
On Friday night, by any and all advanced metrics, the Dallas Stars beat the Ducks handily. Of course, that doesn't matter. In fact, of all of the playoff games played on Friday around the league (Montreal-Tampa Bay, Detroit-Boston) this one was the biggest mismatch from a puck-possession and shots-attempted standpoint. The Stars had a 62%/38% advantage at equal strength which does not happen very often over the course of the season. They had the Ducks stuck in their own end and found chance after chance against young goaltender Frederik Anderson.
They also conceded very little. Aside from a sequence in the 2nd period where their 4th line was stuck in their own zone, they played very well defensively and kept the Anaheim cycle game with the big bodies from really taking grasp on the proceedings for a large part of the evening.
Additionally, they started well – much better and with much more composure than they did on Wednesday night in Game 1 and even found the opening goal to calm those young nerves on a team where 10 of the 18 skaters are playing their very first playoff series.
In short, the tactics were sound, the effort was fantastic, and the numbers on the paper that we look to as "indicators of success" all were where they needed them to be.
But the game of hockey is simple. In the playoffs, it might even be too simple. The cliches are many but the easiest one to remember is that "the object of the game is to put it in and keep it out."
And on Friday night, that went wrong.
Ducks 3, Stars 2.
it is often said that the playoffs are all about "special teams and goaltending." And on that front, the Stars have to feel that this is the culprit for why they fly back to DFW now needing to win both home games to extend this series into the real frightful times that could come in Game 5-6-7.
Goaltending is sometimes a very difficult thing to judge and fairness is often lost in the occasion. If you can recall how this works, it is basically that easy for newbies to wrap their heads around: Your goalie has to be better than their goalie. Now, unfortunately, the two goalies involved are never going to get a fair count on the volume of chances, the quality of those chances, and the assistance in quieting those chances.
But, on Friday night – and to a lesser extent on Wednesday night – most observers would have to argue that the Ducks have had the better goaltender guarding their net than Kari Lehtonen has done defending his. This is based on seeing far fewer shots, but conceding more goals. Not complicated, right?
This, of course, adds to the overall narrative of Lehtonen that keeps him very undervalued across the league (The Hockey News Rated him 19th amongst his peers in their Goaltending Issue last fall) that he is dead-solid average in his play. Those of us who have watched him play hundreds of games would say that he is quality, and I would go so far as to rate him above a guy I greatly admire in Marty Turco, but this is the type of thing that needs some evidence – like a playoff series win against a team that is more talented than your side.
So, with the Ducks owning a talent advantage, but the Stars seeming to have some goaltending edge with Anderson making his first climb into the playoffs, Kari is simply going to be asked to even the score of the two teams by making a save or two to swing the game and the series.
I have no idea which puck Kari should have stopped on Friday night, because the two unassisted, turnover-created goals that the $8million dollar men, Ryan Getzlaf ($8.2m) and Corey Perry ($8.6m) scored were things of beauty that are scored by the types of guys you are willing to pay $8million to for playing hockey.
That leaves the shorthanded goal early in the third by Andrew Cogliano which resulted from Cogliano chopping Sergei Gonchar's stick in half and then chaotic moments where Getzlaf does what he does again, drawing the play to him before a cross-ice, back-door feed to Cogliano that left Lehtonen by himself to cover that chance from the back post of the crease. He tries. He slides over and fires his legs up in the air to try to get a piece of the puck, in vain. Cogliano scores when he should have been headed to the penalty box and the Stars power play is demoralized yet again.
The Ducks goals, the first set up by Erik Cole's zone exit that Getzlaf deposited in a small hole on Kari's short-side; the second is a Corey Perry bomb from the face-off dot which was given to him because Tyler Seguin's pass to Jamie Benn was not ideal (a trend we saw a lot on Friday) right outside the Stars blue-line; and the third off a power play that could not control the puck and exit the zone – all were Ducks possessions that were slightly longer than the blink of an eye. They were not set up with domination by any stretch. They did not have the Stars out-classed. They simply made the Stars pay for a slip-up in execution and made it hurt.
And perhaps that is what playoff experience makes you capable of. Perry and Getzlaf have won the Cup, won gold medals, and have done just about everything a hockey player wishes to do. They, despite personality traits on the ice that may be seen as unattractive, are accomplished stars in this league that don't need 10 chances to snap your neck. They often need just one.
It would have been great if Kari could have canceled out those chances, but you are more advised to keep chances away from those two. They are better than the goalies they face almost every time.
But, before the series, we fancied the Stars chances of having 2 players who could cancel out those stars. Seguin and Benn are the equals of Perry and Getzlaf, right?
Well, that comes down to how the game goes on the ice. And last night, you again saw the quality that 91/14 have, but you also saw that the Ducks did a very fine job of not giving them the opportunities that the Stars gave Perry and Getzlaf. Then, you also saw Benn and Seguin unable to cash in – and often times even hit the net – like those two accomplished studs for Anaheim did. The two Dallas talents had 4 shots on goal, but 6 more that missed the net altogether. As we certainly know, you aren't going to test the goalie if your shot misses the entire frame of goal.
The Stars are getting strong efforts from elsewhere, and last night Alex Chiasson scored off a pass from Benn and Ryan Garbutt put one away from Shawn Horcoff and Antoine Roussel. But, the roster does not have enough world class talents to expect to win very often without Benn and Seguin dragging them along. That is enormous pressure on those two, but I would guess that Perry and Getzlaf know what that life is like. If you want to be paid like the best in the game, then, with a salary cap, get used to being asked to do most of the heavy lifting between the two of you. That is not to say that Benn and Seguin are paid like that yet, but I think we all know what their next contracts are going to look like if things keep progressing.
The Stars had chances late, including yet another demoralizing power play (1-6) that did not get it done. There are some tactical issues being raised by Bruce Boudreau that are keeping the Stars frustrated and unable to get the puck into the zone, but rather are spending huge parts of the power play skating half speed at neutral ice and looking confused. The Ducks are daring them to dump the puck in, and the Stars hate doing that. Look for that to change in Dallas.
Much of the first two games have reminded me of the Dallas-Edmonton series from 1998, 1999, 2000, 2001, and 2003. The Oilers would be undermanned, but determined to huff and puff and blow the house down each time. They had young talent, including a few game breakers, but never the type of payroll or elite talent that Dallas had back then. Sometimes, the Oilers would roll into Reunion Arena and outplay the Stars for the entire evening. But, at some point of the game, Brett Hull, or Mike Modano, or Joe Nieuwendyk or Sergei Zubov would step up and make the Oilers pay for that one tiny little mistake and steal the game. It would frustrate the Oilers and the Stars would grin and ultimately advance because they know how to win in the playoffs and those kids across the ice are trying to figure it out. Then, we would laugh at their goaltending, even though their goalie (Tommy Salo, anyone?) was often asked to stop elite chances which of course, Ed Belfour or Turco weren't being asked to save.
It is the ultimate in "learning to fly". Sometimes, a young team figures it out – like Chicago a few years back with all of those kids. Sometimes, it never happens – Edmonton disbanded and sent Bill Guerin, Doug Weight, and others to various other parts of the league.
We think this young Stars team is building something special. I cannot tell you how great this last year of progress has been to witness. But, I do wonder how quickly they will be able to figure out how to deal with games like these. Do they have to wait until they can add more talent? Or can it happen as soon as Monday?
Monday is Game 3. It will be in Dallas at a place that hasn't hosted a playoff game since May 19, 2008, when Dallas lost Game 6 to Detroit at the American Airlines Center.
Another playoff cliche talks about how a playoff series never truly starts until a road team wins a game. Otherwise, it is all just everyone holding serve. If no road team breaks through, then it comes down to a 1-game series in a game 7. We should be so lucky.
The Stars have played very, very well in Dallas recently. They are going to fight even harder that night. Do they know how to win games like these? Specifically, can they win this one?
Because if they don't, then they will have a very long summer to think about it.