Morning After: NFC Divisional Round Beat Down Edition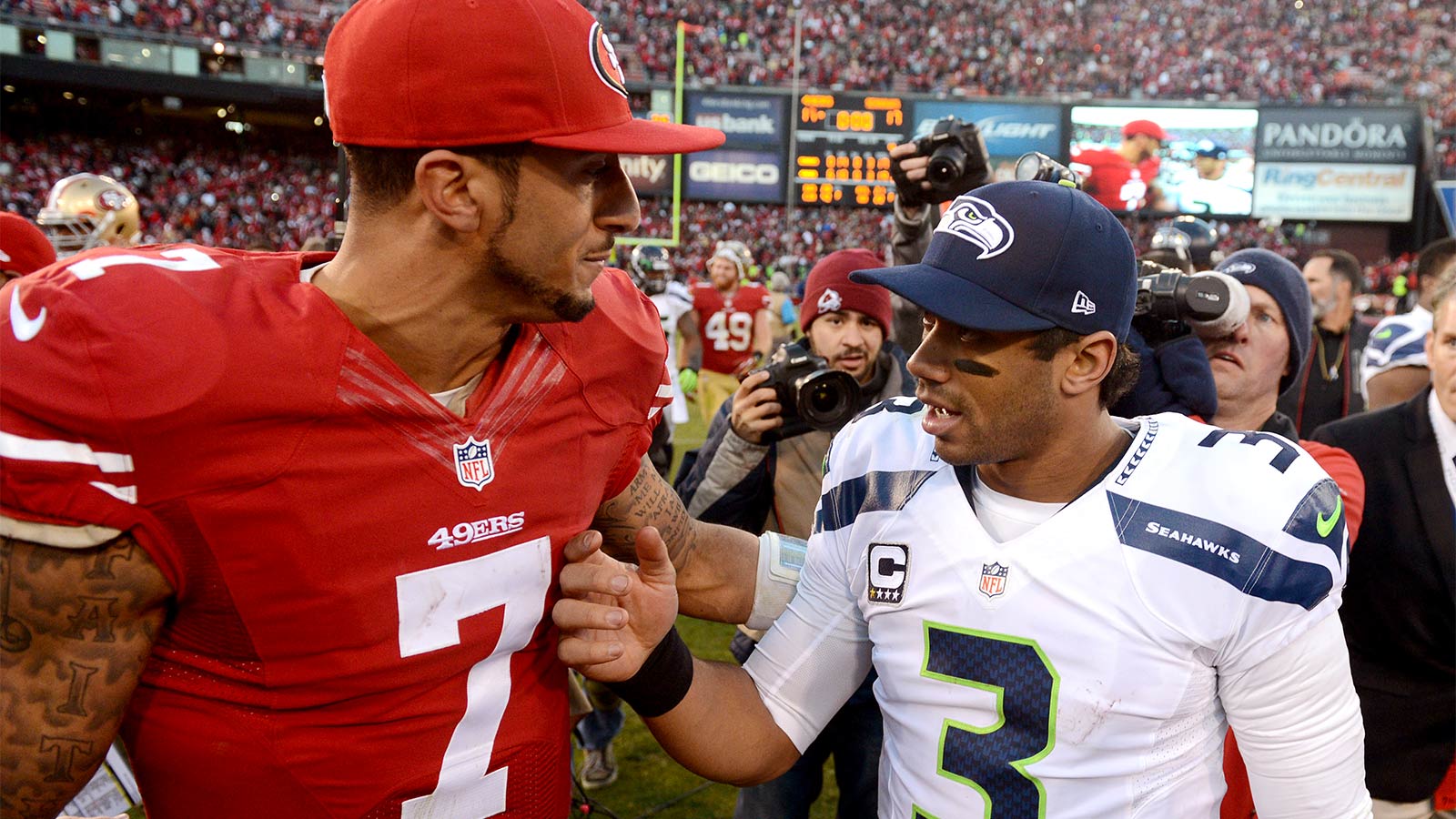 Just 3 games remain in the 2013 NFL season, so get yourself prepared for something else to occupy your time (like the NFL Combine, NFL Free Agency, and the NFL Draft) because this thing is coming down to its conclusion quite quickly. And as we continue our annual exercise of following the NFC side of the playoffs with a close eye of examination, the trends that are appearing before our eyes continue to explain the difference to many of us between teams that are still playing and teams that are already a few weeks into their time on Mexican beaches.
And to me, as we ponder the Seattle Seahawks hosting the San Francisco 49ers in one week to determine which one of these teams will represent the NFC – against either AFC team that will surely be favored to win because of a living-legend playing QB – the ties that bind these two teams is unmistakeable.
First, it suggests that the playoff format generally determines with reasonable clarity who the best two teams are. I know there has been plenty of gnashing of teeth over the idea that the 12-win 49ers had to go play 8-win Green Bay at their place, but the contenders seemed to roll over the pretenders with relative clarity in these playoffs, and sometimes the two best teams may play in the same division. At the same time, unless you want to easily fix this whole thing by dropping the divisions altogether, play a 16 game schedule that includes playing 15 games against the other 15 opponents in the conference and one extra "rival" game (Packers-Bears, Cowboys-Redskins, etc) or one special inter conference game (Jets-Giants, 49ers-Raiders, Cowboys-Texans), then I think you have to keep it how it is. By the way, I would green light the balanced schedule and no divisions in a heart-beat, but I am sure that is the English Soccer fan in me speaking up. The point is that if you are going to play schedules where the NFC West teams play a schedule that is not similar at all to NFC South teams, then I would not approve of giving Wildcard champs a better seed than divisional champs as a general rule. If San Francisco is truly a better side, they can prove it on the field – Like they just did.
That is perhaps a lesson learned over the years by fans of the modern NFL. Nobody disputes that given the choice, you would certainly rather be the home team in a playoff game, but the last several years show that there is no amount of crowd noise or funny signs or even Mom's home cooking that can overcome the superiority of an opponent. Look at those home records since 2005. Road teams that get on a roll can go all the way to the Super Bowl – sometimes because they are just the better team (back to the best wildcard team being better than several division winners). Notice below how many times in the 1990s where the home teams were 8-2 in a playoff season. Then, note how many times the playoff records are 5-5 or 6-4 these days. Parity.
| | | | |
| --- | --- | --- | --- |
| Year | Home Record | AFC Seeds | NFC Seeds |
| 1990 | 8-2 | 1* vs 2 | 1 vs 2* |
| 1991 | 8-2 | 1* vs 2 | 1* vs 2 |
| 1992 | 5-5 | 2 vs 4* | 1 vs 2* |
| 1993 | 8-2 | 1* vs 3 | 1* vs 2 |
| 1994 | 8-2 | 1 vs 2* | 1* vs 2 |
| 1995 | 7-3 | 2* vs 5 | 1* vs 3 |
| 1996 | 8-2 | 2* vs 5 | 1* vs 2 |
| 1997 | 6-4 | 2 vs 4* | 1 vs 2* |
| 1998 | 8-2 | 1* vs 2 | 1 vs 2* |
| 1999 | 7-3 | 1 vs 4* | 1* vs 2 |
| 2000 | 8-2 | 2 vs 4* | 1* vs 2 |
| 2001 | 7-3 | 1 vs 2* | 1* vs 3 |
| 2002 | 8-2 | 1* vs 2 | 1 vs 2* |
| 2003 | 6-4 | 1* vs 3 | 1 vs 3* |
| 2004 | 6-4 | 1 vs 2* | 1* vs 2 |
| 2005 | 4-6 | 2 vs 6* | 1* vs 5 |
| 2006 | 8-2 | 3* vs 4 | 1* vs 2 |
| 2007 | 5-5 | 1* vs 3 | 2 vs 5* |
| 2008 | 5-5 | 2* vs 6 | 4* vs 6 |
| 2009 | 7-3 | 1* vs 5 | 1* vs 2 |
| 2010 | 4-6 | 2* vs 6 | 2 vs 6* |
| 2011 | 8-2 | 1* vs 2 | 2 vs 4* |
| 2012 | 6-4 | 2 vs 4* | 1 vs 2* |
| 2013 | 4-4 | 1 vs 2 | 1 vs 5 |
(* = Super Bowl Team)
But, that is merely a detail that historians might find interesting. That doesn't discuss why the Seahawks and 49ers seem to have figured out how to deal with everyone in the NFC but each-other with relative ease if we look at 2012 and 2013 as a whole. Since Nov 1, 2012, the Seattle Seahawks are 22-5 combined, while the 49ers have now been to 3 consecutive NFC Championship games and were obviously quite close to winning the Super Bowl last season. Since the start of 2011 when they hired new coach Jim Harbaugh, San Francisco is an absurd 41-13-1. He took over the franchise from Mike Singletary who was 18-22 in 40 games as the coach.
Pete Carroll took over the Seahawks before the 2010 season, when the team went 7-9, hosted a playoff game and got a win. He is now 38-26 in the regular season as their coach and has a playoff win in 3 of his 4 years and will now host the NFC Championship game. Before he got there, Mike Holmgren and Jim Mora, Jr were 9-23 in 2008-2009 running the same franchise.
Do Carroll and Harbaugh have some secret formula for reviving 2 franchises that were on the road to nowhere when they arrived?
No. But, they seemed to agree when building a team. Build with the toughest possible player you can find at every spot. And then, over the course of 60 minutes, maul your opponent into submission. Would they love to have the best QB in the league land in their laps? Sure. But, the fact that they both have built these franchises up (with plenty of help from the personnel departments) into unstoppable forces without the aid of Peyton Manning or some 40-TD QB is worth noting. They had to build complete rosters with no weaknesses, and they seemed to have done it with shocking quickness through proper drafts and a philosophy that was consistent throughout the entire operations.
So, when you watched the Seahawks batter the Saints on Saturday, followed by the 49ers taking down a strong Carolina team on Sunday, I imagine, like me, you were struck by how strong and physical both of these franchises are, and how in all the playoff games they were in, their opponents could not stand up to that over 4 Quarters.
In fact, I might argue that while there are several elements to winning a football game, the most clear characteristic of these two teams is that they simply beat you up. And while every team in the NFL has plenty of bullies on it who are not going to back down to a physical scrap, it sure looks like Seahawks GM John Schneider and 49ers GM Trent Baalke found coaches who fit their ideas, and then decided to load up players at all positions that are cut from the same cloth they so desire.
Look up and down the rosters in each city. First the Seahawks; when you look at players like Marshawn Lynch, Golden Tate, Earl Thomas, Kam Chancellor, and of course, Richard Sherman, you see players that are either physically imposing or guys who play with a cocky, physical edge that just won't give in an inch. And those are their "little" guys. Those are RBs, WRs, CBs, and Safeties. Think about that for a second, if they are going to have guys who are looking for someone to unload on at those positions, then what are their LBs, DEs, and OTs like? Exactly. And before long, it seems like you are trying to deal with an army of brutes who are all marching in lockstep to this philosophy of beating you to submission. They roll depth at defensive line and linebackers that allows them to pay at a frenzied pace and a pass rush that makes the Saints almost not even attempt to run their normal offense.
Instead, the instinct for Sean Payton was to run the ball and to try to match physicality with the Seahawks based on the weather and what he thought the game called for. So, here are the Saints with runs on the 1st two plays of nearly every single 1st half possession. They wanted to try to grind it out with the Seahawks? How does that compute? If Seattle does this every week and you are going to try to do it this once, how do you think that will work out? It didn't. And New Orleans went home rather meekly. It was 16-0 at halftime and Jimmy Graham looked like he would rather be anywhere than running through a secondary that was yelling and bumping into him all day. The Saints looked uncomfortable the whole afternoon which is the entire design trait of the Seattle roster.
Which leads us to the industry standard in that category, San Francisco. It is tough to say who came up with and carried out this idea first (Seattle or San Fran), but with Baalke and Harbaugh, it almost worked immediately. Unlike Seattle, San Francisco had some elite players already in the building when the new regime took over, so to start with Patrick Willis, Justin Smith, Vernon Davis, and Michael Crabtree is a nice trick, but Baalke's 2010 and 2011 drafts are right up there with the 2 best back to back drafts any team has had in this generation.
In 2010, Anthony Davis, Mike Iupati, and Navorro Bowman were the headliners, and then in 2011, it was Aldon Smith and Colin Kaepernick. The roster is built so solidly, and then unlike some of the other teams in the league who are allergic to free agency and trades (Ted Thompson), the 49ers grab Donte Whitner and Anquan Boldin to further add to the pile as players who again fit that profile of what 49ers football is all about.
Which, like Seattle, is to put as many pit bulls in the same place as possible and grind you into a fine powder. Remember the small players in Seattle who set the attitude? How does Frank Gore, Boldin, and even Kaepernick strike you there? Teams that don't play that style every week (Green Bay) faces them in a street fight and we see the familiar results as they have taken down a speed/finesse offense 4 times in 2 years.
It is not QB-based football. Both teams have fine young QBs, but neither is hardly ever at or above 20 completions in a game. They don't throw the ball first and they don't love having to rally. They use physical football as their weapon and philosophy, and as their record indicates, it is working really well.
Jim Harbaugh is 4-2 against Seattle, but his last 2 trips into Seattle have been two blowout losses by a combined score of 71-29. Both teams are loaded with bullies up and down the roster. and will not back down, even to each other.
I think as you look at your team, the Dallas Cowboys, you have to ask yourself if the team has a unified philosophy that tells the league what you are all about. Can a clear pattern be seen if someone watches you from afar and does that philosophy scare anyone?
Because the NFC right now is chasing these 2 teams. And from the results in the last 2 years, the gap doesn't really seem like it is shrinking.
The meek may inherit the earth, but it sure doesn't seem like they are getting to the Super Bowl in the NFC. There is nothing meek about these two teams that are left standing.