Mayfield shines in Oklahoma football spring game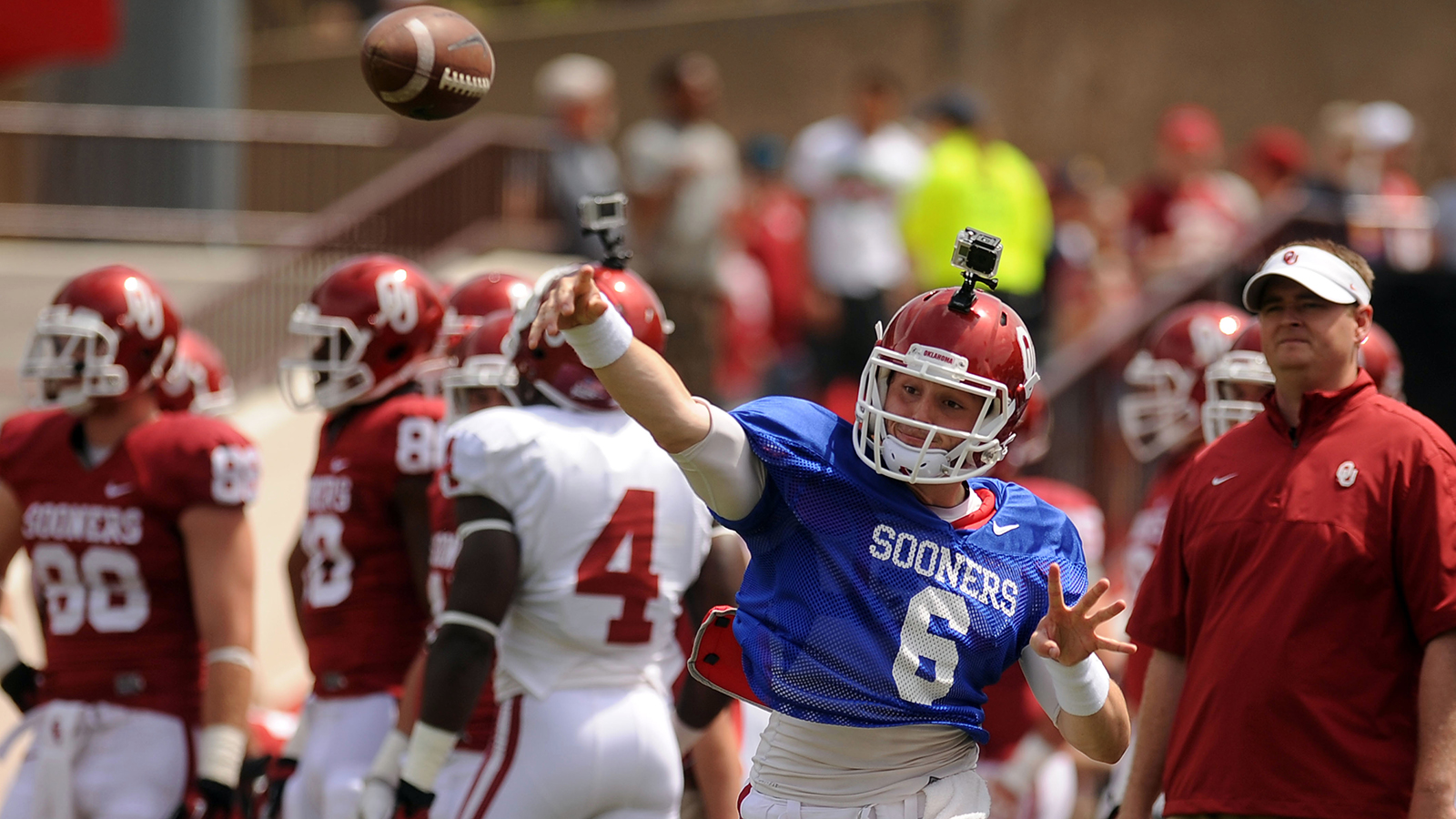 NORMAN, Okla. – There's plenty to look forward to this season with the Oklahoma football team.
Coming off of a Sugar Bowl win, the Sooners will likely start the season ranked in the top five in the nation. They have strong defensive line returning, a 5-star recruit on the way to carry the ball and experience all over the field.
But what we learned Saturday at Oklahoma's annual Spring Game is 2015 looks pretty good, too.
The best player on the field was Baker Mayfield, a quarterback who isn't even eligible to play this season after transferring from Texas Tech.
Too soon to say for sure, but we could be looking at a Sugar Bowl winning quarterback (Trevor Knight) competing with Mayfield who never earned a scholarship at Texas Tech, despite throwing for 2,315 yards in eight games last season.
Saturday in Norman, it was Mayfield's Sooner debut, his bowl game and his only chance to play in front of fans until at least 2015.
"That's what I was trying to do for myself," Mayfield said. "I came here to win a national championship and make this place better."
What he did for himself was show the Oklahoma coaches he could really play. Not only did coach Bob Stoops and offensive coordinator Josh Heupel trust Mayfield, playing him before second-teamer Cody Thomas and reserve Justice Hansen, Mayfield performed well. Mayfield went nine-for-nine passing for 125 yards and two touchdowns.
"I felt like I did well," Mayfield said. "There's definitely stuff I need to work on. As time goes on it will come."
As time goes on, Mayfield may find himself in the middle of the quarterback conversation. It's a real likelihood Mayfield might not win the starting spot, but will eventually end up playing.
Remember, OU used Knight and Blake Bell last season, and even Kendal Thompson got to play. Meanwhile, with Knight's style as a running quarterback and his recent history of injury (knocked out of two games last season), Mayfield's chances to play are real.
But he'll have to wait it out a season after being ruled ineligible to play this season for the Sooners.
"I think I am patient enough," Mayfield said. "It will be rough, but I think I can do it. One thing I've based my whole life on is competition. I think it's what drives me. I'm not afraid of competition."
We're not that far-removed from OU's biggest win in maybe 10 years. The Sooners slugged Alabama back in January in what was Knight's finest moment.
A loss against Alabama and there's a question at quarterback heading into 2014. But because Knight played so well, this season the position has been set. And certainly no performance, good or bad in a spring practice game, determines wins, losses or rank.
But you had to think Mayfield earned some points somewhere along the way. While Knight was just 5-of-14 passing for 53 yards and an interception and Thomas was five-of-nine for 52 yards and a touchdown and Hansen was just four-of-eight, the only guy who isn't playing in 2014, looked the best.
"Nothing is answered.," Stoops said. "There has been improvement. We'll build on it."
Mayfield will be able to, that's for sure.
"I'm going to push those guys in practice and in the film room," he said. "We're going to have to get better."
Well, the rest of the quarterbacks in 2014 will have to. Mayfield gets the year off.
Follow Andrew Gilman on Twitter: @andrewgilmanOK