Mavericks blow lead in final minutes to Spurs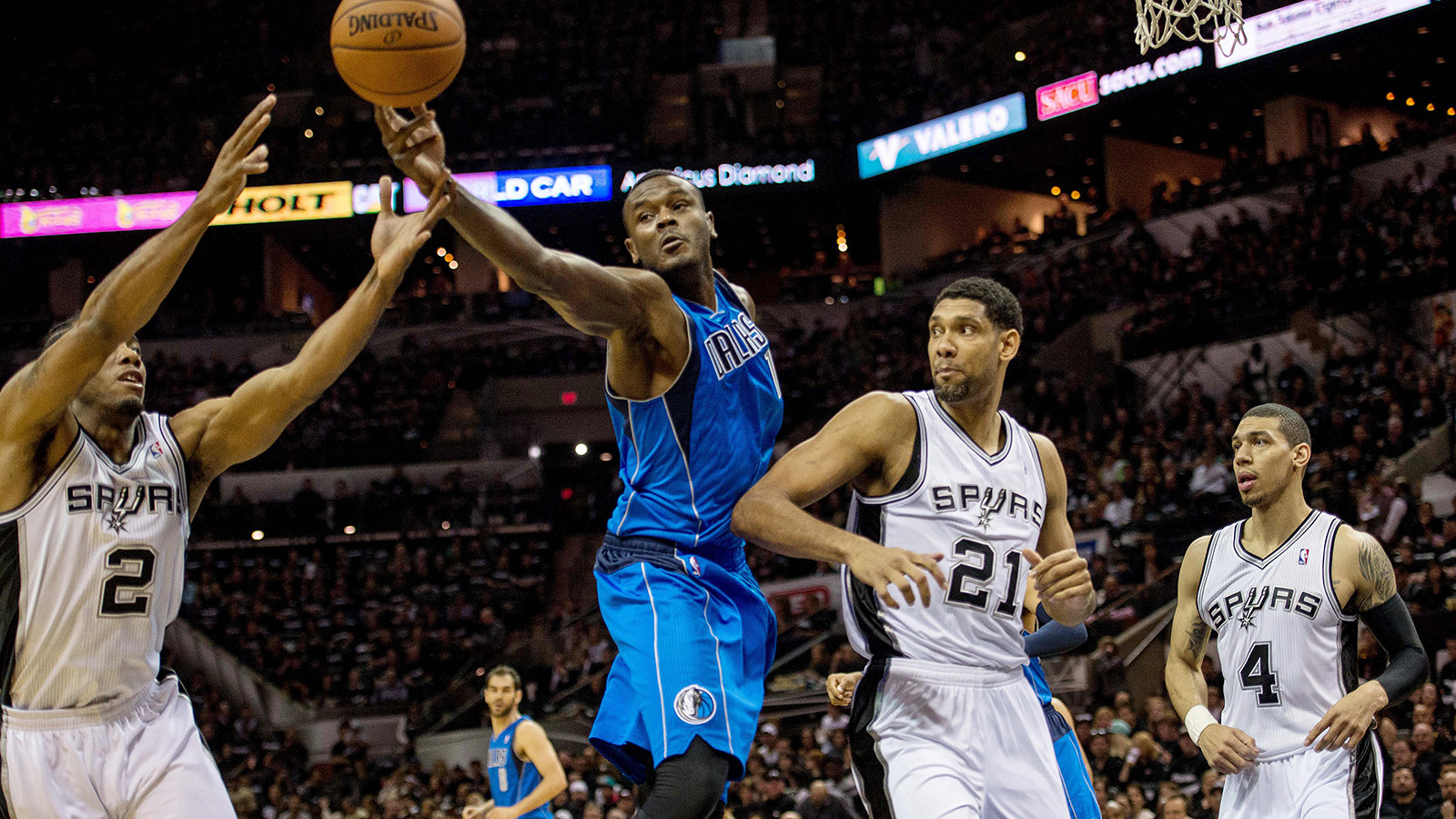 My theory is there is probably no one way to lose a playoff game that is more of a 'downer' than another. But in Sunday's first-round Game 1 at San Antonio, when the Mavs held a late 10-point lead but then went almost six minutes without scoring to cough up a 90-85 loss? This tests the theory – and the limits of 'downer.'
The good news: The Dallas Mavericks were not 14.8 points worse than the Spurs. Game 1 of this best-of-seven first-round series featured a hint of "rivalry" that once existed between the two Lone Star State franchises — until the Spurs won all four meetings this year (by an average of 14.8 points), nine consecutive meetings and 13 of the previous 15 meetings.
The bad news: The Mavs had built a 10-point lead with less than eight minutes remaining before watching it slip away, missed shot by missed shot, failing to score on 12 straight attempts until a meaningless score from Devin Harris with one second remaining.
"I'm always frustrated after a loss," said Dirk Nowitzki, who managed just 11 points and was outdueled badly by Tim Duncan. "Maybe I'll see the positive tomorrow. But as of today, we had our chance."
Tommorow? Dallas gets another chance in Wednesday's Game 2 by the Riverwalk. But true opportunities against the top overall seed in the NBA Playoffs come rarely.
And this rare opportunity was blown.
Credit to the Spurs? Absolutely. This is a 62-win machine, a club that can keep Duncan on cruise control for much of a game (or heck, much of a season) before pressing "ignite" and seeing him score 27, as he did here. He was central to San Antonio's rally as he scored seven of the club's 15 points while goose-egging Dallas for a span that stretched to almost six minutes.
But meltdown blame for the Mavs? Absolutely. So many times this year Dallas has played better than the eight seed that it is over the course of 40 minutes in a game … only to see massive leads forfeited and close games lost. The Mavs led the NBA this year in contests decided by three points or fewer with 22 — and despite the experience-rich roster managed to win only half of those.
The go-to guys all season to determine those outcomes? Dirk Nowitzki andMonta Ellis.
The go-to guys Sunday? Dirk Nowitzki (boasting a dazzling 25.9-points-per-game playoff scoring average) with his 4-of-14 shooting for 11 points. And Monta (in just the third playoff appearance of his nine-year career) with his 4-of-14 shooting for 11 points.
What sad symmetry.
"I love the way we played up until that point," Mavs coach Rick Carlisle said. "We fought the whole way. We just didn't finish. I've got to help our guys finish better."
The Mavs got "Be Ready" efforts from two predicable sources, backup center Brandan Wright (11 points) and backup point guard Devin Harris. Harris as a "wild-card" (as predicted here) made sense coming in and makes so much sense going forward after this 19-point explosion )and his push to erase a 21-12 first-quarter deficit) that starting point guard Jose Calderon's role may be shaved down in Game 2.
Also predictable and successful: Dallas' emphasis on handling the Spurs at the arc. Year after year, San Antonio is the NBA's most successful and efficient 3-point-shooting team. In Game 1, Dallas limited them to 3-of-17 shooting.
"Their game plan was to get up on our shooters and make us do something else (besides shooting threes)," Duncan said. "So that made my role a little bigger."
Duncan answered that call. Dirk — shadowed successfully sometimes by and other times simply missing bunnies — did not.
"I think Dirk had some good looks," Carlisle said. "Some were heavily contested. Shot-making is going to be up and down even if you're one of the 10 greatest scorers in the history of the game."
Ah, but in a first-team-to-four-wins series, you only get to have four "downs." And letting the bad guys close a close game on a 19-4 run is a downer.
Afterwards, Dirk noted that his team "competed" and that if it does the same in Game 2, "we should be right there at the end of the game and see what happens."
Maybe so. Or maybe — even though Game 1 revived a "rivalry" feel and erased the pre-established vision of a 14.8-point gap — maybe these Mavs, for all their positives, have already shown us plenty about what happens when they are "right there at the end of the game."