Lewis still giving Rangers a chance year after surgery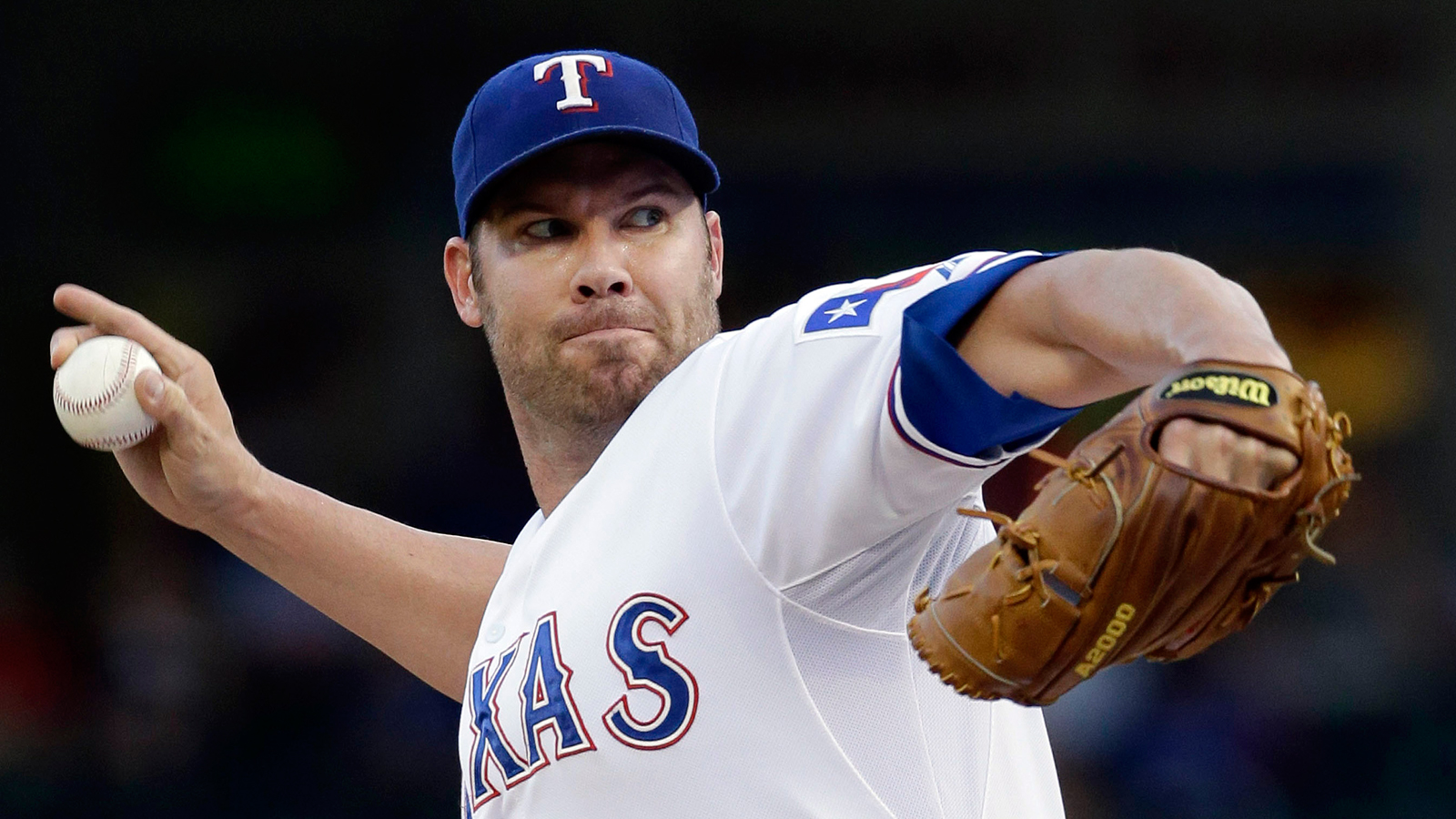 ARLINGTON, Texas — Colby Lewis was a realist coming into the 2014 season with the Texas Rangers.
Lewis, who had hip resurfacing surgery Aug. 22, 2013, was just hoping for a chance to compete for the No. 5 spot in the Texas rotation.
He's done a lot more than that, as Lewis started for a team high 23rd time this season Friday night and was up to his old pre-surgery self, pitching six innings and giving the Rangers a chance in what turned out to be a 6-3 loss to the Kansas City Royals on the one-year anniversary of his surgery.
Not bad for a pitcher that Texas manager Ron Washington had no expectations for given the type of surgery Lewis had on his right hip.
"No one has ever come back from that, especially a pitcher," Washington said. "Bo Jackson tried that and it didn't work. No one has ever come back from that. This is new territory. I think we all thought if anybody could pull this off it would be Colby."
While Lewis' numbers this season and Friday aren't eyepopping, that fact he's put himself in the conversation for a rotation spot in 2015 speaks volumes about a pitcher who prides himself of keeping his team in games so they have a chance to win.
He did just that against the Royals. He overcame a rocky three-run second inning but the offense couldn't muster a rally against Kansas City despite sending the tying run to the plate three times in a four-inning span.
Lewis left a fastball over the plate to Billy Butler and it cost him a solo homer. He then tried to pick up his pitching pace and the Royals capitalized for two more runs. But just as he's done throughout his second stint in Texas that started in 2010, Lewis rebounded and gave his team a chance by retiring the final eight batters he faced.
Not bad for a guy who started his season with a rehab start for Round Rock.
"I definitely wanted to be in this position," said Lewis, who allowed six hits and struck out two in his six innings. "It's kind of crazy. I didn't think I would be the guy who'd probably go out and throw the most innings on this squad having hip replacement the year before. But crazy things happen."
Anyone who's watched a Rangers game in 2014 knows that, but those crazy things haven't happened to Lewis lately. He hasn't allowed more than four earned runs in nine of his last 11 starts and an ERA that was as high as 6.54 in early July is now a run lower at 5.54.
While that's not a Cy Young number, at least the Rangers know they can count on Colby just like they did in before he went down midway through the 2012 season with a torn flexor tendon.
"I think when you look at it, it just shows you his professionalism," Washington said. "It just shows you his experience, that he doesn't panic when it looks like innings are getting out of control. He's able to sort of minimize damage, and that's what he did. He gave us six tonight and when he left, we were in it."
Lewis, 35, said he doesn't know if he's back to the same form he was before the flexor tendon surgery and the hip surgery. But Lewis, who is a free agent following this season, has done enough to at least keep him in the picture for next year for a rotation that will be desperate for a veteran.
That says a lot about a guy who was on an operating table 365 days before logging his 128th inning for Texas. He made it clear he'd like to keep logging those innings for the Rangers.
"It's up to the front office," Lewis said. "They've got a lot of things to think about. I've got to go out there and do my job each day and leave it in the hands of them."