Larry the Cable Guy talks NASCAR, comedy at TMS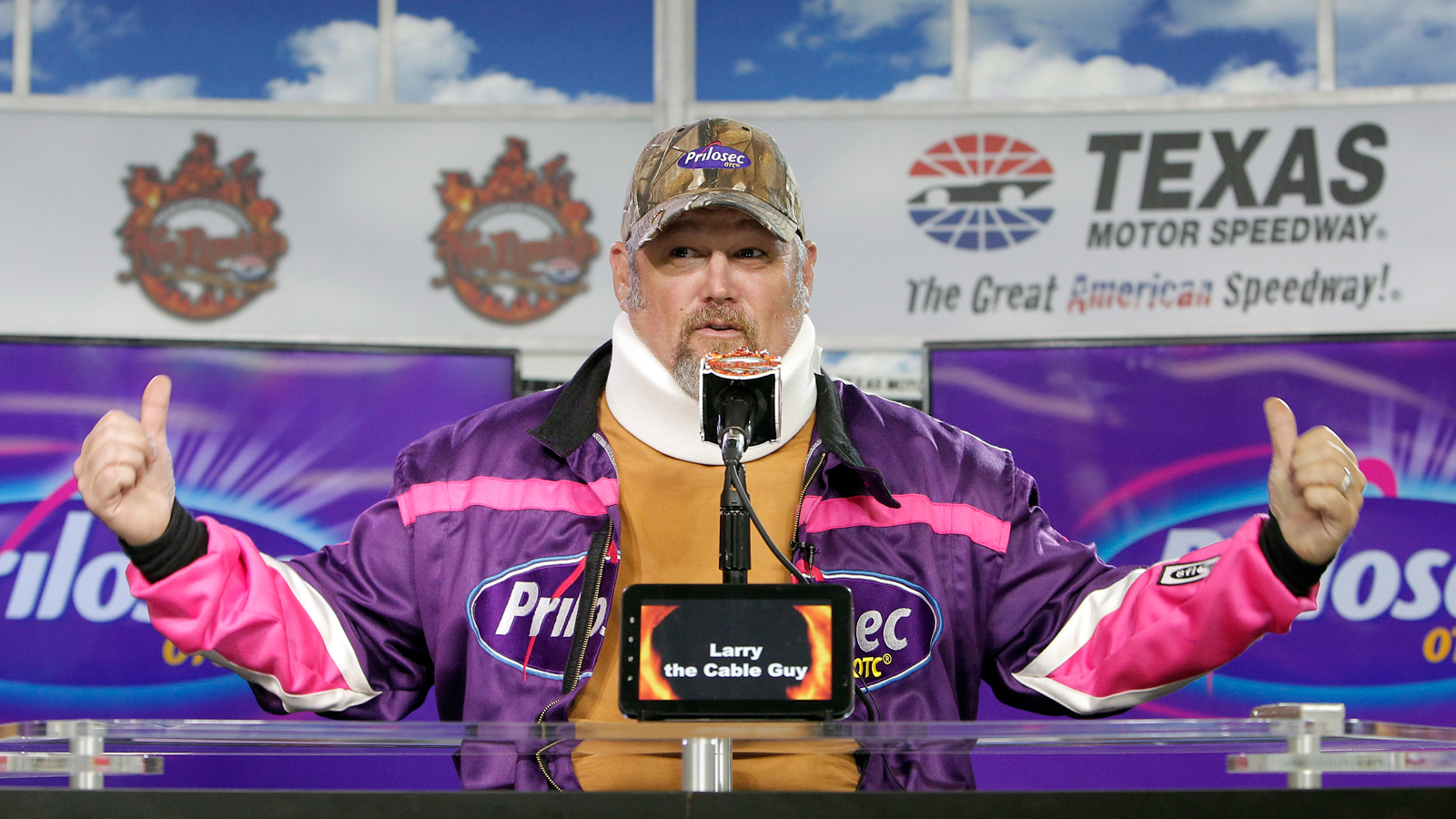 FORT WORTH, Texas — Comedian Larry the Cable Guy showed up at Texas Motor Speedway Sunday willing to play hurt.
The weather wouldn'€™t cooperate though.
He was at the track with Prilosec and was supposed to square off with Sprint Cup driver Ryan Newman in a remote-controlled car race, but that was rained out. If it were a real car race, Larry would have been in trouble though.
He'€™s wearing a neck brace after hurting himself filming the movie "Jingle All the Way 2" and will have to wear a neck brace for the next four-to-six weeks.
As for what else is going on with Larry, who gained fame on the Blue Collar Comedy Tour, here'€™s what he had to say.
How did you hurt your neck? "I do my own stunts unless I have to run, jump or fall."
Is your movie a sequel to the first "Jingle All the Way"? "I am doing stuff for Fox Home Video. I did "Tooth Fairy 2". It'€™s not really a sequel but the same people who made "Tooth Fairy" wanted to redo the same movie with a different guy. That'€™s what I do for them. It'€™s "Jingle All the Way 2" with a completely different cast. I'€™m the main guy. It'€™s really funny. I like it a lot. These are funny movies. I started branching out in kid movies after I did "Cars". I told them they should change the title because it insinuates that they didn'€™t jingle all the way in the first one. We'€™re basically rejingling what'€™s already been jingled."
If you'€™re in the infield with the fans, are you playing horseshoes or washer? "Horseshoes. I'€™m not good at washers. I'€™d probably be cornholing out there. I can play cornhole. I can play that. I don'€™t want to brag but I lettered in cornhole in high school. I took third in state."
How many races do you attend a year? "I'€™m always working on weekends. Before I really hit with everything, I did Daytona Beach every year. I did Talladega probably once every other year. I did Charlotte, Kansas City. I knew the guys. I knew Waltrip really well. He'€™d get me into the infield with the bus. I used to go to a few of them. This is only my second one this year."
What do you think of the Big Hoss TV screen? "That'€™s nice. NASCAR does it up right. It'€™s basically like a local track but television coverage makes it so much bigger. I find if funny because you come down here and you know the guys. You get down to the brass tax and take away the stands, it is what it used to be, a bunch of guys who want to go faster."
What comedians do you like best? "My favorite comedian is Nick DiPaolo. He'€™s a comedian from Boston. He'€™s my favorite comedian. I grew up, my influence as far as comedy concerned is the old-time guys, Milton Berle, Shecky Greene, Phyllis Diller, Henny Youngman, all those guys. I love them. I loved Monty Python'€™s Flying Circus. I loved Benny Hill. I loved Hee Haw, all the early stuff is what I like. Those guys in my opinion seem to be forgotten as far as comic'€™s go."
You a ribs or brisket guy? "I like brisket. I'€™ll take the brisket."
If a doctor told you to go to an all-vegetarian diet, what would it consist of? "Fried pickles. I love fried pickles. I just read an article the other day that said vegetarians have shorter lives and less-fulfilled lives."