Kouzmanoff, Moreland fill offensive void for Rangers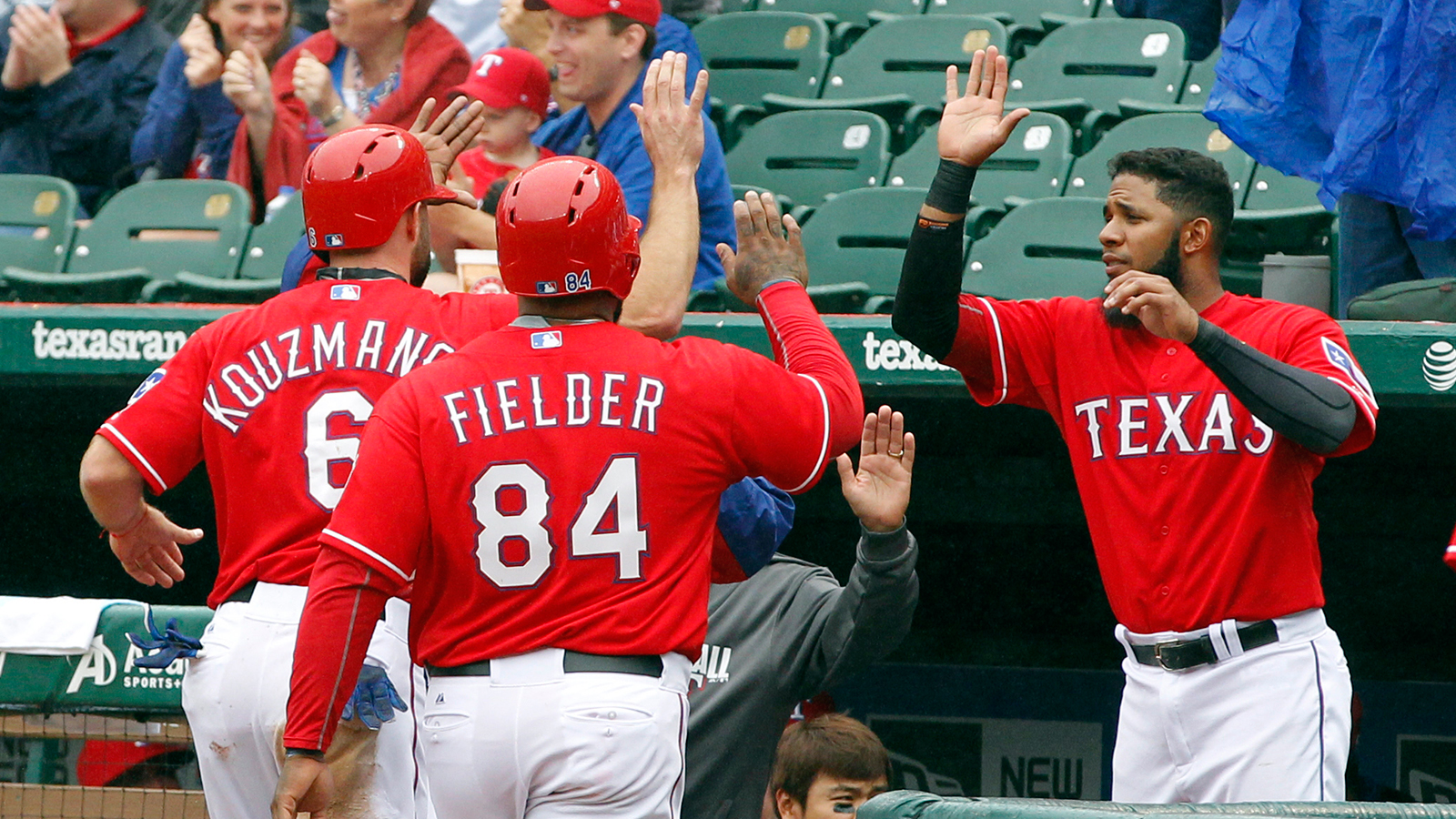 ARLINGTON, Texas — The Texas Rangers have been searching for offensive production to start the 2014 season.

They're finding it in unlikely spots.
Kevin Kouzmanoff and Mitch Moreland continued to provide a spark Thursday as the Rangers won their third-straight game with an 8-6 victory over Seattle.
Texas is without the injured Adrian Beltre, Jurickson Profar and Geovany Soto. And Prince Fielder's offensive impact hasn't been felt yet as he's batting just .164.
But Kouzmanoff has helped lessen the impact of the Beltre loss and Moreland has now reached base in seven of his last 11 at-bats to give the Texas offense a boost. That was the case Thursday as both played a role in a three-run first, a two-run third inning and then Moreland scored the eventual game-winner in the fifth.
The two of them went a combined 4 for 8 with four RBI, three doubles, four runs scored and a walk as they helped soften the blow after another poor start by struggling right-hander Tanner Scheppers.
"It's been very important," Texas manager Ron Washington said. "Especially the big hits Kouz has been getting, the hits Moreland has been getting, the walks he's been drawing, the aggressiveness he's been showing on the basepaths. All of those things have been coming into play."
Kouzmanoff got the duo rolling in the first after Seattle intentionally walked Fielder to get to him. He followed with an RBI double to left off Erasmo Ramirez to put the Rangers up 1-0. Moreland then hit a two-run single to center and the offense was off and running.
Texas needed all the production after Scheppers allowed a six-spot in the top of the third inning. The Rangers responded with two runs to tie it the bottom of the third with Kouzmanoff and Moreland leading the way again. Kouzmanoff opened the inning with a double and Moreland scored him a double of his own to left.
Moreland, who is now hitting .279, had a three RBI game for the first time since last. All Kouzmanoff has done since taking over for Beltre is hit in eight-straight games and take the team lead in doubles (five) and extra-base hits.
He's produced in high-leverage situations too as Fielder has been walked six times this season with Kouzmanoff hitting behind him.
He was ready in the first inning to make that move backfire.

"Make them pay for it," Kouzmanoff said of his thoughts. "At that point I know what they were trying to do and I was just trying to get a good pitch and hit it hard. I fouled off a couple of pitches, took a couple of more and finally got one I was able to handle. That's been happening a lot lately. Prince is a big hitter."
Moreland's been a big hitter too recently. In addition to his two early hits, he walked to open the fifth and came around to score as the Rangers snapped a 6-6 tie with two runs in the frame with the game winner coming on an RBI grounder from J.P. Arencibia. The Texas bullpen made those runs hold up with 6 1/3 scoreless behind Scheppers, with Pedro Figueroa picking up the win for a second-consecutive day.
Moreland drew a key walk in the ninth inning in Wednesday's 3-2 win and again Thursday and his seven RBI on the season is tied for the team lead with Alex Rios.
"I'm just trying to compete, trying to go up there and see the ball deep and try to put something into play," Moreland said. "Sometimes it works out for you and sometimes it doesn't. Right now that's all I'm trying to do."
Moreland's also been hitting behind Kouzmanoff and has been impressed with what he's done in his eight games with the team as Kouzmanoff is hitting .414.
"He's came right in here and made a splash early and really picked up for Adrian and that's some big shoes to fill and he's jumped in there and hasn't missed a beat," Moreland said. "He's done a great job, outstanding job for us so far. That's what you need. You need a guy like that to come in and pick you up."