Kingsbury not making excuses like Tuberville at Texas Tech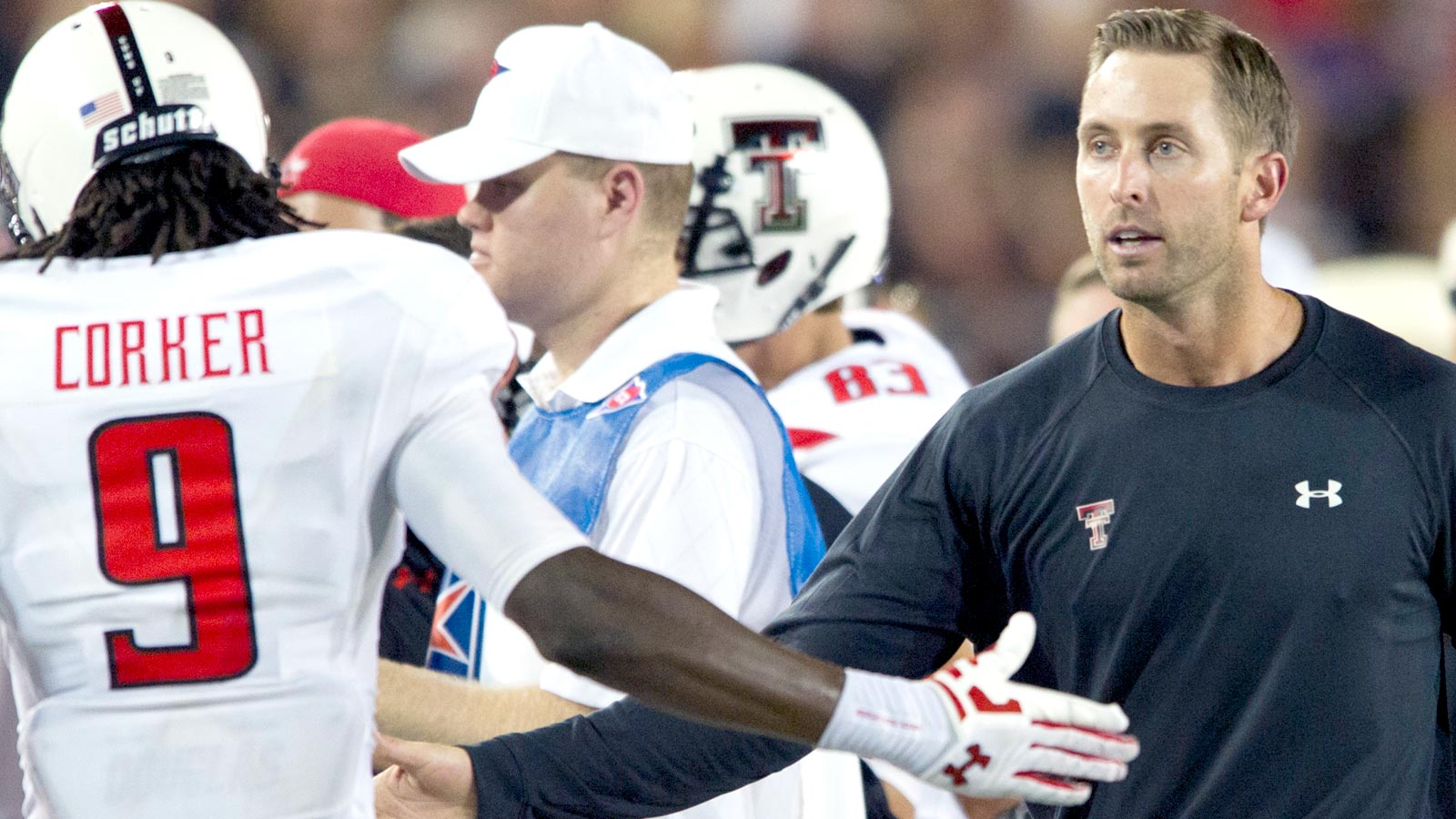 Rock bottom.
That's where Texas Tech football was on Nov. 12, 2011.
The once high-flying Red Raider offense looked listless as they lined up late in the first half against No. 2 Oklahoma State in front of their home crowd.
Trailing 49-0, they ran a draw play.
It was clear in the minds and eyes of the Texas Tech faithful that their team didn't have any fight.
Final score: 66-6.
Just a few weeks earlier, Texas Tech stunned the college football world with a 41-38 road win over No. 3 Oklahoma, snapping the Sooners' 39-game home winning streak.
The Red Raiders didn't get the win in Norman, Okla. this season, but fans couldn't be more excited with where this program is headed.
The difference?
Kliff Kingsbury is not Tommy Tuberville.
Before Tuberville ditched Lubbock, Texas for Cincinnati last December, it was not uncommon to hear him to blame losses on lack of depth when he was the Tech head coach from 2010-12.
He recruited well for the Red Raiders, but he often used his players' inexperience as an excuse why they weren't ready to win.
When asked at Big 12 Media Days why Texas Tech took TCU off the 2011 schedule, Tuberville didn't believe his team was ready to play a then-strong Horned Frogs team.
"That's really probably not type of a team we want to play right now," he said.
Kingsbury doesn't think the same way.
Behind his trademark shades, there's a cool and confident young coach who truly believes his team can compete with the best in the country.
Kingsbury knows he can win a championship with the players he has.
Tuberville didn't.
Kingsbury is winning with two true freshmen quarterbacks.
Tuberville would have said he needs to go recruit better talent before they can contend for a title.
When Tech fell behind 21-7 in the third quarter to the Sooners last weekend, Kingsbury's team kept fighting and scored 17 unanswered points to take the lead.
"Fortune favours the bold" has become the team motto, and it showed by his aggressive play-calling.
When Texas Tech was clinging to a three-point lead late in the fourth quarter against TCU last season, Tuberville attempted to chew more clock by running the ball.
Most coaches would have done the same, but it didn't work as the Frogs had enough time to tie the game and send it into overtime.
Faced with a similar situation against West Virginia this season, Kingsbury trusted his young quarterback Davis Webb to throw into the end zone to put the game out of reach.
"If we have the ball in our hands, we're going to go win the game," he said following the 37-27 come-from-behind win. "We're not going to try to depend on someone else or something to happen or just sit on it. We're going to go take control of our own destiny."
And players love fighting for a leader with that kind of attitude.
When something goes wrong, Kingsbury stays calm.
Completely the opposite of how Tuberville handled those situations.
Oklahoma State returns to Lubbock on Saturday for the first time since that 66-6 rout.
Texas Tech likely won't fall behind 49-0 going into halftime this time.
But if the Red Raiders do, don't expect to see Kingsbury calling a draw play.